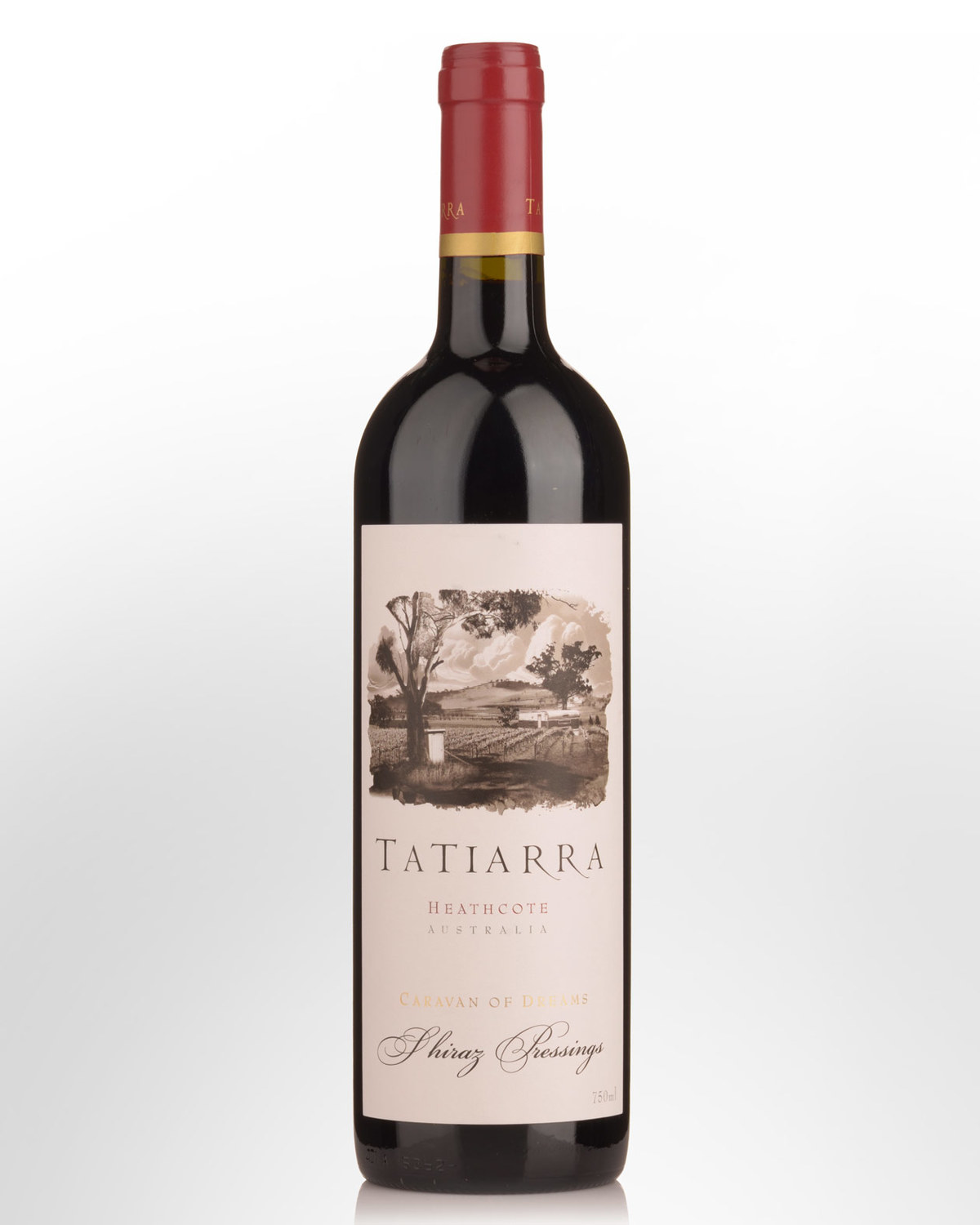 2003 Tatiarra Caravan of Dreams Shiraz Pressings
Heathcote, Victoria,
AUSTRALIA
THE EXTRAORDINARY 2003 TATIARRA SHIRAZ WINES

The 2003 Tatiarra Shiraz wines from Heathcote are nothing short of extraordinary. In just one year the vineyard has received enormous international acclaim for the power and concentration of the Cambrian Shiraz wines. Last November, Vintage Direct reviewed the wines that are produced by Domaines Tatiarra Limited, an unlisted public company run by the old man, Nick Chlebnikowski, and CFO Bill Spring. The pair have assembled a formidable team of winemakers, Ben Riggs and Peter Flewellyn, together with viticulturist extraordinaire and owner of the cult wine Whistling Eagle - Ian Rathjen.
We gave the old man and his mates a hard time to start with, to ensure we were not accused of going soft on them. Now the tables have turned – the world is scrambling for the wines that are now being sold on allocation.
The reviews for the 2002 vintage set the stage, with James Halliday in his 2005 Australian Wine Companion rating the vineyard amongst the top 3 of Heathcote, alongside Jasper Hill and Redesdale Estate Wines. He went on to say "It is hard to imagine a more auspicious start to a new venture than that provided by the 2002 wines." Huon Hooke, called the wines "remarkable". American Importer, Benjamin Hammerschlag of Epicurean Wines in Seattle, described the wines from Tatiarra as a "V12 Ferrari roaring up the Northern Highway" and the world's most powerful wine critic, Robert Parker in his recent WINE ADVOCATE magazine had the following to say, "South Australian winemaker Ben Riggs has moved from the warmer climates of McLaren Vale to the cooler Heathcote region for this new project. His stunning Tatiarra offerings should provide a wake up call for some of the other Heathcote producers who have been coasting along in cruise control...The beautiful 2002 Cambrian Shiraz First Release produced from yields of 1.3 tonnes of fruit per acre and aged 18 months in new French oak reveals aromas of lavender, dusty earth, sweet black currants and blackberries. With a gorgeous texture, full body and wonderful ripeness as well as length, this impressive shiraz should hit its prime in 2-4 years and age for 12-15." On the 2003 Tatiarra Cambrian Shiraz Robert Parker wrote, "a barrel sample of the 2003 Cambrian Shiraz also reveals marvellous raw materials, combining both power and elegance. It should evolve into as multi-dimensional wine as its older sibling." After all these accolades, one would have at least expected a price rise but not so! The Tatiarra team are firmly focused on producing extraordinary wines for the long haul and even the CFO agreed that prices should remain stable. The bad news is that stocks are limited and given the worldwide demand and rave reviews the wines are sure to sell out quickly.
"STUNNING . . . BEAUTIFUL . . . GORGEOUS . . .MULTI DIMENSIONAL . . .WONDERFUL RIPENESS . . . AMONG THE FINEST SHIRAZ WINES I HAVE EVER TASTED FROM HEATHCOTE"
- Robert Parker JR. commenting on the 2003 Tatiarra Heathcote wines.
size>color>
The 2002 Caravan of Dreams sold out in just a few days. We expect the 2003 vintage to only last hours. This wine was always going to be totally over the top. It is a wine that delivers a force of flavour that can only be rivalled by a few wines. The wine is a tribute to the vineyards founder, Bill Hepburn, who ten years ago had the foresight to find a magnificent north sloping block on the cooler face of Mount Camel. The vineyard consists entirely of the prized Cambrian earth. Like many pioneers, Bill Hepburn struggled during the early years, living in a caravan and utilizing a thunderbox, located under the shade of a large gum tree. Hepburn dreamed of producing extraordinary Shiraz, but the cold winters in the caravan proved too difficult and he subsequently sold the property to Domaines Tatiarra.
Tasting Notes: In every lineup, the Caravan of Dreams inevitably tops the tasting. Matured entirely in new AP Johns American oak. The wine is made from the pressings of Cambrian Shiraz. Totally opaque black purple colour, with deep black purple hue. Superb nose - a wine of explosive power and concentration is expected. Powerful notes of violets, spice, blackberry, plums and vanilla fill the head. The palate explodes - a monumental statement of concentration, surpassing even last years formidable wine. Flavours of black pepper, ripe plums, spice, blackberry, violets, confectionary, vanilla and liquorice allsorts creates a totally encompassing wine. Fine dry tannins, with remarkable balance for a wine of such concentration. Extraordinary length and aftertaste.
Cellar 10-15 years
Alc/Vol: 15.5%
Further comments... "A brilliant effort cropped at 2.2 tonnes per acre, and aged 18 months in 90% French Oak and 10% American oak, its opaque purple colour is accompanied by a sweet, voluptuous mid-palate and a huge finish. This outstanding 2003 should age well to 10-15 years." -Robert Parker Jr.
"The greatest wine ever imported by Epicurean & potentially one of the greatest wines ever produced in Australia..." -Garagiste, USA.
Robert Parker's Review:
The 2003 Shiraz Pressings is among the finest Shiraz wines I have ever tasted from Heathcote. A brilliant effort cropped at 2.2 tons of fruit per acre, and aged 18 months in 90% French and 10% American oak, its opaque purple color is accompanied by a sweet, voluptuous mid-palate and a huge finish. This outstanding 2003 should age well for 10-15 years.
(Notes Sourced from Robert Parker, The Wine Advocate #155)
ROBERT PARKER'S RATING: (94-96)