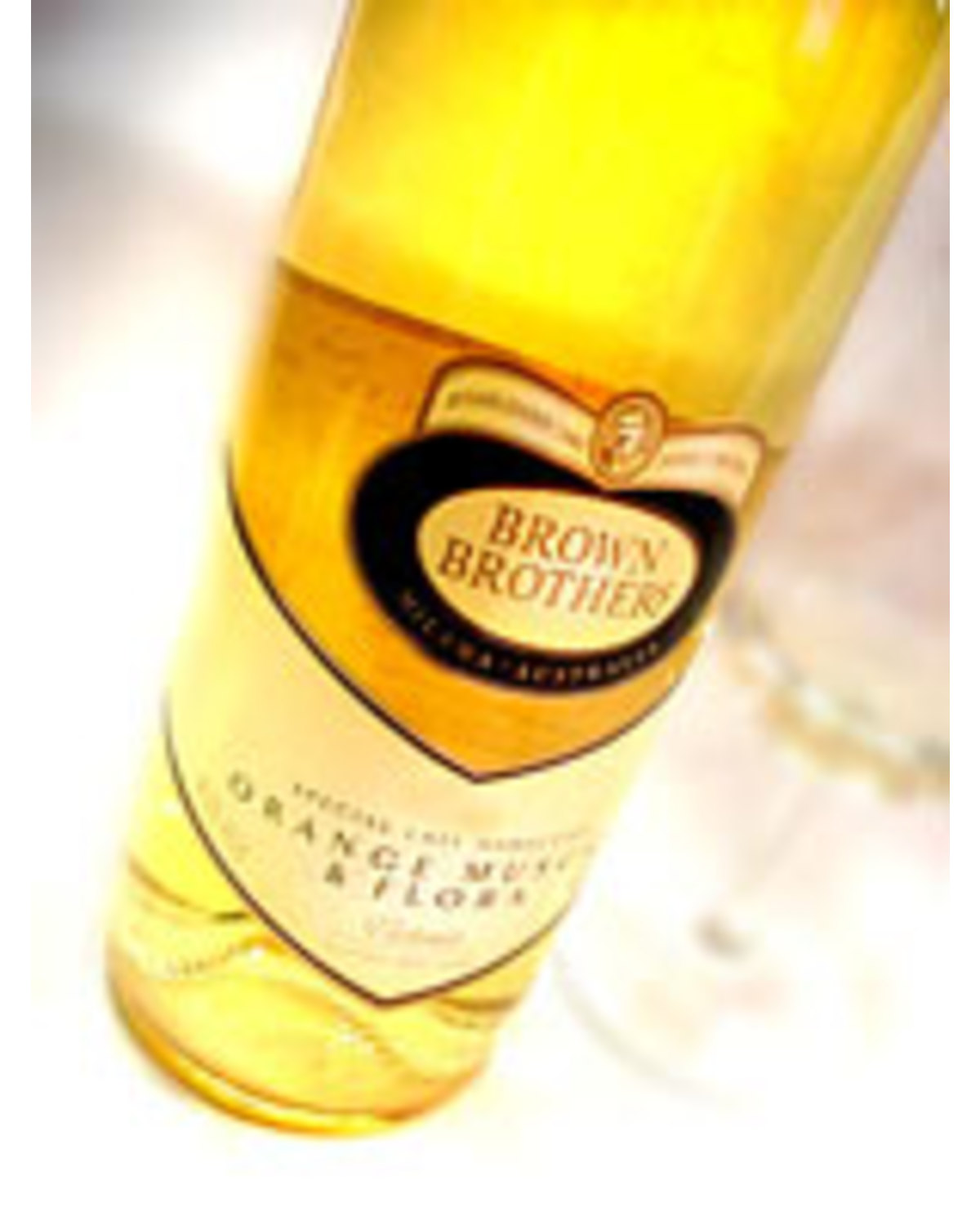 2003 Brown Brothers Special Late Harvest Orange Muscat and Flora
Notes sourced from Brown Brothers
size>
Orange Muscat and Flora is a blend unique to Brown Brothers. Orange Muscatis the flavour powerhouse, bringing aromas of orange blossom to the nose anda fresh citrus hint to the palate. While the Flora, contributes colour,texture and mouth-feel to the palate.
Orange Muscat and Flora are two white grape varieties, little known orplanted in Australia. Orange Muscat, as the name suggests, is part of theMuscat family and hails from the south-east of France. The variety is saidto have derived its name from the golden hues the grapes take when fullyripe and the strong aroma of orange blossom given off at vintage when thegrapes are freshly crushed. Flora was developed at the CalifornianAgricultural Department Station in 1958 from a cross between the whitegrapes Semillon and Gewürztraminer. It produces a wine of fragrance andbody with a fresh acid backbone.
This wine is made-up of a blend of 80% Orange Muscat and 20% Flora. Thefruit was grown on our Mystic Park vineyard and other vineyards throughoutVictoria. It was harvested in parcels from mid February to early March 2003at a range of baumé levels from 17.2° to 18.8°. The wine was bottled soonafter fermentation was completed with an alcohol of 10.5%, a pH of 3.20 anacid level of 5.8 gr/l and a residual sugar level of 110 gr/l.
This luscious late harvested wine makes a perfect partner to a wide range ofdesserts. It would be wonderful served with a steamed orange and persimmonpudding, baked lemon tart, honey bavarois with grilled figs infused withorange, or an orange cake served with mascarpone. Alternatively, a simplered berry salad served with vanilla bean icecream or a passionfruit andstrawberry pavlova.
Tasting Note: The current release has a mid straw colour with alifted nose displaying floral, honeysuckle and citrus peel aromas. Thepalate has flavours of orange, marmalade and undertones of musk with a crispcleansing finish.