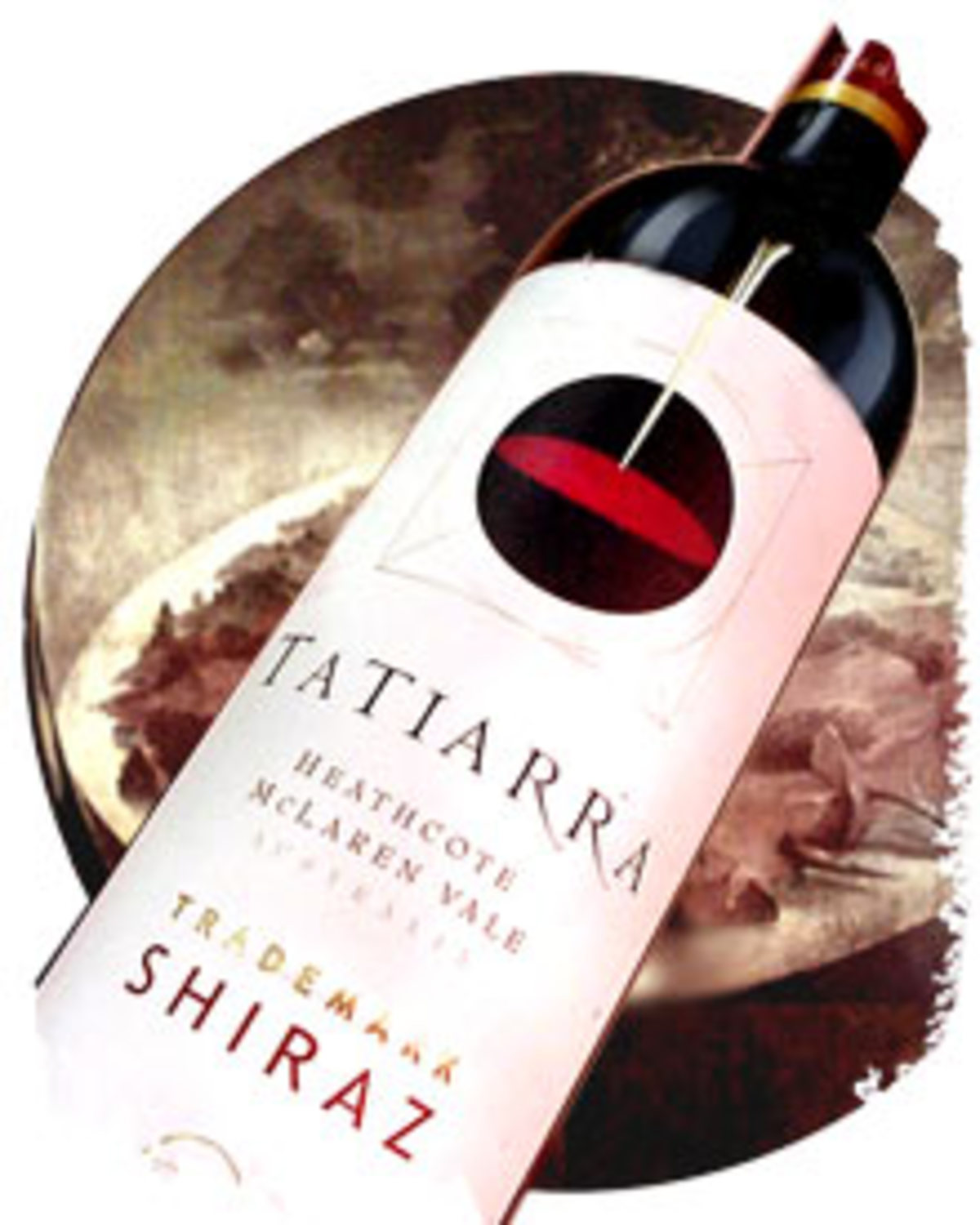 2002 Tatiarra Trademark Shiraz
The Tatiarra vineyard seems to attract dreamers. Winemaker, Ben Riggs has his own dream about Heathcote and Shiraz. Riggs is based in McLaren Vale and has access to the districts finest vineyards. His obsession with producing extraordinary Shiraz is well known, however, with Tatiarra he was driven to produce a wine that would rank amongst the giants of the Shiraz world. Within Australia, three districts stand out as consistently producing exceptional Shiraz fruit: Heathcote, McLaren Vale and the Barossa Valley. Riggs flies across to supervise the operation at Tatiarra using the state of the art winemaking facilities at Pettavel Winery in Geelong, Victoria.
During the bench blending trials for this wine, Riggs apparently was expecting to make the final blend with a McLaren Vale slant, anticipating for at least a 51% South Australian component. One can understand Ben's home-grown loyalties, however the final blend is a diplomatic 50/50 result - and what an extraordinary blend it is! - ONLY 130 CASES PRODUCED!
Re-taste 23/03/2011
Opaque black dark crimson red colour with deep dark red hue, just starting to show some signs of ageing around the edges. The nose displays lifted top notes of ripe plum, liquorice and aniseed followed by some smoky oak and a touch of vanillin spice. Still looking quite youthful the palate possesses plenty of richness dominated by very ripe blackberry, aniseed and liquorice flavours followed by some dark plum and confectionary characters. Velvet smooth tannins with long aftertaste of liquorice aniseed, blackberry and spice.
Drink over the next 4-5 years.
Alc 15.5%
First Tasted October 2003
Totally opaque black purple colour. Superb nose with notes of vanilla, plum, spice, violets and dark chocolate emerging. Whilst the nose is impressive it still has a long way to go in order to deliver its maximum potential. On tasting the wine one wine lover exclaimed that the wine 'brought tears to his eyes' that was not a negative remark, but one that expressed a sense of awe at the quality of the wine. The palate flavours are mouthfilling with layers of spice, dark chocolate, plum and black pepper emerging. The tannin structure is balanced, fine and dry yet assertive enough to support the wine for the next decade plus. Exceptionally long aftertaste with black pepper characters persisting. Extremely Limited Stocks!
Cellar 10-20 years (2013-2023)
Alc/Vol: 15.5%