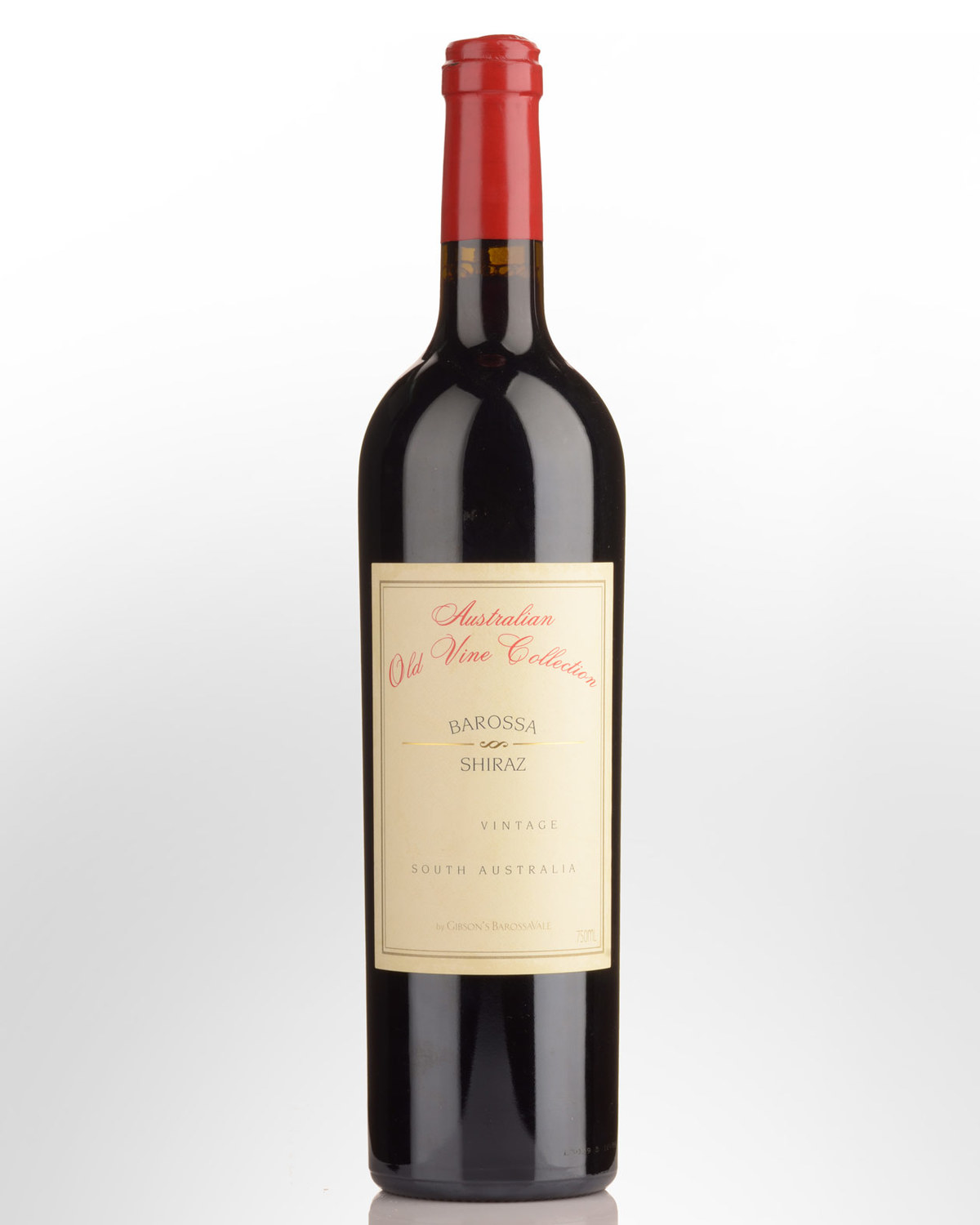 2001 Gibson's Australian Old Vine Collection Barossa Shiraz
Barossa Valley, South Australia,
AUSTRALIA
Cellar:
10 - 15 Years (2013-2018)
Rob Gibson - the former chief viticulturist of Penfolds, is regarded as the worlds foremost authority on the cultivation of Shiraz. His expertise is sought in the USA, South America, Europe and even Russia – (we only hope he doesn't tell the 'opposition' the full story.) The story of Barossa Old Vines Shiraz is very much an expression of Gibson's passion for Australian Viticultural history.
During his career, he made a habit of looking over fences into the backyards of Barossa residents, seeking out ruminants of old vineyards. His discovery of Langmiel Vineyard which at 155 years old, is regarded as the oldest in Australia and of great viticultural importance. These old, dry-grown treasures have survived the seasonal variations of many decades. Their thick trunks have often been hollowed out by white ants and their hearts exposed for all to view. The vines are pruned and harvested by hand yielding miniscule crops, often of less than 2 tonnes per acre.
But what special quality of these vines bestows greatness upon a wine? Is it merely our perception based upon age and rarity that drives up prices and demand, or is there a perceivable difference in flavour? Certainly commercial scarcity contributes to the price, but in relative terms to the current release Penfolds Grange for example, most old vine wines are very inexpensive. Research indicates that the extraordinary quality of wines produced from old vines begins in their root system: Old age has seemingly conferred a natural wisdom upon such vines and they possess an extensive network of deeply penetrating roots that are able to withstand moisture stress. In fact the grandfather vines are never stressed, they merely experience a variation of moisture tension in the various layers of strata through which their roots penetrate. It is this water tension that influences the leaf development of the vine and the subsequent evolution of unique flavour compounds in the grapes. The result is a marvel for the International wine community – wines of unmistakable character and complexity that cannot be found in wines of younger origin. With great age, only the healthiest vines have survived, to provide a summation of times past, as well as a window into the future. The rare attributes of these vines mean the wines produced from them are amongst the worlds great drinking, collecting and investment opportunities.
A sensational example of old vines Shiraz!
A sensational example of Old Vines Shiraz from vines planted around the middle of the 19th century. Totally opaque black crimson purple colour. The nose is superb with a perfumed nose of violets followed by blackcurrant, cedar and confectionary. The palate flavours explode – totally mouthfilling, monumental layers of liquorice, blackpepper and blackberry, followed by confectionary and vanilla. A wine of enormous power. The tannins are firm and dry but in balance with the fruit. Exceptionally long aftertaste of blackberry, confectionary and vanilla. An enormous wine, yet filled with graceful charm.
Cellar 10-15 years.
Alc/Vol: 14.0%