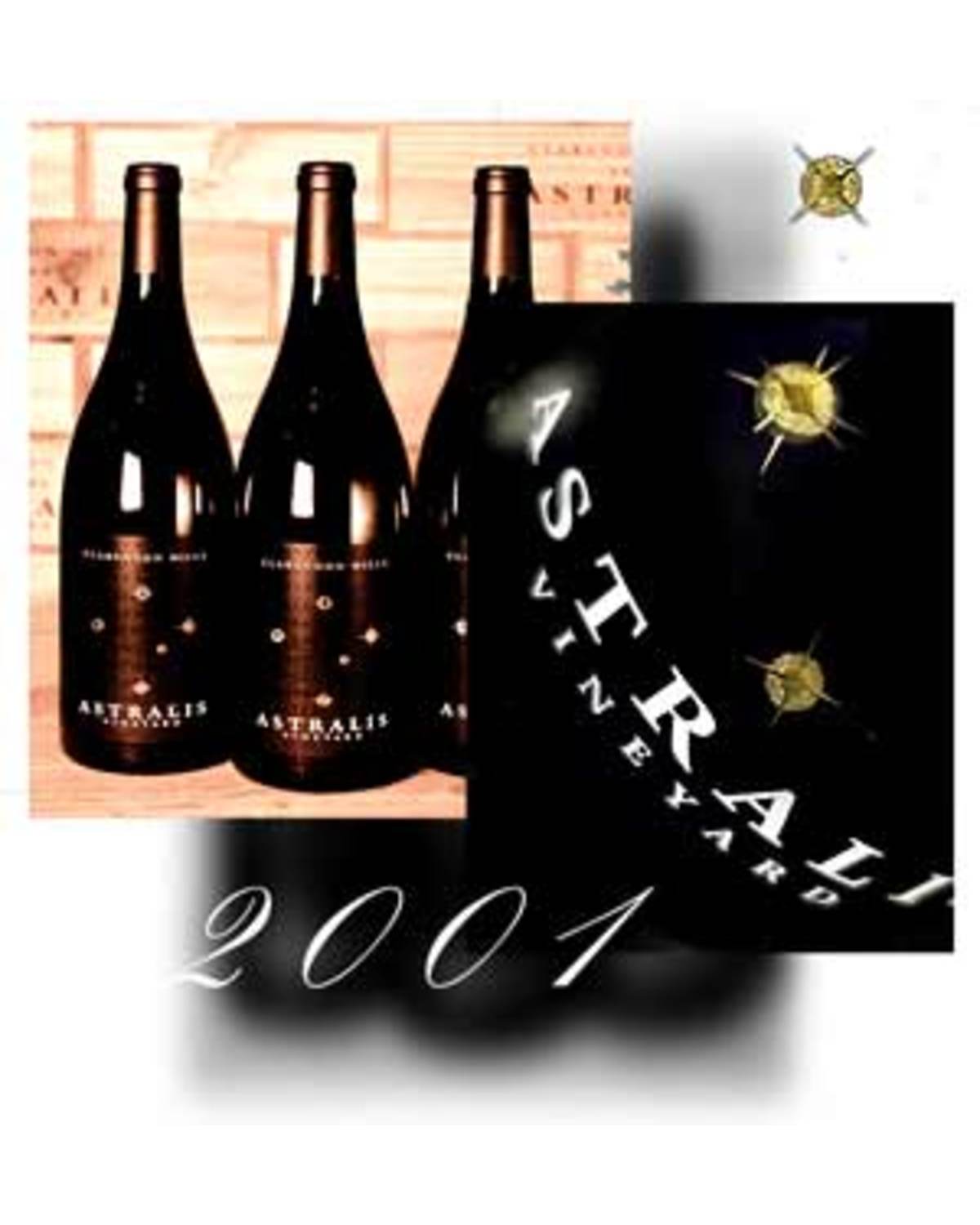 2001 Clarendon Hills Astralis Syrah (Shiraz)
Blewitt Springs, South Australia,
AUSTRALIA
Cellar:
15 - 20 Years (2017-2022)
This is the piece de resistance of the Clarendon Hills collection. The Astralis vineyard was planted in the early 1930's on clay ironstone soils. The vineyard yields approximately 2 tonnes per acre. The site has a due east orientation which captures the early morning summer sun and is one of the earliest blocks of old vine Syrah to ripen. The wine is matured in 100% new French oak barriques.
Tasting Note:
It is impossible to imagine blacker, more densely coloured wines than of the Syrah that preceded this wine in the line up. Yet when poured, the Astralis was not only visibly blacker and more purple, but the wine actually clung to the side of the glass as if the colour had been sprayed on. Superlatives are hard to find for this wine as they have already been exhausted – only a short time ago it seemed impossible to produce a Syrah on yet another level. The nose is a perfect sniff - one need not go beyond it to reach more lofty heights of pleasure. In the Astralis, the perfumed nature of the Clarendon Hills Syrah reaches a pinnacle, with an emphasis on violets, spice, liquorice, mocca, blackpepper and blackberries. On the palate, a super concentration of flavour is revealed – it is simply not possible to pack more flavour into a wine. Explosive, mouthfilling layers of blackberry, cedar, mocca, liquorice and blackpepper. Fine, firm dry tannins. Exceptionally long aftertaste that refuses to surrender. This wine aspires to a new level and certainly achieves it. If you can believe Roman (and we have no reason to doubt him) he and his 'mate' Robert Parker attended a tasting of Grange from 1951 to 2001 and mutually concluded Astralis to be the superior wine. Discount that praise if you will but whatever happens, get hold of some Astralis!
Cellar 15- 20 years. (2017-2022)
Alc./vol. 14.8%
RATING: 100/100
VALUE: XXXXX/5 #Clarendon2808
Other Reviews...
The 2001 Syrah Astralis Vineyard may be just as compelling as the 2002. Tighter because of being in the bottle, it is an extraordinary effort that offers the essence of graphite, blackberry liqueur, espresso, and acacia flowers, all combining into an olfactory smorgasbord for the senses. Sensationally concentrated, with sweet tannin, but neither weighty nor over the top as might be expected for a wine of such extreme richness, it is an extraordinarily well-delineated Syrah that should hit its prime in 10-12 years, and last for 30-40. Hail Caesar ... I mean Roman!

99 Points - Robert Parker (Wine Advocate #148 Aug 2003)