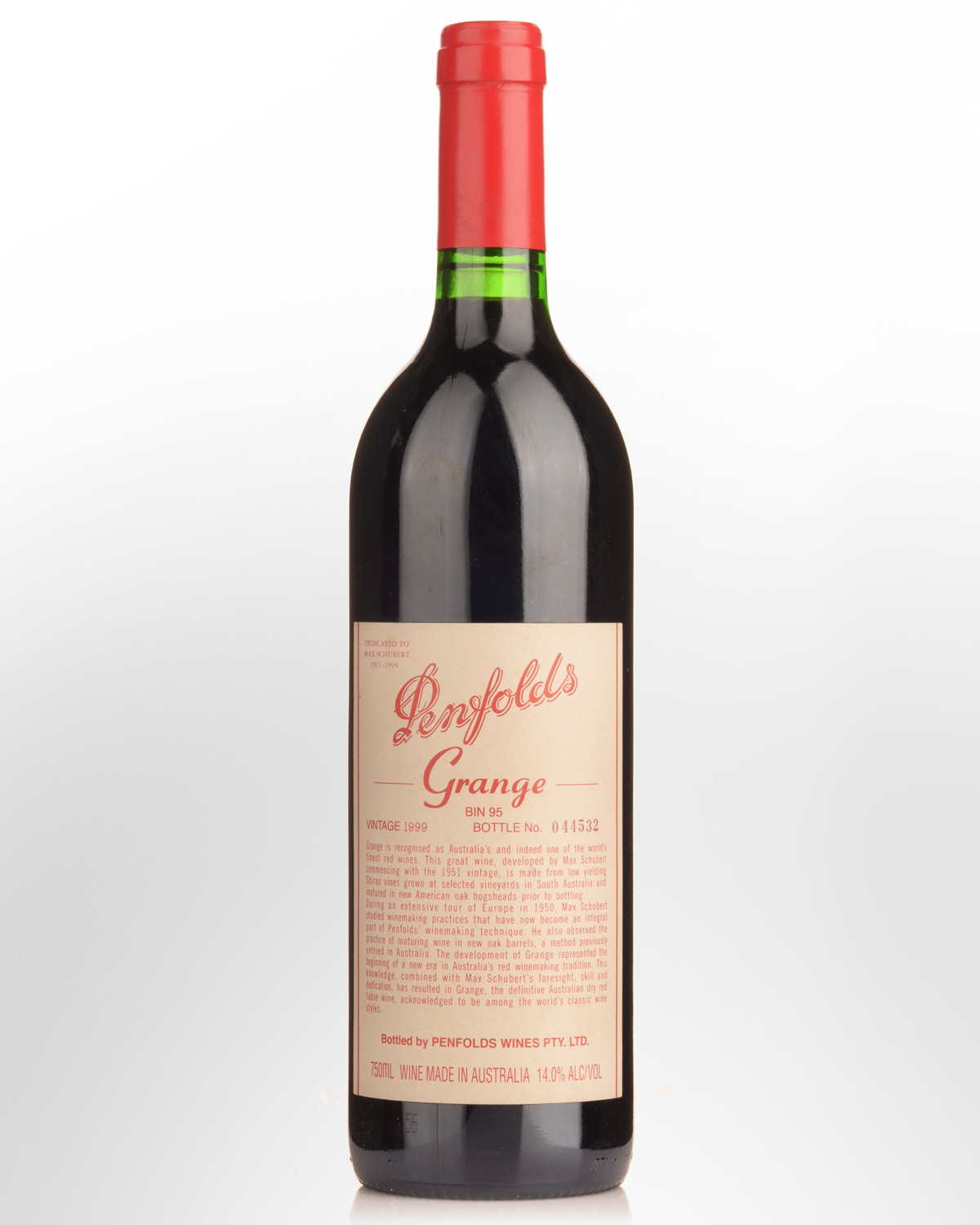 1999 Penfolds Grange Hermitage
South Australia,
AUSTRALIA
Notes sourced from Penfolds
Grange is both Penfolds' and arguably Australia's most famous wine and is officially listed as a Heritage Icon of South Australia. Grange boasts an unbroken line of vintages from the experimental 1951 and clearly demonstrates the synergy between Shiraz and the soils and climate of South Australia.
Penfolds Grange displays fully-ripe, intensely-flavoured and textured Shiraz grapes, matured in new American oak for 17 months. The result is a unique Australian style that is now recognised as the most consistent of the world's great wines. The Grange style is the original and most powerful expression of Penfolds' multi-vineyard, multi-district blending philosophy.
The first 100% shiraz Grange since 1963, and an excellent follow on to the 1998 vintage.
Fruit was sourced primarily from the Penfolds Kalimna Vineyard and other Barossa Vineyards, with proportions from McLaren Vale and Padthaway. The 1999 vintage in South Australia was defined by generally dry and cool weather conditions during early summer, temporarily disrupted by a hot spell in late January before moderate conditions during vintage. Multi-regional sourcing and strong vineyard management resulted in parcels of fruit being harvested with hallmark fruit richness and ripe tannins.
Tasting Note: Impenetrable deep red/purple colour. On the nose, notes of blackberry and blueberry fruit interwoven with perfectly tuned, malty, savoury oak, with liquorice and anise notes hovering above. Upon sitting there is a whirling aromatic shift, the wine becoming more complex, deeper, richer and darker. On the palate, layers of fruit, with blackberry and blueberry to the fore, as suggested by the nose. An underlying tarriness and new oak are seamlessly absorbed. A mass of fine grained tannins court a firm tight finish of great length. The wine possesses the essential ingredients of the marque, richness, harmony, and balance. A fitting Grange release to end the 1900's, with decades of life ahead.
Peak Drinking: 2010-2035
Alc/Vol: 14.0%
Robert Parker's Review
The 1999 Grange does not come close to such great Granges as the 1998, 1996, 1991, and 1990. Dense ruby/purple to the edge, with a bouquet of blackberries, mulberries, and floral-like aromas, and medium to full body, the 1999 has an acid punch, but also tremendous layers of fruit and extract. Not massive, but elegant and nicely layered, it requires another 2-3 years of cellaring, and should last for 12-15 years.
(Notes sourced from Robert Parker, The Wine Advocate #155)
ROBERT PARKERS RATING: 92 points
---
Notes Sourced from The Rewards of Patience - Fifth Edition (2004):
Outstanding vintage
Drinking Window: 2010 – 2035
Deep crimson-purple. Concentrated, elemental wine with ripe blackberry/liquorice/scented plum aromas and perfectly seasoned malty/savoury oak. The palate is powerfully rich with deep-set blackberry/plum/dark chocolate/malty flavours balanced by fine grained tannins. Finishes firm with plenty of flavour length. A classic Grange reflecting the sheer class of the 1999 Barossa vintage.
100% Shiraz. Kalimna Vineyard (Barossa Valley), Barossa Valley, Magill Estate (Adelaide), McLaren Vale and Padthaway. Dry winter conditions were followed by intermittent rains. Rain fell during November and December, but just enough to maintain healthy vines. The Barossa Valley and McLaren Vale experienced heavy rains in March and ripening slowed. Despite this, vineyards with good drainage produced fruit of exceptional quality. Padthaway escaped the burden ofMarch rain and experienced a great vintage.