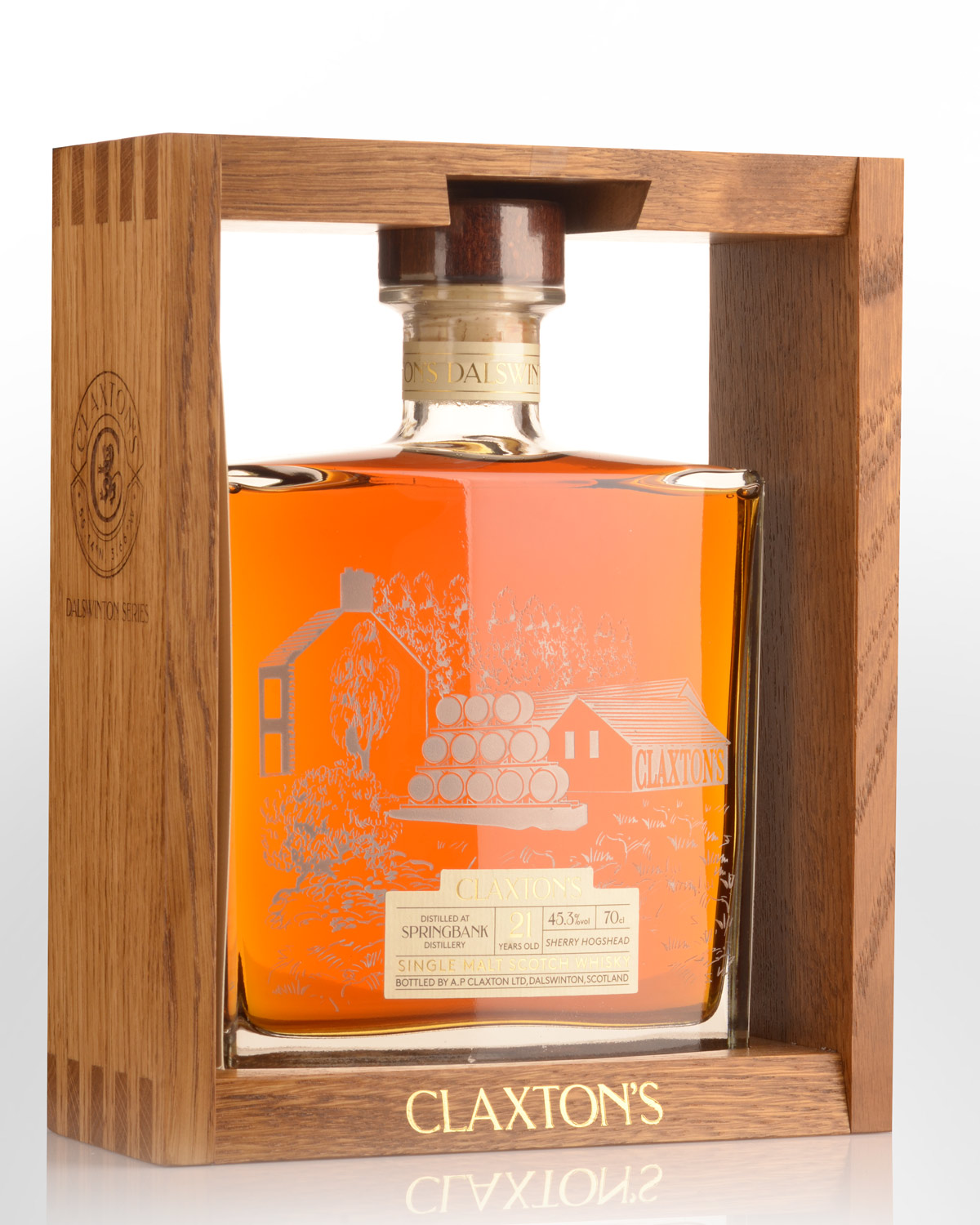 Limit One per customer

Nick's Import
1999 Claxton's Dalswinton Series Springbank 21 Year Old Cask Strength Single Malt Scotch Whisky (700ml)
A distillery that needs no introduction. Springbank has a long and sometimes turbulent history dating as far back as 1828 when William Reid first took out a licence to distill. Springbank is one of the longest standing distilleries in Campbeltown. As well as this, Springbank is the only distillery in Scotland to malt, distill, mature and bottle on the same site. The Campbeltown region once had around 35 distilleries and experienced a real whisky boom in the 19th and 20th centuries. However, this boom was not to last and in the 1920s the vast majority of the distilleries closed. By 1960 only Springbank and Glen Scotia survived. That's not to say Springbank emerged unscathed; the distillery was mothballed between 1979 and 1987, only fully reopening all aspects of the process in 1992. It has taken a number of years to rebuild this reputation, however, Springbank is now highly sought after. Making Claxton's release all the more desirable is maturation in a single sherry hogshead. This will go fast. 45.3% Alc./Vol. Non chill filtered.
Notes from the bottlers... Nose: Black Forest Gateaux. 'Dunnage' warehouse notes: damp earth and old oak. Thick and juicy Sherry notes. Palate: Soft and round. Sherry notes come through with sweet oak and black grapes. Lots of dried fruits and cloves. Finish: Long, bittersweet and oaky finish. A gentle smoke adds to a rocky minerality.
A 'one off' release of exceptional bottlings rarely found in the whisky market today, the Dalswinton series are a milestone designed to firmly cement Claxtons as a premium, quality-focused bottler of some of the finest reserves in the world of Scotch whisky today. Situated in the rolling hills of the Dalswinton Estate in Dumfries & Galloway, the series celebrates the unique location of the Daslwinton bond and has been curated to showcase the wonderful depth, quality and diversity of Scotland's malts and grains. Each cask was brought to Dalswinton's traditional dunnage style Warehouse No 1. for the final stages of maturation. Just 110 individually numbered, hand-filled and hand-labelled bottles were drawn from each cask. These in turn are being offered as five uniquely presented decanters each with a different scene from the Estate, hand-etched onto glass decanters by local engravers and housed in a manually crafted wooden display box. These investment grade rarities are unrepeatable and, quite simply, for anyone lucky enough to get in first. (Readers should note, as direct imports, the prices are bufferred. These should and will be selling for considerably more if / when they return to market).