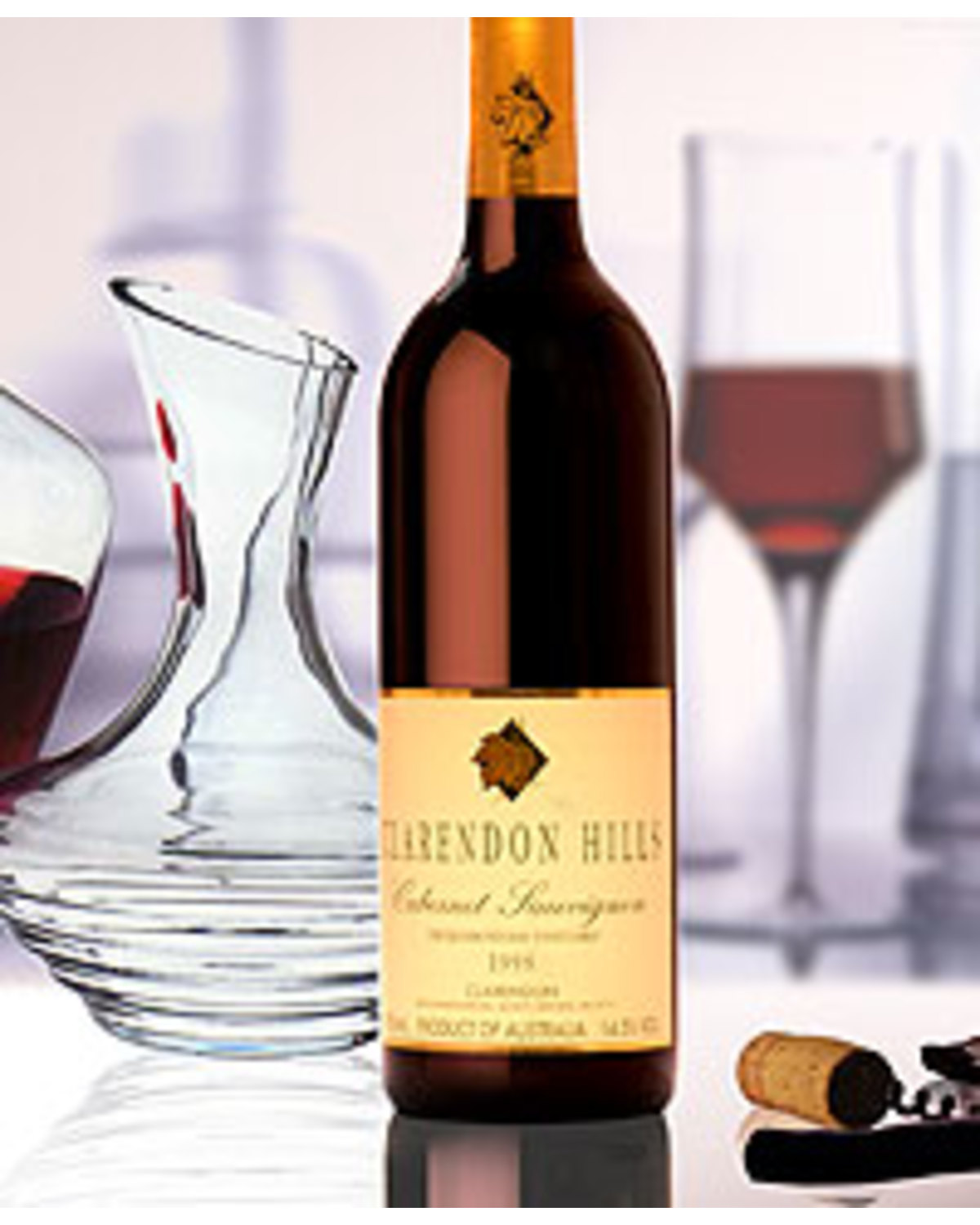 1998 Clarendon Hills Hickinbotham Vineyard Museum Release Cabernet Sauvignon
Clarendon, South Australia,
AUSTRALIA
Cellar:
8 - 10 Years (2011-2013)
CLARENDON HILLS MUSEUM RELEASE COLLECTION
"Owner & winemaker, Roman Bratasiuk is an individualist with a vision to produce spectacular wines – these Museum Releases are no exception."
Clarendon Hills is one of Australia's great vineyards achieving cult status Internationally, with extraordinary praise coming from American wine authority, ROBERT PARKER. The Clarendon Hills wines have achieved spectacular success in a very short time, given that the first vintage was 1990. Such 'overnight' success was not achieved without diligent effort or great focus. The owner and winemaker,ROMAN BRATASIUK (of Ukrainian descent) has always been an individualist, preferring to go it alone and learn from his own experiences rather than be influenced by fellow winemakers. He shuns the company of fellow Australian winemakers and whilst his winery is minutes from McLaren Vale, he can't remember the last time he called in. But, to say that he has not been influenced by others would be untrue. Bratasiuk's inspiration comes from France – Bordeaux, Burgundy, Rhone Valley and his beloved Oporto. His desire is to make wines that accompany food rather than mere fruit bombs of primary fruit flavour. Bratasiuk's early wines were made at a small winery located in the Adelaide Hills and although trained as a biochemist, he has had no formal wine training. It's amazing just how effective the 'school of hard knocks' can be. The early formative years helped Bratasiuk assess the quality of the fruit from the various vineyards around the district. The conclusion that he reached was that the old vines from the Clarendon Hills subdistrict were superior to other vineyards. The average age of the vines that Roman uses for his wines vary from 70-80 years. They are all dry grown and all still hand pruned and harvested, with Clarendon Vineyard even being hand hoed. Many of these old vines exist as bush vines, that is, they grow like trees in an orchard, rather than being trellised. Bratasiuk doesn't own any of these vineyards, but contracts the growers to produce exceptional fruit for which he pays over the odds for. He organizes his own pickers and by carefully monitoring the grapes flavour profile development, chooses the picking dates.
Grenache has become one of his trademark wines, a resource that he developed in the early 1990's prior to there being a big interest in the variety. There were other Rhone Rangers at the time, RANDAL GRAHM in California and CHARLIE MELTON in the Barossa were two of the early advocates of the variety and managed to lift the status of the wine from vin ordinaire to super premium. However unlike Melton and Grahm, Roman chooses to keep his wines 'pure' preferring not to blend or even intermix different vineyard wines coming from the same area.
During May we visited Clarendon Hills to conduct the tasting of the 2002 wines, which were of outstanding quality and will be offerred for sale on a pre-arrival basis later this year. During the day we backtracked over some older vintages from Roman's Museum stocks. His willingness to show us these wines was an opportunity to confirm our own opinion concerning the aging ability of his wines (an issue that had been posed by some of our customers.) Roman was somewhat aggrieved by the fact that anyone would doubt the aging potential of his wines and promptly proceeded to open a number of back vintages of Astralis as well as the 1998 Cabernet Sauvignons and 1996 Grenache. The wines were outstanding and we immediately began to negotiate for stock.

THE 1998 VINTAGE HAS BEEN HAILED AS THE GREATEST VINTAGE OF THE LAST CENTURY & ACROSS THE COUNTRY, SOME OF THE WORLD'S MOST EXCITING WINES WERE PRODUCED. WHILST TASTING THE 2002 BARRELS, WE PRESSED ROMAN TO RELEASE SOME OF HIS MUSEUM WINES ONTO THE MARKET, PARTICULARLY AFTER WE TASTED THEM. THERE WERE SEVERAL REASONS FOR OUR REQUEST, FIRSTLY, THE WINES ARE OUTSTANDING, SECONDLY THEY ARE DRINKING SUPERBLY AND THIRDLY TO DISPEL THE MYTH THAT SOME WINE CRITICS HAVE CLAIMED THE WINES DO NOT AGE (NOTHING COULD BE FURTHER FROM THE TRUTH!)
Tasting Notes:This wine displays a hint of brick red, indicating that it is developing at a faster rate than the previous two 1998 Cabernets. Superb nose of cedar and cigar box, with hint of soy and blackcurrant. Totally explosive palate, with flavours of dark chocolate and spearmint emerging over a layer of cedar. Perfect balance followed by a very long aftertaste of spice, dark chocolate and blackcurrant.
Cellar 8-10 years (2011-2013)
Alc/Vol: 14.5%
RATING: 98/100
VALUE: XXXXX/5