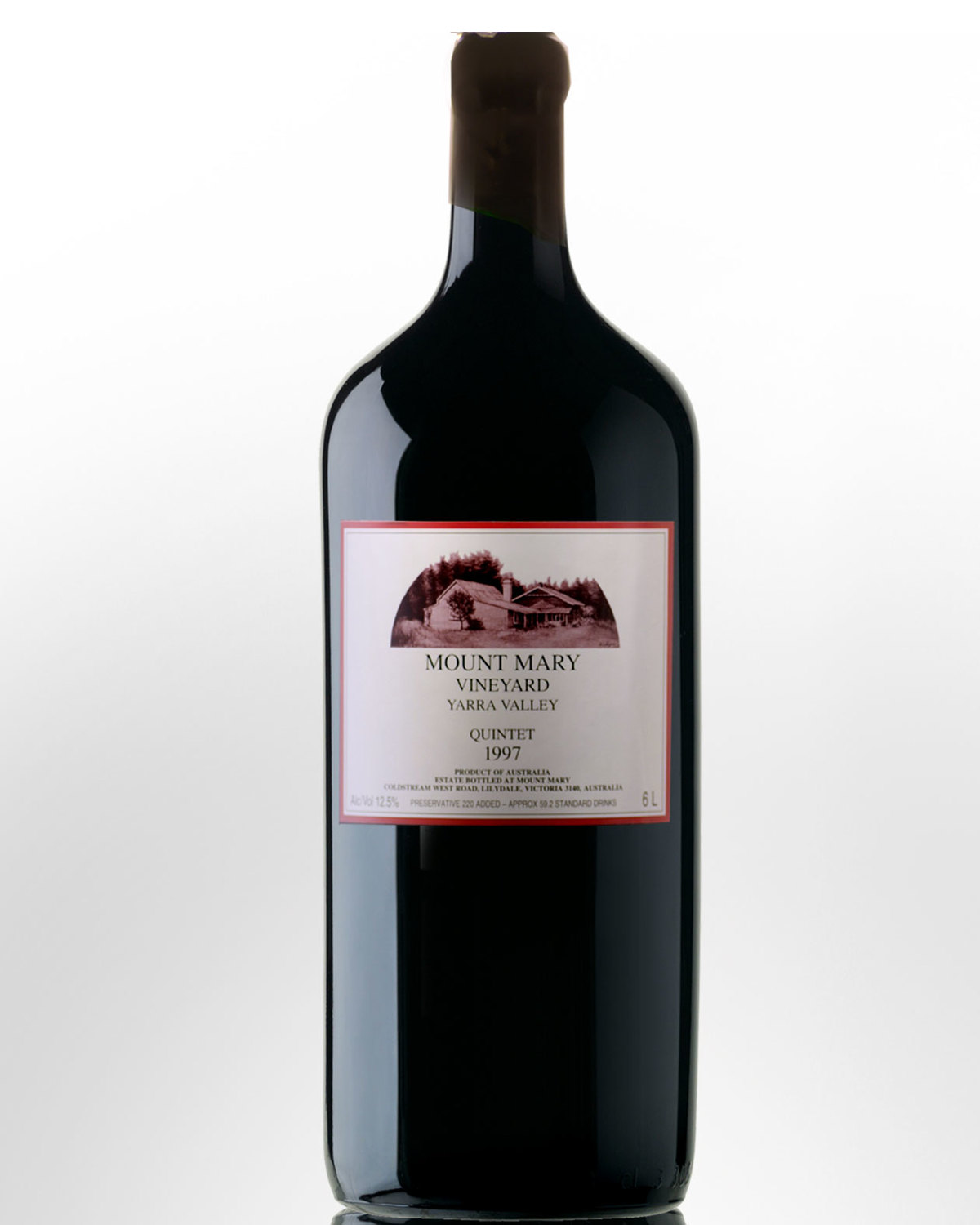 1997 Mount Mary Quintet Cabernets Methuselah (6000ml)
Yarra Valley, Victoria,
AUSTRALIA
An Extraordinary Trophy for any Serious Cellar. One Methuselah only available.
Mount Mary wines in the Yarra Valley, are regarded as amongst Australia's very best. The vineyard is situated on northern, well drained slopes, and historically has been regarded as an exceptional site. Established in the early 1970's by Dr John Middleton and his wife Marli, the reputation of Mount Mary has spread well beyond the shores of Australia with serious wine collectors world wide snapping up any stocks that happen to find their way onto the markets. The 1997 is from the period when Dr John Middleton was assisted by winemaker and viticulturist, Mario Marson. Together they produced a collection of wines that were truly formidable. At the time, Marson was largely unknown outside of the winemaking community and could be regarded as Australia's greatest shadow winemaker. The Mount Mary Cabernets are amongst the country's finest and positioned along side Penfolds Grange Hermitage and Henschke Hill of Grace as icon wines. The Cabernets are made with a Bordeaux inspired blend of Cabernet Sauvignon, Cabernet Franc, Merlot, Malbec and Petit Verdot.
Tasting note:
An extraordinary bottle of wine, even 'blind freddy' can tell that it's 'posh'. This wine definitely draws its inspiration from Bordeaux First Growth, and in particular, Chateau Lafite and Chateau Latour in its finesse and construction. It's almost impossible to compare this wine with other Australian reds, as neither its structure or flavour conforms to an Australian norm. It is without a doubt a world class wine. Made by Mario Marson, John Middleton's winemaker at Mount Mary, the wine is a reaffirmation of the fact that Australia is capable of producing First Growth quality and finesse. Deep crimson colour, with purple mauve hues. Superb complex aristocratic nose, powerful aromas of violets, blackcurrant, spice and cedar fill in the nose with an aire of grace and confidence only seen in First Growths. The palate is superbly structured - elegant, and yet filled with remarkable power and concentration of flavour. A seamless marriage of component parts - Cabernet Sauvignon, Merlot, Cabernet Franc, Malbec and Petit Verdot. Exquisite balance with very long aftertaste of cedar, violets and blackcurrants. A totally refined experience.
Cellar 8-15 years.