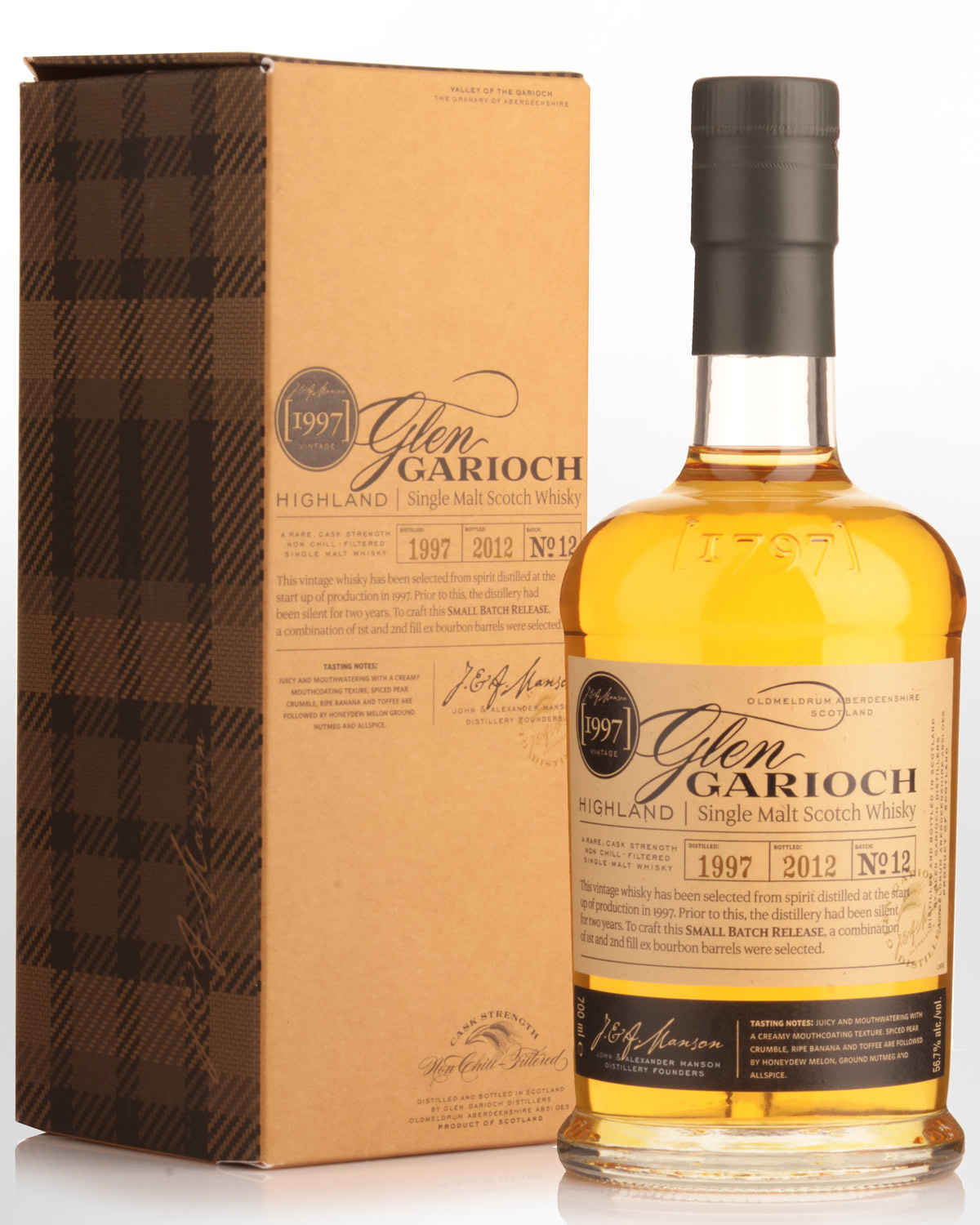 1997 Glen Garioch Batch No.12 Cask Strength Single Malt Scotch Whisky (700ml)
'Lost warehouse stocks' from the Travel retail series released in 2012. Long sold out at major UK retailers. One shipment only.
For those whose sense of satisfaction is found in extremes, Glen Garioch's 1997 Batch 12 comes with a strong recommendation. Unpretentious, mouth coating and mouth watering, this fifteen year old malt-bomb sets the standard for mega-Highlanders. After two years of silence, production at Glen Garioch recommenced in 1997 (which also happened to be the company's 200th anniversary). The spirit selected here was from the start-up run. Evidently the Distillery Manager was determined to impress. To some extent the high ABV obfuscates the finer points on the nose, so if you like a sniff, add water to release classic Highland notes of stewed apples, pears and fruit pastries. The palate weight is simply enormous. The deluge of spices almost achingly intense. A mix of first-fill and notably, second fill Bourbon barrels really lets the malted barley rip, punctuated by oaky vanillas and the fruity notes found on the nose. Adding further interest are hints of salted crackers and bitter orange. By the finish, it feels like a whisky collapsing under its own weight. While air contact shows it at its best, it will also handle ample water. In fact, considering the massive ABV and the way this floats, the value is like getting two bottles in one. A remnant of the Travel Retail series released in 2012 and long sold out at major UK retailers, we don't expect to see anything like this again soon, so if you can afford it, get one to taste and one to keep. You won't regret it. 56.7% Alc./Vol. Non chill filtered.
Other reviews... I have to say, I have long been a bit of a voice in the wilderness among whisky professionals as regards this distillery. This not so subtly muscled malt does my case no harm whatsoever. 89.5 points - Jim Murrays Whisky Bible 2021