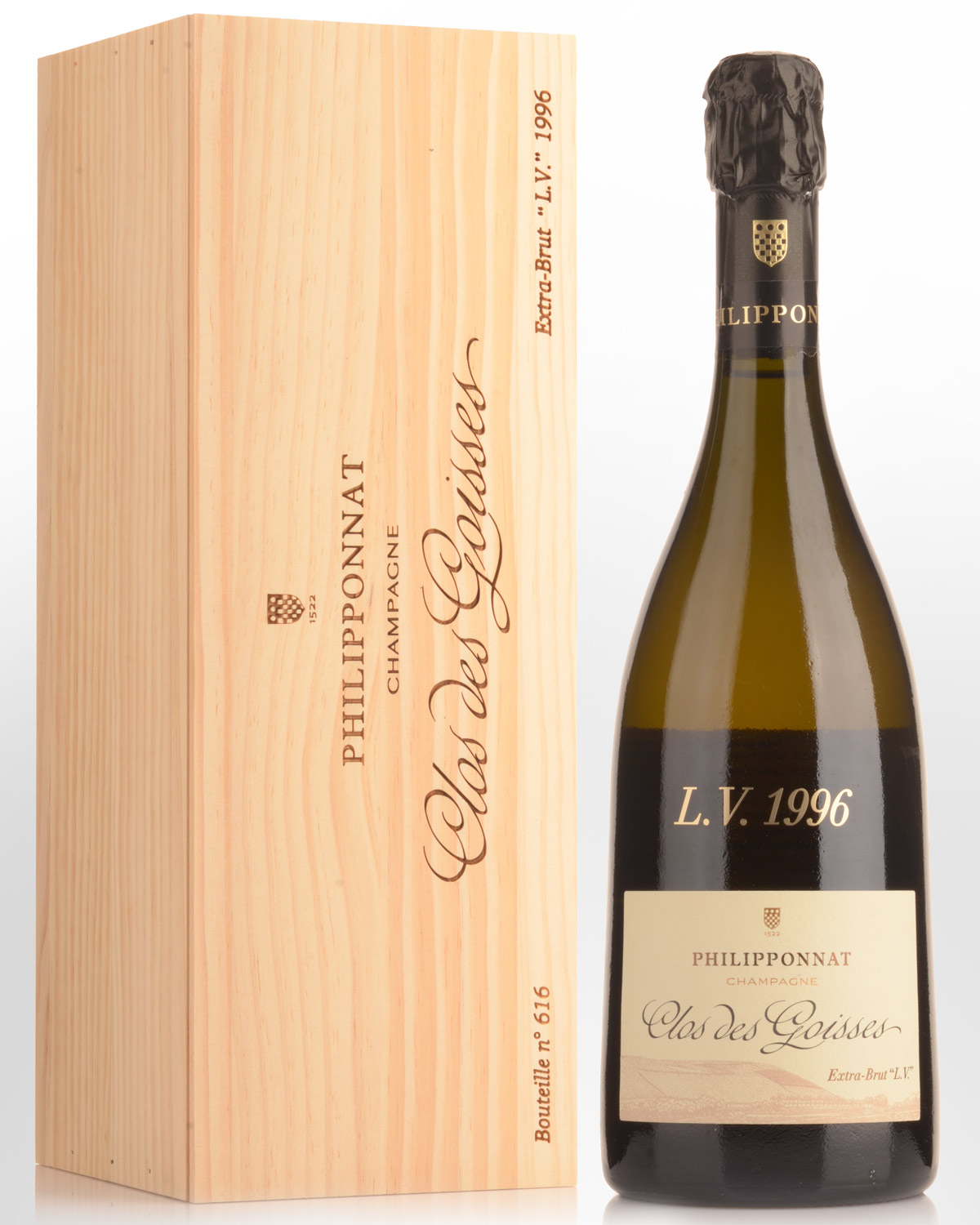 1996 Philipponnat Clos des Goisses L.V. Extra Brut Champagne
Philipponnat's Clos des Goisses vineyard is one of the most famous in all of Champagne, and having been purchased by the Philipponnat family in 1935 it immediately became its crown jewel. The name is taken from the local dialect "Gois" meaning very steep, and the vineyard is the steepest, directly south-facing site in the whole of Champagne with a gradient between 30-45%. Pinot Noir dominates the cuvee with the typical blend two-thirds Pinot and one-third Chardonnay, granting Clos des Goisses with power, structure, and exceptional longevity. Work is done almost entirely by hand, and no insecticides or synthetic herbicides are used in the vineyard.
The L.V. (Long Vieillissement / long ageing) release of Clos des Goisses is the rarest bottling to come from the vineyard in which only a few hundred bottles are ever released. Philipponnat's most recent L.V. comes from the stunning 1996 vintage, and was disgorged 25 years after harvest in 2021 bottled with a very low 4.5 g/L dosage.
Other Reviews....
Only small amounts of this vintage has been made available before now, so this is really an extremely special release from one of the last Champagne houses to be run by a member of its founding family. Now 25 years post harvest, this was a high acidity vintage, meaning it was always clear that it would age well, but also clear that Clos des Goisses benefitted more than ever from its south-facing slopes that allowed the Pinot to get beautifully structured and ripe to balance the acidity. Rich and nuanced in colour, golden amber, with evident body and powerful flavours of quince, tobacco, campfire smoke. A brilliant interplay between tertiary truffle and patisserie notes with elderflower, white peaches and lemongrass coming in halfway through to add lift. Precise and delicate bubbles, clear persistency, with a bitter almond finish. The house vintages are all aged in the traditional 18C cellars, riddled by hand. Very low dosage at 4.5 g/l - making it an Extra Brut (as are all the Philipponnat Champagnes). Bottled 1997, disgorged March 2021 (and just 600 bottles, going up to perhaps 900 maximum, for worldwide distribution). Would benefit from a short carafe before drinking, but the main priority here is to clear your schedule and enjoy.
100 points
Jane Anson
A special back-vintage release of the Clos des Goisses 1996 which has seen no other official commercial sales since its initial disgorgement. The bottles being offered via the Place de Bordeaux, which amount to less than 1,000, were disgorged in March 2021 having spent 24 years on their lees. A beautiful light caramel gold colour in the glass, this has aromatic intensity with a poised and delicate palate. So juicy and fresh, the high acidity of the 1996 vintage still evident with bright white fruits at the fore backed by buttery patisseries elements and some tertiary nuttiness around the sides of the mouth that give shape to the overall mouthfeel. An invigorating glass and one to savour the nuanced complexity. A dosage of 4.5g/l. Drinking Window 2021 - 2031.
99 points
Georgina Hindle - Decanter
Lots of bread dough and rancio with dried-apple and white-pepper aromas that follow through to a full body with a tight and beautiful palate of intense yeast and fresh pie. Raw pie crust at the end, as well as almond cream and some cheese. Steely. Unique late release. Drink now.
98 points
James Suckling
The 1996 Extra-Brut Clos des Goisses L.V. has reached a glorious peak of expression. Apricot, burnt sugar, spice, pastry, hazelnut and a whole range of reductive notes that have developed in bottle fill out the layers. In 1996, Clos des Goisses was still aged on cork (for both the original and L.V. releases. Over time, cork seems to given the 1996 an especially relaxed, resonant feel. Dosage is 4.5 grams per liter. Disgorged: March, 2021. Drink 2021 - 2036.
96 points
Antonio Galloni - Vinous