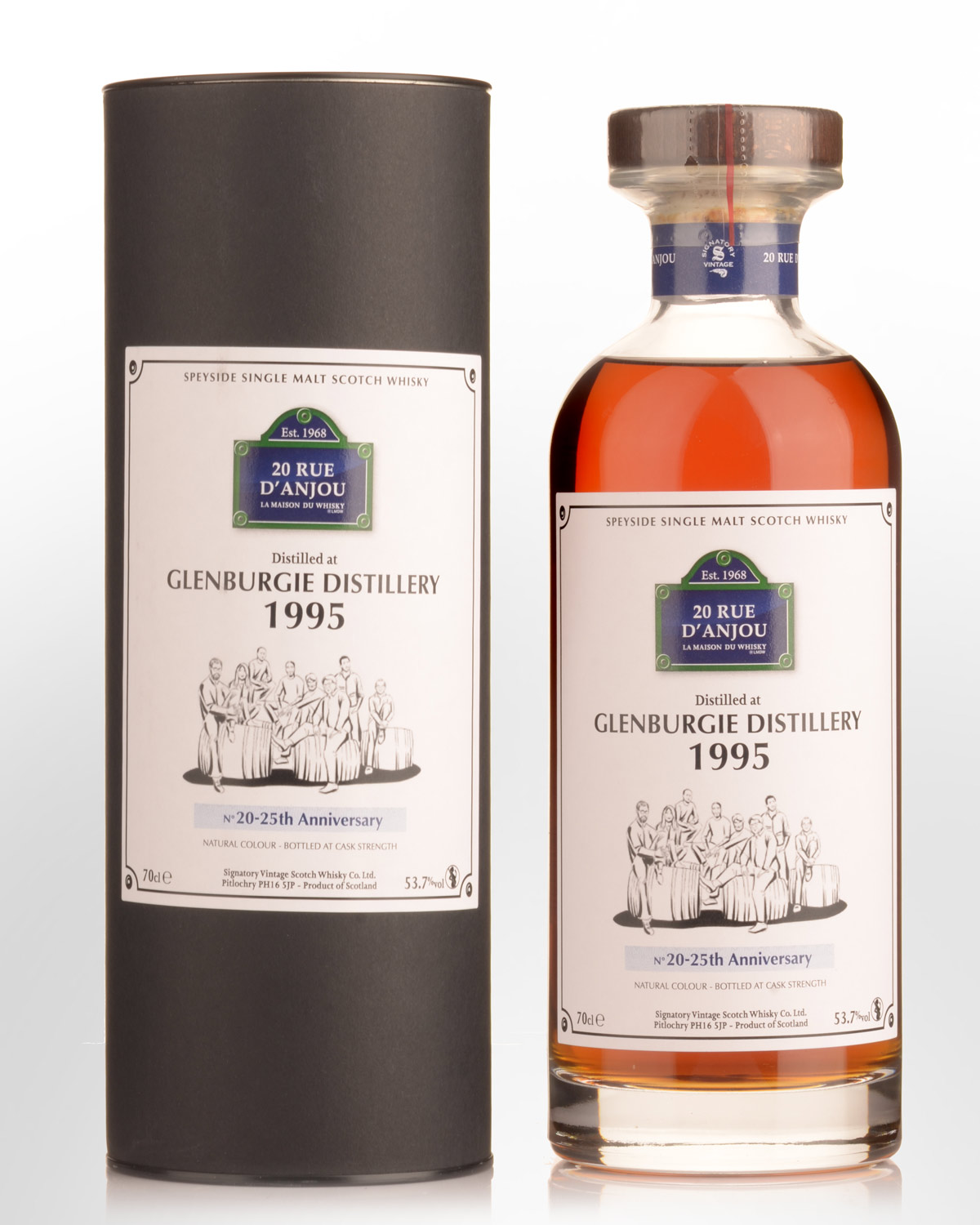 1995 Signatory Vintage Glenburgie 25 Year Old Cask Strength Single Malt Scotch Whisky (700ml) - LMDW Exclusive
Speyside, Highlands,
SCOTLAND
The team at French retailer, La Maison du Whisky have bottled a series of malts to celebrate various anniversaries. Glenburgie's not a big name, which might be what attracted the buyers to pick it. It was more sought after twenty or thirty years ago, especially the sherried versions, and this is one. Described as "Halfway between classicism and modernity with notes of rancio overflowing with fruit", it was drawn from a moderately active sherry cask which doesn't overwhelm, instead leaving "some older Speyside vibes". Evidently selected by Signatory originally, so it ought to be pretty good. All natural and cask strength at 53.7% Alc./Vol. Comes presented in a premium heavy-weight decanter with large stopper.
Notes from LMDW... Color: topaz with very slightly coppery reflections. Nose: ample, fine. What a nice first nose composed of citrus zest (orange, tangerine), heady flowers (iris, lilac), toffee, beeswax, heather honey and an absolutely delicious rancio (white peach, cherry with brandy, candied mango, apricot). More and more deep, with aeration, aromas of malted barley, blood orange, salted butter caramel, aromatic plants (chamomile, verbena), dark chocolate, black licorice and almost peat provide a lot of complexity on the aromatic palette. Mustard seeds, quince jelly and baked apples then lead us to the moment of tasting. Palate: delicate, silky. Divinely chocolatey, the attack on the palate is at the same time very pulpy. She invites us to bite into the flesh of very ripe fruits (mango, apricot, peach). In the mid-palate, some noble spices (cinnamon, ginger) rub shoulders with cocoa beans, a delicious apricot liqueur, almond cream and salted butter caramel. In the aftertaste, gentian and curry highlight with great freshness a delicious malty bitterness. Overall: long, fluffy. What a lovely finish coated with very nice filled tannins. Wine lovers will appreciate the resemblance to a natural sweet wine from Banyuls with notes of black cherry and heady flowers (peony, rose). Gradually, the thin whitish film covering the taste buds evokes the bloom of black grapes about to be picked. Luminous, the retro-olfaction highlights the balanced qualities of a perfectly integrated ripening. A true ode to malted barley, the empty glass is also exotic (mango, persimmon), chocolatey and vegetal (tobacco).