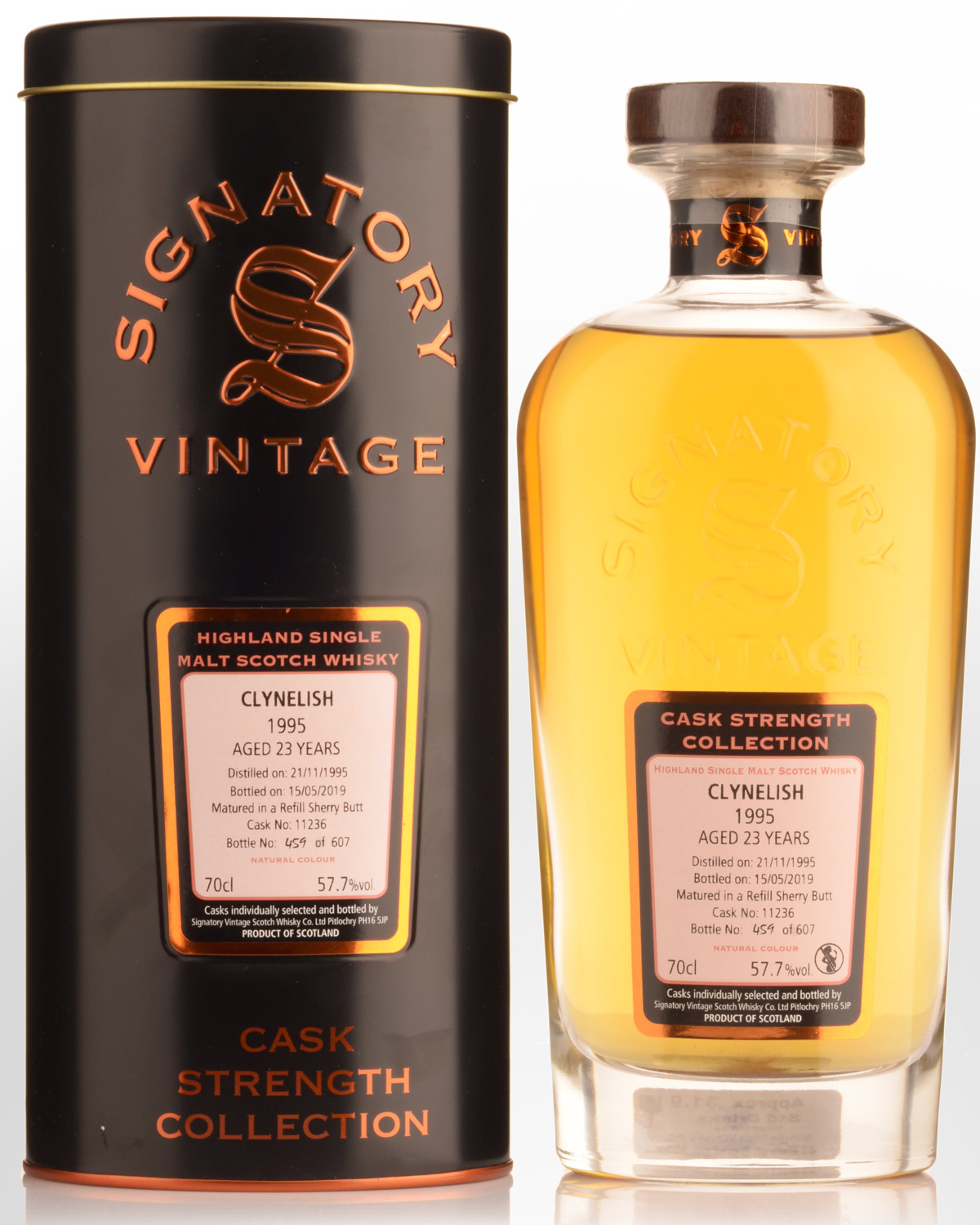 1995 Signatory Vintage Clynelish 23 Year Old Cask Strength Single Malt Scotch Whisky (700ml) - 57.7%
Note: The Signatory range often arrive in to our store suffering from minor damage in transit. This is out of our control. When we dispatch to you we will re-pack to avoid further damage in transit but you should allow for possible dents and scratches to the metal tins.
At the edge of the fishing port of Brora, north-coastal based Clynelish is a replica of the modern Islay distillery, Caol Ila, with an output that's been highly prized since its beginnings. Barley is malted with a low to medium peat and mashed with water from the Clynemilton burn. There's sometimes a salty tang, however this Signatory selection highlights Clynelish's trademark waxy-fruitiness - and to great effect. The causal link to this distinctive flavour profile is explained by scotchwhisky.com: "Clear worts and long ferments start the process, while distillation involves maximising copper conversation – unusually, but not uniquely, Clynelish's spirit stills are larger than its wash stills. This regime would help to produce a fruity spirit were it not for what happens in the feints receiver. In any distillery there is a natural precipitation of oils in the tank which would normally be removed during the distillery's annual silent season when the plant is fully cleaned. When this happened at Clynelish, the waxy character disappeared. Realising that the gunk had specific qualities, these days it is removed during silent season and then replaced. The mature character retains waxiness as a mouth-coating texture allied to citric notes and, occasionally, a little mineral/ozone hint. Tastings of single malts (and blends) from the 1950s and 60s suggests that waxy was a significantly more prevalent style industry-wide in those days."
Always desirable, and increasingly on collector's radars, this Signatory cask strength edition is one of 607 bottles from a refill sherry butt emptied in May 2019. 57.7% Alc./Vol.