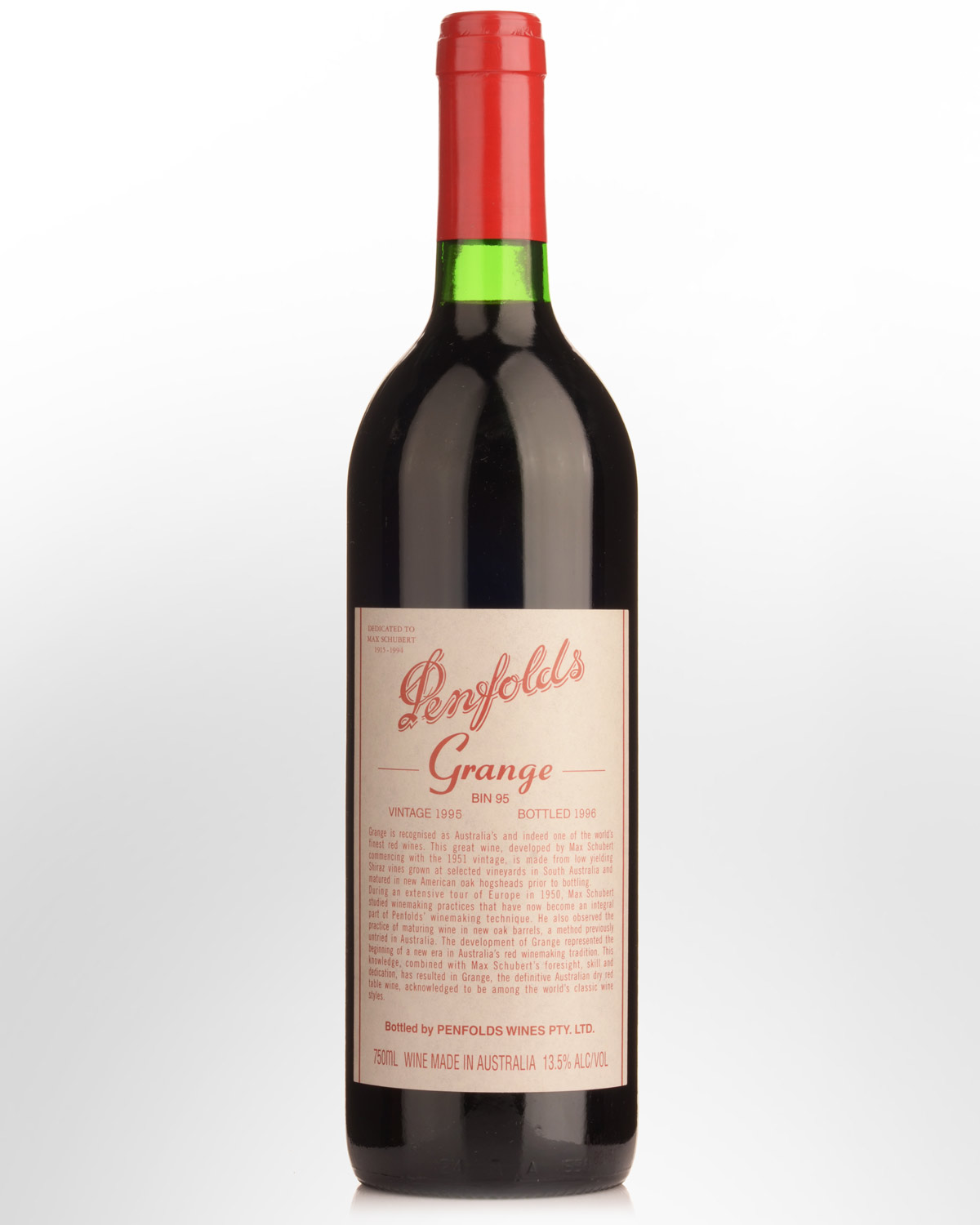 1995 Penfolds Grange Hermitage
South Australia,
AUSTRALIA
Notes Sourced from The Rewards of Patience - Fifth Edition (2004):

Drinking Window: 2006 – 2020
Deep crimson. Scented, herb garden/blackberry/spicy nose. Elegantly structured but well-concentrated wine with blackberry/cedar/spice flavours and ample, fine, but leafy tannins. An earlier drinking Grange.
94% Shiraz, 6% Cabernet Sauvignon. Kalimna Vineyard (Barossa Valley), Barossa Valley and Magill Estate (Adelaide).A period of drought and September frosts reduced potential yields. Warm, dry conditions prevailed until late March/early April when a cooler weather pattern marked by drizzle set in.
---
Notes sourced from Southcorp Wines.
The 1995 Grange is the 45th consecutive vintage of the wine that carries the flag internationally and domestically for the Australian wine industry. Penfolds Grange was created by the legendary winemaker, the late Max Schubert, who died at 79 in 1994 after a 60-year career with Penfolds. Grange's weight and concentration can be traced to rigorous selection of intensely-flavoured Shiraz grapes from mature vines in some of South Australia's finest vineyards. The quantity of Grange made each year is determined by the availability of grapes of the required quality and style. Penfolds multi-region, multi-vineyard blending policy enables winemakers to reduce the impact of vintage variation to the point where experts the world over consider Grange to be among the most consistent of the world's great wines. Partial fermentation and 18 months of maturation in new American oak adds complexity and highlights the Shiraz fruit richness. Grange receives almost four years of bottle age, moderating the raw power of youth and allowing the wine's components to begin a long process of integration and development. Despite a difficult vintage, rigorous selection of intensely-flavoured grapes from mature vines in some of the finest South Australian vineyards produced a wine that exceeded vintage expectations.Made from 100% Shiraz the wine was matured for 17 months in 100 per cent new American oak hogsheads.
Tasting Notes: size> Deep red colour. The nose is complex with masses of concentrated plum, raspberry and blackberry fruit aromas and hints of leather, dark chocolate and spice. The palate Displays all the classic hallmarks one would expect of Grange, this is a full-bodied, richly-flavoured wine with ripe, dark stewed fruits and mixed spices with seamless, perfectly integrated oak and chewy tannins. It is generally agreed that Grange begins to drink at its best 12 to 15 years from vintage date and can continue to improve in the bottle for years after that. The 1995 vintage is developing quicker than the more robust 1993 and 1994 vintages. 13.5% alcohol volume.
"Medium-full red/purple. Defined, dark plum/cassis fruit interwoven with well-seasoned, toasty, spicy oak. Powerful and dense palate with very seductive sweet, rich, raspberry/prune/liquorice/ginger fruit, massively structured tannins, cedar/spice oak and long, chocolatey finish . Still meshing together but destined to become a classic Grange. Drink between 2008 and 2030." (Southcorp Wines, The Rewards of Patience, Fourth Edition, March 2000)