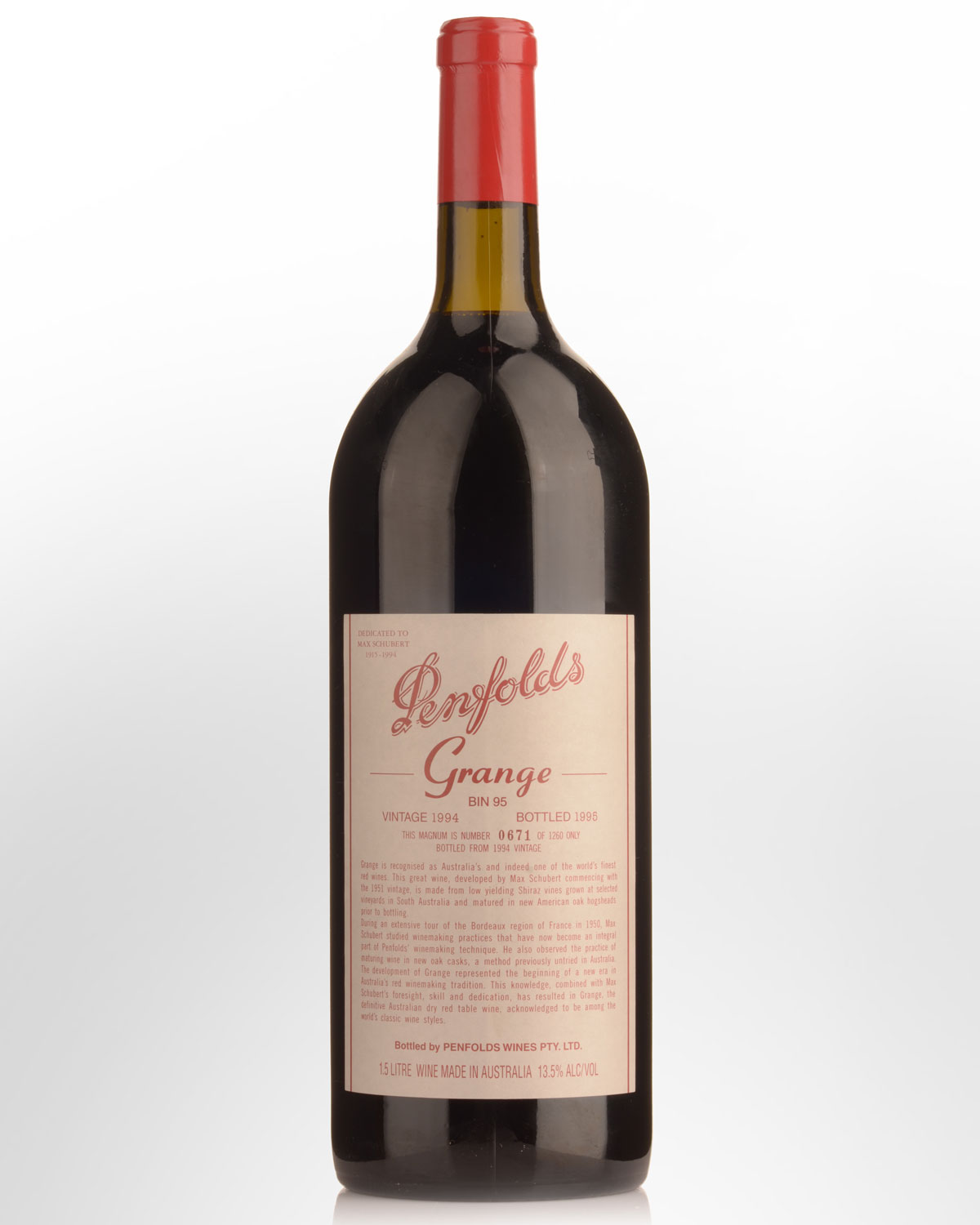 1994 Penfolds Grange Magnum (1500ml)
South Australia,
AUSTRALIA
Notes Sourced from The Rewards of Patience - Fifth Edition (2004):
Outstanding vintage
Drinking Window: 2008 – 2020
Deep crimson. Intense plum/dark cherry/blackberry/dark chocolate aromas with some menthol notes. Very powerful and concentrated with blackberry/dark chocolate/mocha flavours and rich granular tannins. A great and often overlooked vintage.
89% Shiraz 11%, Cabernet Sauvignon. Kalimna Vineyard (Barossa Valley), Barossa Valley, Mclaren Vale and Coonawarra.A dry, mild even-ripening vintage in the Barossa. Intermittent rains but mild conditions in McLaren Vale and a warm, dry autumn in Coonawarra delivered a very high quality vintage.
---
Notes sourced from Southcorp Wines.
Region: Barossa Valley, McLaren Vale and Coonawarra, South Australia
Grange is the benchmark by which all other reds in this country, and, increasingly, overseas, are often measured. The reasons for this are many yet straightforward: Concentration of flavour - Grange is decadently rich with layer upon layer of flavour that coats the tongue and scents the breath minutes after swallowing. This kind of fruit weight can only come from the finest, old vine fruit and low yielding vineyards. Complexity - the profuse aromas that leap from a glass of Grange defy the typical adjectives used by wine tasters. These are hedonistic aromas of rich ripe fruits and spice yet with an "otherness" of which wine tasters speak of in hushed tones. Further, each time the taster returns to the glass the wine hasevolved new aromas, new interest, new reasons to get excited. Longevity - Grange blossoms with 15 to 20 years of bottle age, when most other reds have past their best, and better vintages can live and continue developing for decades longer. And finally, Heritage - first produced by Max Schubert in 1951, the '94 Grange represents over 40 years of winemaking excellence.
Vintage Conditions: Barossa Valley - a drier than average growing season with rainfall at 83 per cent of the 10 year mean, reducing yield in a virtually disease-free season. Ripening was slow. Good sugar levels and alcohols and ripe flavours were realised.McLaren Vale- good rainfall and mild temperatures.Coonawarra - a warm, very dry Autumn followed a cool and sometimes wet Summer.
Oak Maturation: Aged in 100% new American oak for 18 months
Winemaker John Duval's Comments: Colour: Dark plum with brick red rim.
Nose: Rich and complex with flashes of green tea leaf and truffle, interlocked with freshly tanned leather and savoury notes, prune and stewed blueberry fruits. Enticing classy oak (cedar) elevated, yet not overstated, by smokey barrel ferment character.
Palate: What is promised on the nose is delivered on the palate - an opulent, intense, hedonistic wine. Layers of massive Shiraz fruit and expertly crafted oak manifest themselves into a seemingly endless variety of flavours - deep plum, licorice, cedar, chocolate, coffee -all compressed into a silken, round mouthfeel. Forceful, ripe tannins are balanced by sheer weight of fruit. An excellent offering from an above average vintage. 13.5% Alcohol Volume.
Serving and Cellaring suggestions: Grange is a wine that will develop over at least thirty years in the cellar. It is recommended that wine lovers wait at least 10 to 15 years, however the wine can be, and often is, enjoyed in its youth for its sheer opulence and power. It is the ultimate match with rich red meat dishes. This Grange should be decanted before serving.
"Medium-full red/purple. Defined, dark plum/cassis fruit interwoven with well-seasoned, toasty, spicy oak. Powerful and dense palate with very seductive sweet, rich, raspberry/prune/liquorice/ginger fruit, massively structured tannins, cedar/spice oak and long, chocolatey finish . Still meshing together but destined to become a classic Grange. Drink between 2008 and 2030." (Southcorp Wines, The Rewards of Patience, Fourth Edition, March 2000)