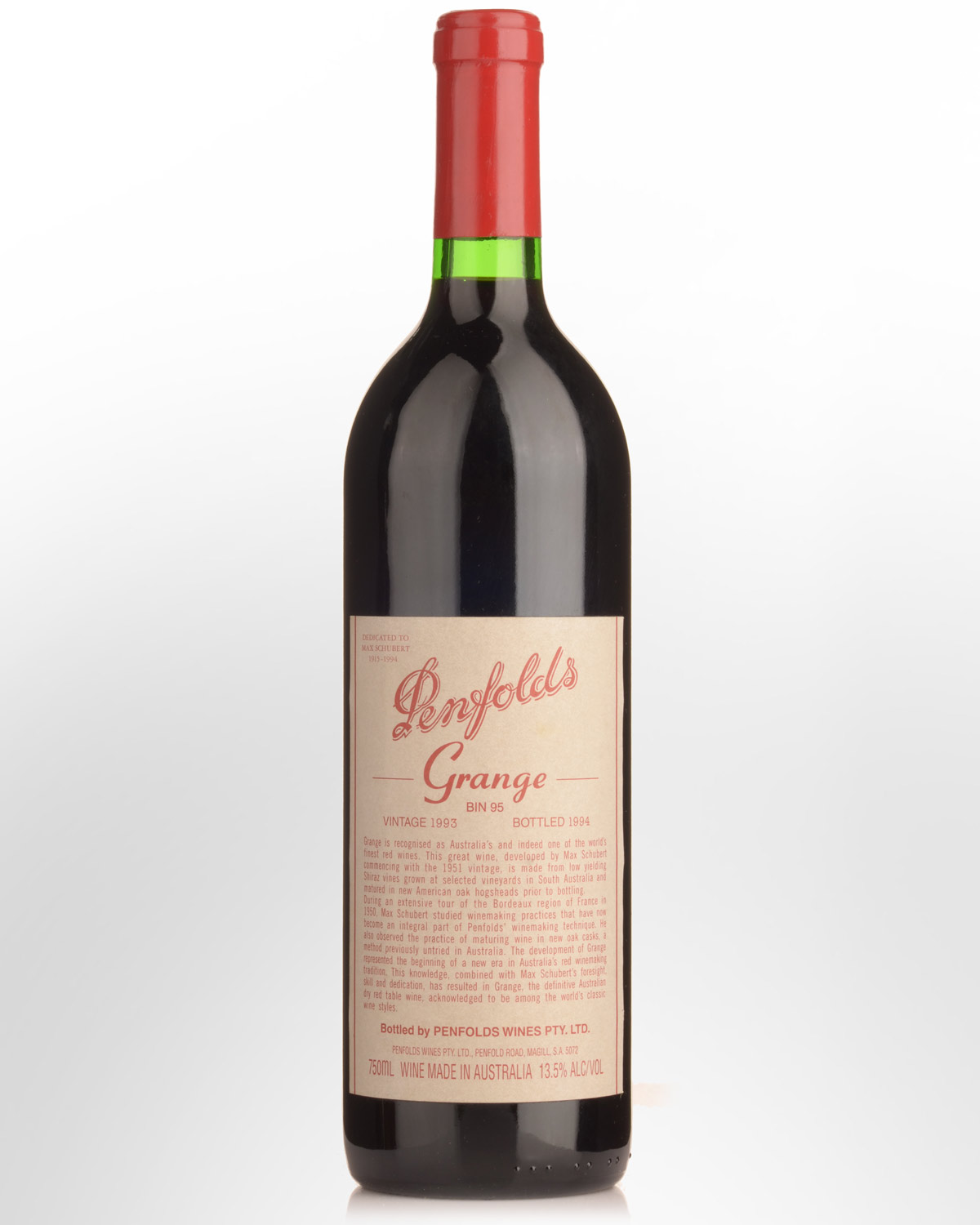 1993 Penfolds Grange Hermitage
South Australia,
AUSTRALIA
Notes Sourced from The Rewards of Patience - Fifth Edition (2004):

Drinking Window: Now – 2018
Deep crimson. Very scented apricot/camomile/dark berry/smoky aromas with faint hints of mint. The palate is rich and concentrated with apricot/prune/chocolate flavours and supple grainy tannins. Finishes quite firm. An earlier maturing wine from the latest Grange vintage on record.
86% Shiraz, 14% Cabernet Sauvignon. Kalimna Vineyard (Barossa Valley), Barossa Valley andCoonawarra. A very wet growing season was followed by warm, drier conditions, resulting in a very late but sound quality vintage fruit. An Indian Summer in Coonawarra delivered fully ripened fruit.
---
Notes sourced from Southcorp Wines.
Grange is the benchmark by which all other reds in Australia, and, increasingly, overseas, are often measured. The reasons for this are many yet straightforward: Concentration of flavour - Grange is decadently rich with layer upon layer of flavour that coats the tongue and scents the breath minutes after swallowing. This kind of fruit weight can only come from the finest, old vine fruit and low yielding vineyards. Complexity - the profuse aromas that leap from a glass of Grange defy the typical adjectives used by wine tasters. These are hedonistic aromas of rich ripe fruits and spice yet with an "otherness" of which wine tasters speak of in hushed tones. Further, each time the taster returns to the glass the wine has evolved new aromas, new interest, new reasons to get excited. Longevity - Grange blossoms with 15 to 20 years of bottle age, when most other reds have past their best, and better vintages can live and continue developing for decades longer. And finally, Heritage - first produced by Max Schubert in 1951, the '93 Grange represents over 40 years ofwinemaking excellence.
Vintage Conditions: In many years Grange is a law unto itself, producing wines with a balance and concentration of flavour that seem to defy, or at least exceed, vintage expectations. 1993 was a very good vintage for Barossa Shiraz. It is an outstanding year for Grange.
Oak Maturation: Matured in 100% new American oak for 18 months.
Alc/Vol: 13.5% Acidity: 7.3 pH 3.55
Winemaker John Duval's Comments:size>
Colour: Dense plum red merging to brick red on rims.
Nose: Intense blackcurrant and plum with malt, fig and licorice aromas that leap from the glass. This has all the characters of a classic Grange.
Palate: What is promised on the nose is delivered on the palate - a powerful, concentrated, opulent wine. Layers of Shiraz fruit and first class oak manifest themselves into a seemingly endless variety of flavours - deep plum, licorice, black olive, chocolate, cedar, coffee, etc, all compressed into a silken, round mouthfeel. Forceful, ripe tannins are balanced by sheer weight of fruit. It is hard to believe that 100% new American oak was used - the intensity of fruit has all but soaked it up.
Serving and Cellaring suggestions: As mentioned above, Grange is a wine that will develop over at least thirty years in the cellar. It is recommended that wine lovers wait at least 10 to 15 years however the wine can be, and often is, enjoyed in its youth for its sheer opulence and power. It is the ultimate match with rich red meat dishes.
"Medium-full red/purple. Deep, intense blackberry/gamey aromas with touches of camphor. Sweet and ripe with plum/cassis, slightly gamey fruit, loose-knit but gripping tannin structure and good overall length. Probably a medium-term wine. Drink between 2005 and 2018." (Southcorp Wines, The Rewards of Patience, Fourth Edition, March 2000)