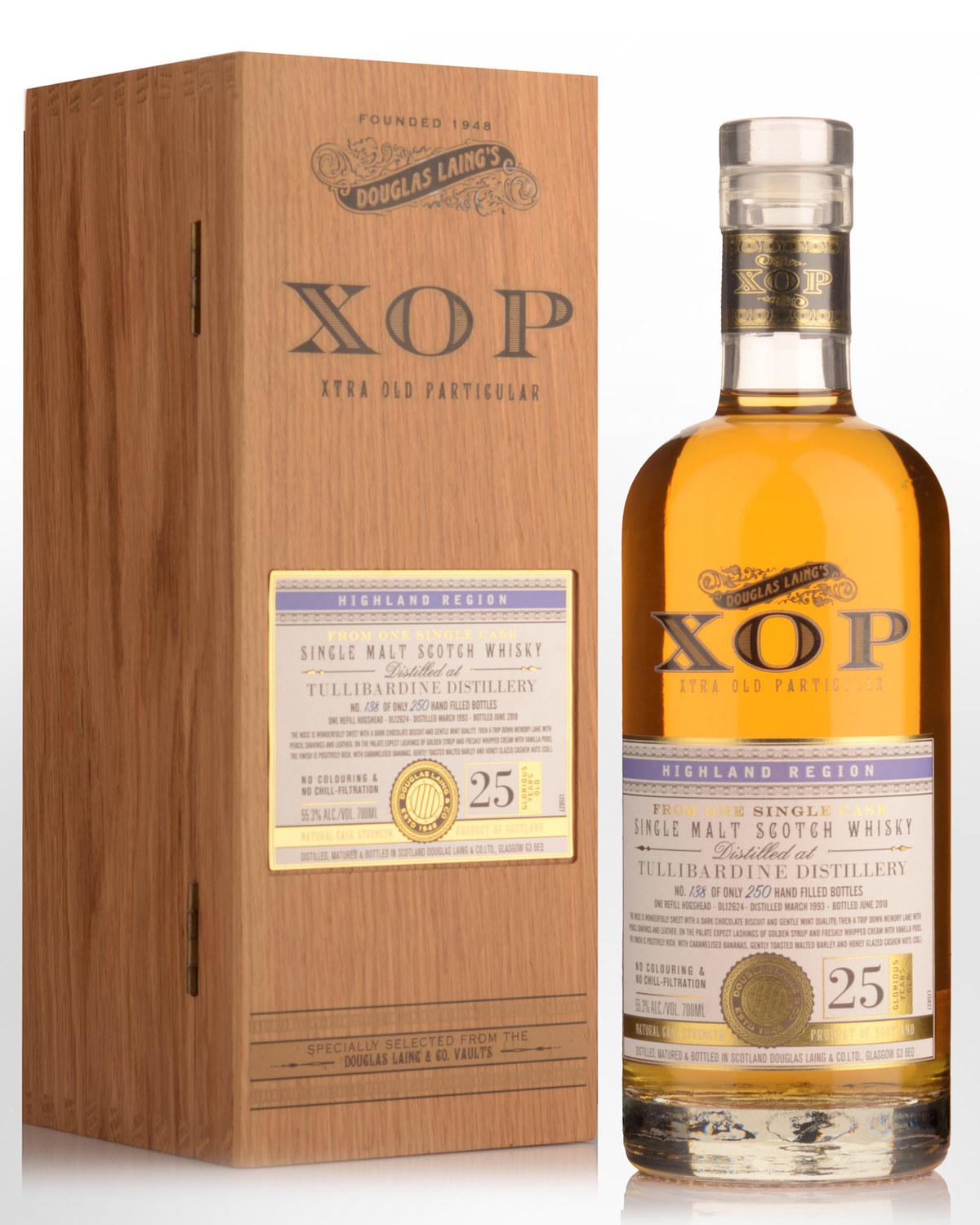 1993 Douglas Laing & Co. XOP Xtra Old Particular Tullibardine 25 Year Old Single Cask Limited Release Cask Strength Single Malt Scotch Whisky (700ml)
Note: Box has come from a private collection and as such may have some minor scuffing/scratches/handling marks.
With a slew of official bottlings, Tullibardine has made a strong return to the market in the last few years. Before then, independents offered a modest selection, the most exciting of which were invariably at natural strength and well aged. 250 bottles from one refill hogshead under Douglas Laing's XOP label have become available, with a handful arriving in Australia. Up there with the oldest Tullibardines we've stocked, at the time of writing we have one only available.
Note: there is a scratch on the top of the presentation box.
Notes from Douglas Laing... The nose is wonderfully sweet with a dark chocolate biscuit and gentle mint quality, then a trip down memory lane with pencil shavings and leather. On the palate expect lashings of golden syrup and freshly whipped cream with vanilla pods. The finish is positively rich, with caramelised bananas, gently toasted malted barley and honey glazed cashew nuts. 55.3% Alc./Vol. Non chill filtered.
Situated in the village of Blackford in Perthshire (Highlands), Tullibardine lies on the site of Scotland's oldest brewery dating back to the twelfth century. During the early part of the 20th century, the brewery fell upon hard times and it was eventually sold to a a Welshman by the name of William Delme Evans in 1947, who converted it to a distillery. Delme Evans was an architect and an influential figure who also designed Jura and Glenallachie.