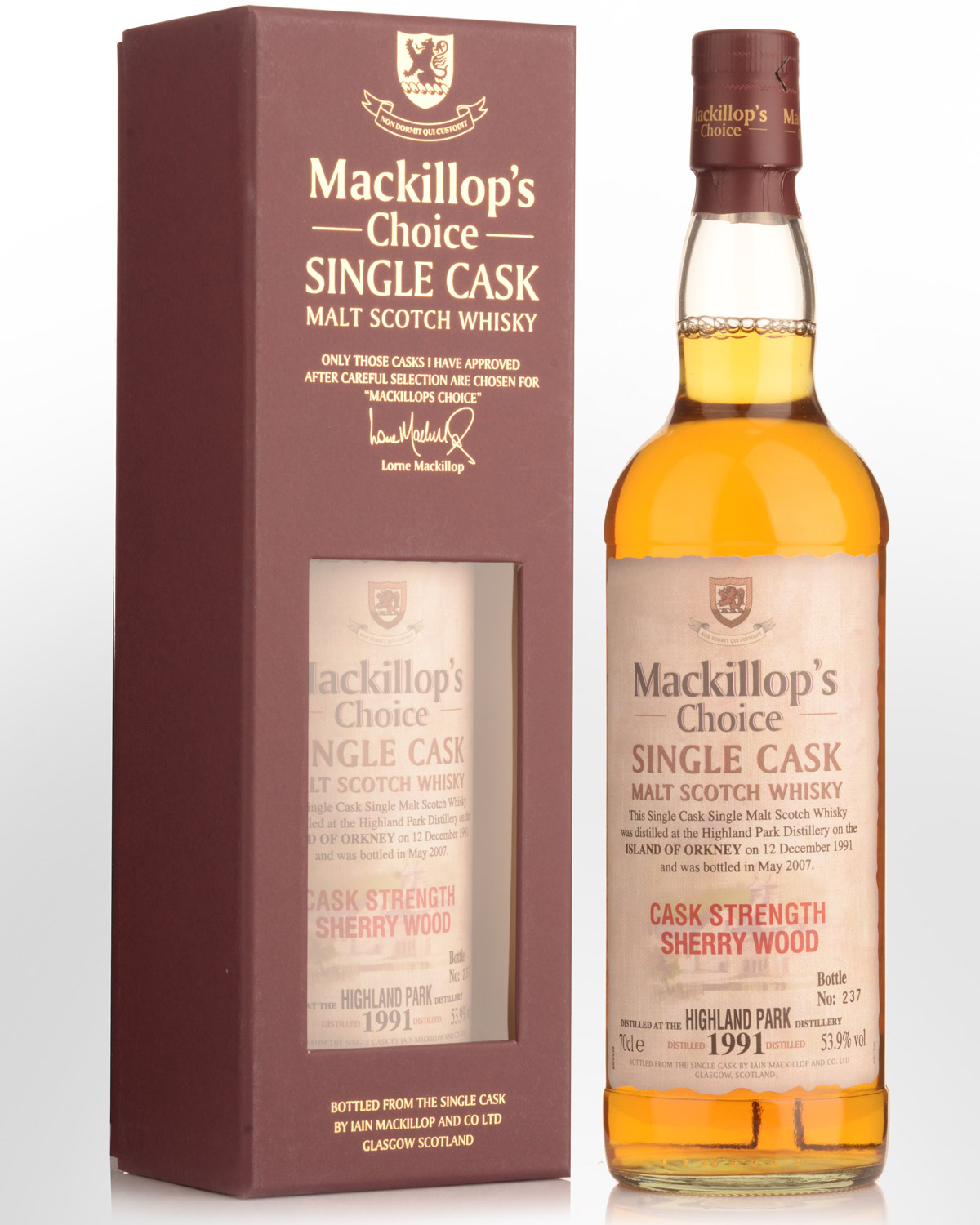 1991 Mackillop's Choice Highland Park 15 Year Old Sherry Wood Cask Strength Single Malt Scotch Whisky (700ml)
We encountered the Mackillop's Choice range upon Lorne Mackillop's visit to Australia in 2008. A man among the rare number of 'Masters of Wine', he showcased his wares, discussing his ethos for selection. Similar to other independent bottlers of note, he searches for unique characteristics not found in distillery bottlings. Approximately 80% of the cask samples tasted are rejected. Lorne adds, "When you get a really nice cask in amongst a batch of others, it just shines out like sun from behind a cloud. It is my name on the bottle, my signature and therefore I have to be happy with it myself."
Of course, the Mackillop's Choice whiskies reflect Lorne's own personal preferences: Speyside and old Islay whiskies where the influence of the sea has been tempered by a honeyed richness via long maturation. As is often the case with Highland Park, this expression has spent its life in sherry oak, another subject which Lorne has a clear perspective on: "Sherry can be a blessing for whisky and a problem. It should be in balance and preserve the flavour of the whisky, not overpower it. Some samples I see are so 'sherry-ish' you might as well buy a bottle of oloroso and pay half the duty. As far as I'm concerned you're buying a bottle of sherry not whisky."
Back in 2008, Lorne Mackilliop's whiskies made a more than favourable impression despite the fact that some of the bottles presented had been open for over a year! There are many superb contemporary Highland Parks being released by the indies. This bottling promises to be another. Distilled in 1991 and bottled from a Sherry cask at cask strength in 2007. 53.9% Alc,.Vol. Non chill filtered.