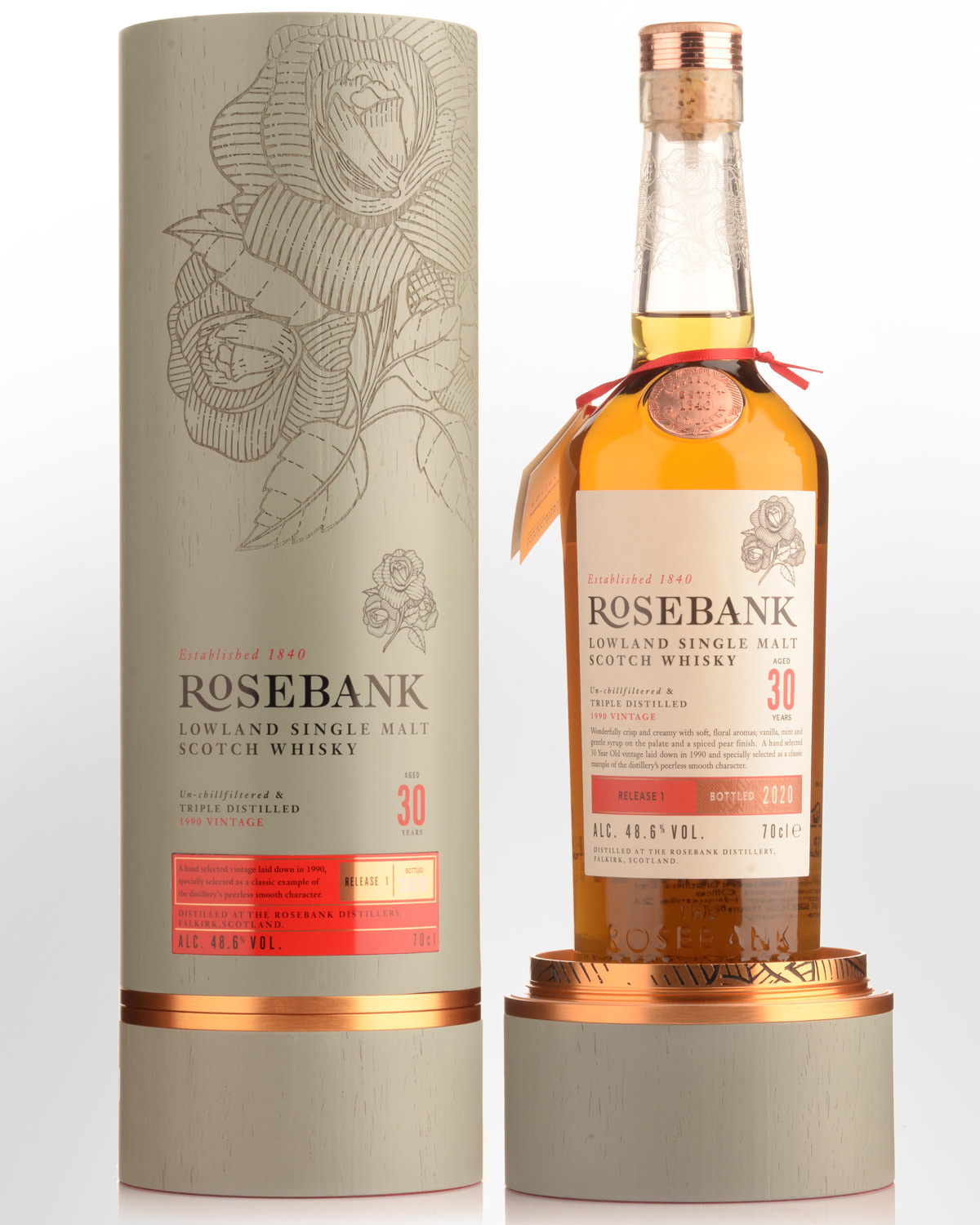 1990 Rosebank 30 Year Old Release 1 Single Malt Scotch Whisky (700ml)
The Rosebank distillery on the banks of the Forth-Clyde canal has been mothballed since 1993. Considered the Queen of all Lowland malts by many specialists, for twenty six years it has only occasionally re-surfaced in the form of Diageo's famous 'Flora & Fauna' 12 year old (last selling for around $1000). That puts this first-edition thirty year old in perspective. And it's not a Diageo release. Ian Macleod Distillers acquired the Rosebank brand and the last remaining stocks in October 2017. They were also granted planning permission to revive the distillery on its original site in January 2019.
Australia's allocation of just 100 bottles means this inaugural bottling will be in high demand. However it is the first in a series of annual limited editions, so there's more in the pipeline. Group Distillation Manager for Ian Macleod Distillers, Robbie Hughes comments: "The first global release of Rosebank 30-Year-Old is a truly iconic moment for the distillery. It has matured in 62% refill sherry butts and 38% refill bourbon hogsheads for decades, patiently waiting to be awoken, and delivers layers of incredible flavour that you won't find in other whiskies." In late 2019, construction officially began on the new venture in Falkirk in the Central Lowlands of Scotland. 48.6% Alc./Vol. Non chill filtered. 4350 bottles are on offer globally.
Other reviews... The first Rosebank on the path to the distillery reopening is buttery and golden with rich vanilla, notes of lemon-zested lemon meringue pie, honeycomb, polished oak, marzipan, and a pinch of wood spices. This is a classic Rosebank, a soft, intimate dram with sweet almonds, butterscotch, grapefruit peel, gooseberry bitterness, background spices, and a finish of pear and vanilla. Welcome back Rosebank, it's been too long. (300 bottles for the U.S.) 92 points - whiskyadvocate.com, reviewed by: Jonny McCormick 2021
...It is rather fantastic that the new owners could gather enough old Rosebank to be able to release such a large batch of 30 yo. Colour: gold. Nose: it really is the 'Fascination' minus the Madeira. Which means that it may be a tad less complex, but on the other hand this pristine herbal citrusness is just amazingly fresh, and pure indeed. A little fennel, aniseed, rhubarb, cider apples, oranges, gooseberries and then just vine peaches. Oh and citrons (you know, cédrat, cédratine and stuff) and pure fresh-pressed cane juice. Mouth: just perfect, vertical, all on lemons and granny smith, then those vine peaches again. Rather oily mouthfeel. I wouldn't say it is very complex, but it is very perfect, almost abstract, moving very elegantly. Some mobile-whisky by Alexander Calder, perhaps. Finish: medium, ultra-clean, this is almost some kind of best limoncello in the world. Or there, a kind of Limoncello spritz (limoncello, cane syrup, Perrier and really a lot of champagne). Comments: probably one of the most spectacular uncomplicated distillates in Scotland, just the opposite of the other great Distillery in the Lowlands, the sorely missed St Magdalene. 90 points. - whiskyfun.com