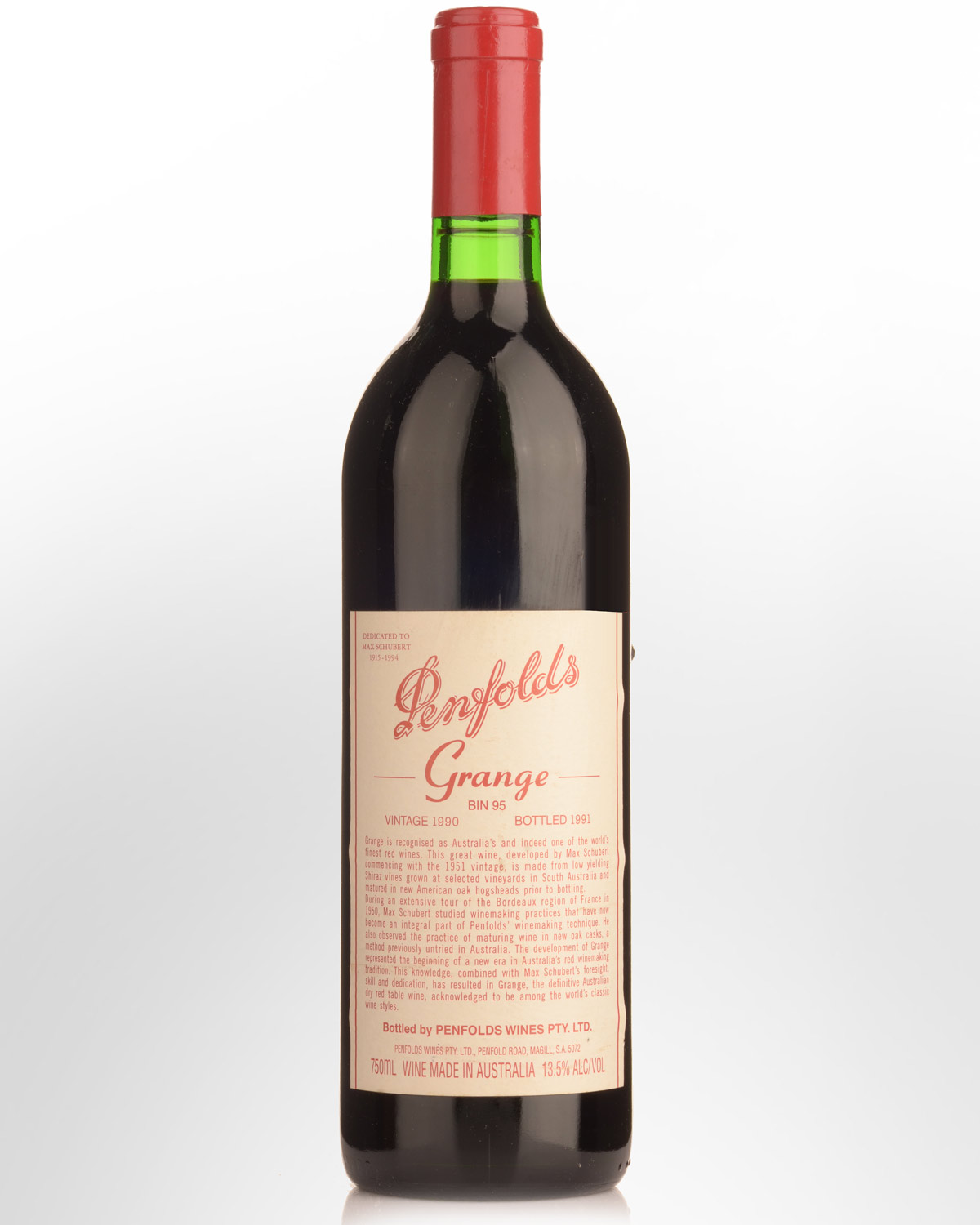 1990 Penfolds Grange Hermitage
South Australia,
AUSTRALIA
Cellar:
15 - 20 Years (2015-2020)
Nicks Tasting Notes:
Opaque, brick red colour. The nose is a touch restrained at the moment, with aroma of vanilla, spice, prune, very ripe and liquorice. Outstanding concentration of palate flavours, dominated by leather, plum, prune and liquorice chocolate. Very firm, dry tannin structure, followed by ripe plum, chocolate and spice aftertaste.
Cellar 15-20 years (2015-2020)

Notes Sourced from The Rewards of Patience - Fifth Edition (2004):
Outstanding vintage
Drinking Window: Now – 2040
Deep crimson. Immensely concentrated, beautifully perfumed wine with deep, dark, chocolate/spicy/mocha/malty aromas. A very rich, ripe, supple palate with deep blackberry/chocolate/liquorice fruit, malt/vanilla oak nuances and satin smooth tannins. Asuperbly-balanced wine. A very great Grange vintage with tremendous finesse and understated power.
95% Shiraz, 5% Cabernet Sauvignon. Kalimna Vineyard (Barossa Valley), Barossa Valley, Clare Valley and Coonawarra. Voted 'Red Wine of the Year' by Wine Spectator magazine in December 1995. A very great Australian vintage with a perfect warm, dry, growing season and harvest.
---
Notes sourced from Southcorp Wines
Regional sources: Kalimna (Barossa Valley), Barossa Valley, Clare Valley & Coonawarra.
Grape varieties: 95% Shiraz & 5% Cabernet Sauvignon.
Alcohol: 13.8% Total acids: 7.1 grams per litre. pH: 3.36
Growing season/vintage: A totally trouble-free growing season enabled grapes to ripen perfectly. Vintage conditions were also ideal, enabling fruit to be harvested and processed without compromising quality in any way.
Comments: The 1990 vintage was the kind that winemakers only expect to see once or twice in an entire career.
"The 1990 is without doubt a classic Grange."
Tasting notes: Deep, fresh, purple colour. Very intense, concentrated plummy nose showing perfect fruit ripeness and stylish oak in fine harmony. A sumptuous wine to taste, amazingly complex at three years old, loaded with fruit and tasting of coffee, cedar, vanilla and dark berries. A very great Grange. Drink 2005-2025+. (Huon Hooke, 1993)
Beautifully weighted and concentrated wine combining intense, perfectly ripe, plummy aromas with smoky vanillin oak. Already the wine is complex and harmonious, with ripe, savoury, smoky, coffee and plum-like fruit, integrated oak, fine tannins and length. This is a superbly balanced and opulent wine showing restrained power -- "an iron fist in a velvet glove". Destined for greatness. (Rewards of Patience, 3rd ed., 1994)
Perfectly ripened fruit. A singularly great wine. (Ultimate Grange Experience, Nov. 1994)
Dark berry scented, masses of integrating new wood, as rich and heady as newly-laid tar. (Tim White, Aust. Financial Review, Dec. 1994)
"Medium-full red/purple. Deeply concentrated, with strong, plum/prune/liquorice aromas and touches of aniseed and exotic fruits - all underpinned by well-seasoned oak. Palate is deeply set with spicy, plum/mocha/liquorice fruit, sweet spicy oak, and ripe but fine, velvety tannin structure. Long and flavoury finish. Perfectly tensioned and balanced. May outlive us all! Drink between now and 2030." (Southcorp Wines, The Rewards of Patience, Fourth Edition, March 2000)