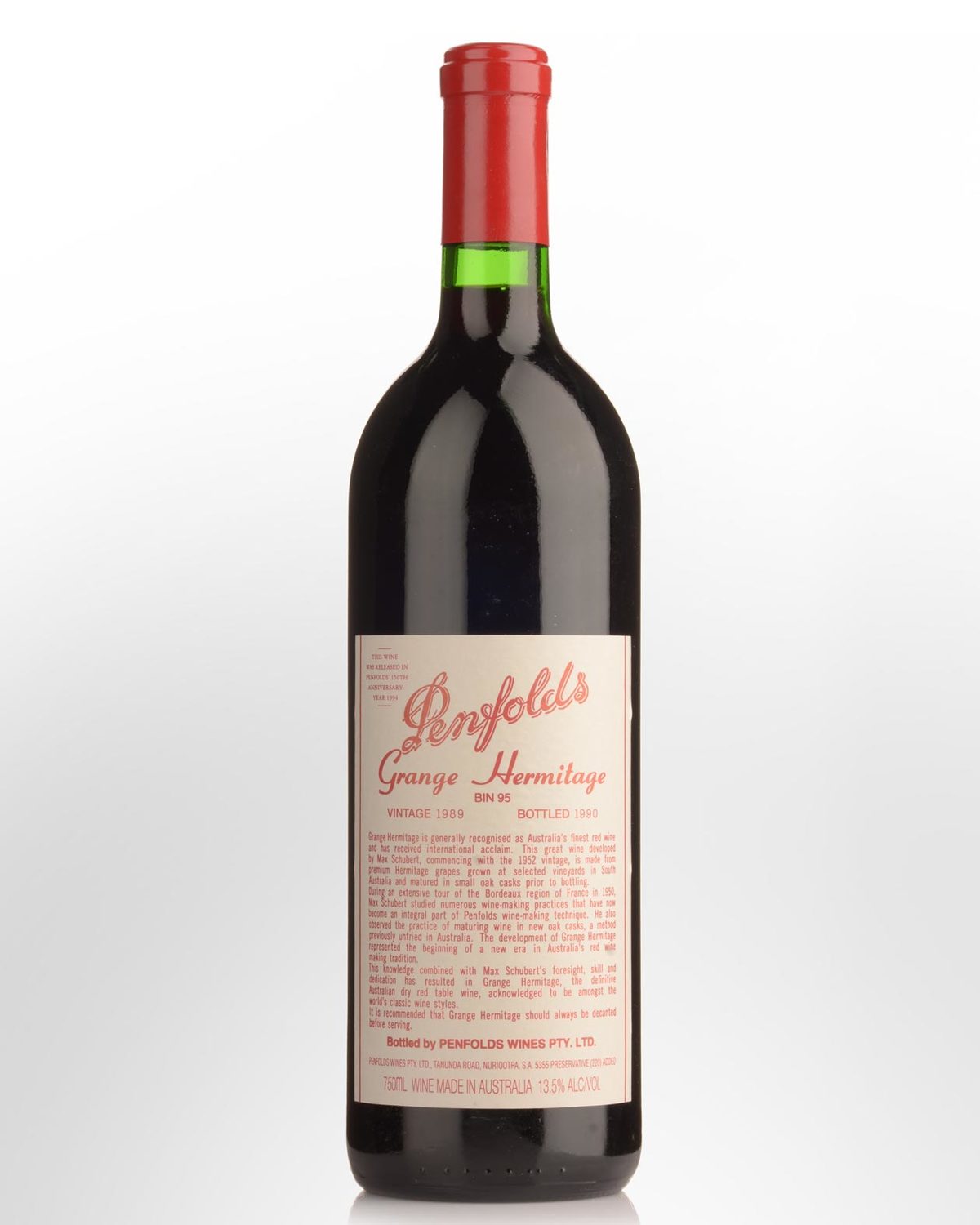 1989 Penfolds Grange Hermitage
South Australia,
AUSTRALIA
Notes Sourced from The Rewards of Patience - Fifth Edition (2004):

Drinking Window: Now – 2020
Medium crimson-purple. Intense rum/raisin/chocolate (a touch herbal) aromas and flavours. Plenty of fruit sweetness and cassis/chocolate notes, but tannins build up quite firm and tight at the finish.
91% Shiraz, 9% Cabernet Sauvignon. Kalimna Vineyard (Barossa Valley), Barossa Valley and McLaren Vale. Extreme heat and heavy March rains followed an ideal, warm growing season.
---
Notes sourced from Southcorp Wines
Regional sources: Kalimna (Barossa Valley), Barossa Valley & McLaren Vale.
Grape varieties: 91% Shiraz & 9% Cabernet Sauvignon
Alcohol: 13.5% Total acids: 6.8 grams per litre pH: 3.54
Growing season/vintage: A generally good growing season led into a difficult vintage marked by heatwave conditions at the beginning of March, followed by heavy rain. The result was soft, richly-flavoured wines, generally for earlier drinking.
Comments: Considered a rich, soft, fruity Grange for relatively early drinking -- a reflection of 1989 vintage conditions.
Tasting notes:size> Very sweet blackberry jam nose, very open for a Grange so young and reminding somewhat of the 1982. A big, lush, supple and well-balanced mouthful of flavour, tannic but not tough, and shaping up like another relatively early-maturing style. Drink 2000-2015. (Huon Hooke, 1993)
The nose is sweet and relatively open, with blackberry jam and coconutty oak notes. In the mouth it's big, supple, sweet, lush, and balanced with persuasive but smooth tannin. (Huon Hooke/Mark Shield, Penguin Good Wine Guide, 1994-95)
Ripe, fragrant, raspberry/blackberry aromas with a hint of aniseed. Sweet, soft palate with luscious, spicy, blackberry-like fruit and supple, balanced tannins. The oak component is temporarily dominated by fruit. This is a lovely but relatively early-maturing Grange. Drink 1998-2010. (Rewards of Patience, 3rd ed., 1994)
Spicy, soft and accessible. Will develop relatively quickly. (Ultimate Grange Experience, Nov. 1994)
"Medium-full red/purple. Cherry/blackcurrant pastille-like fruit aromas. Silky, supple palate with blackcurrant and plum-like fruit aromas. Silky, supple palate with blackcurrant and plum- like fruit, dense, slightly bitter tannins, and firm finish. A little simple for Grange but will hold and may improve. Drink between now and 2015." (Southcorp Wines, The Rewards of Patience, Fourth Edition, March 2000)