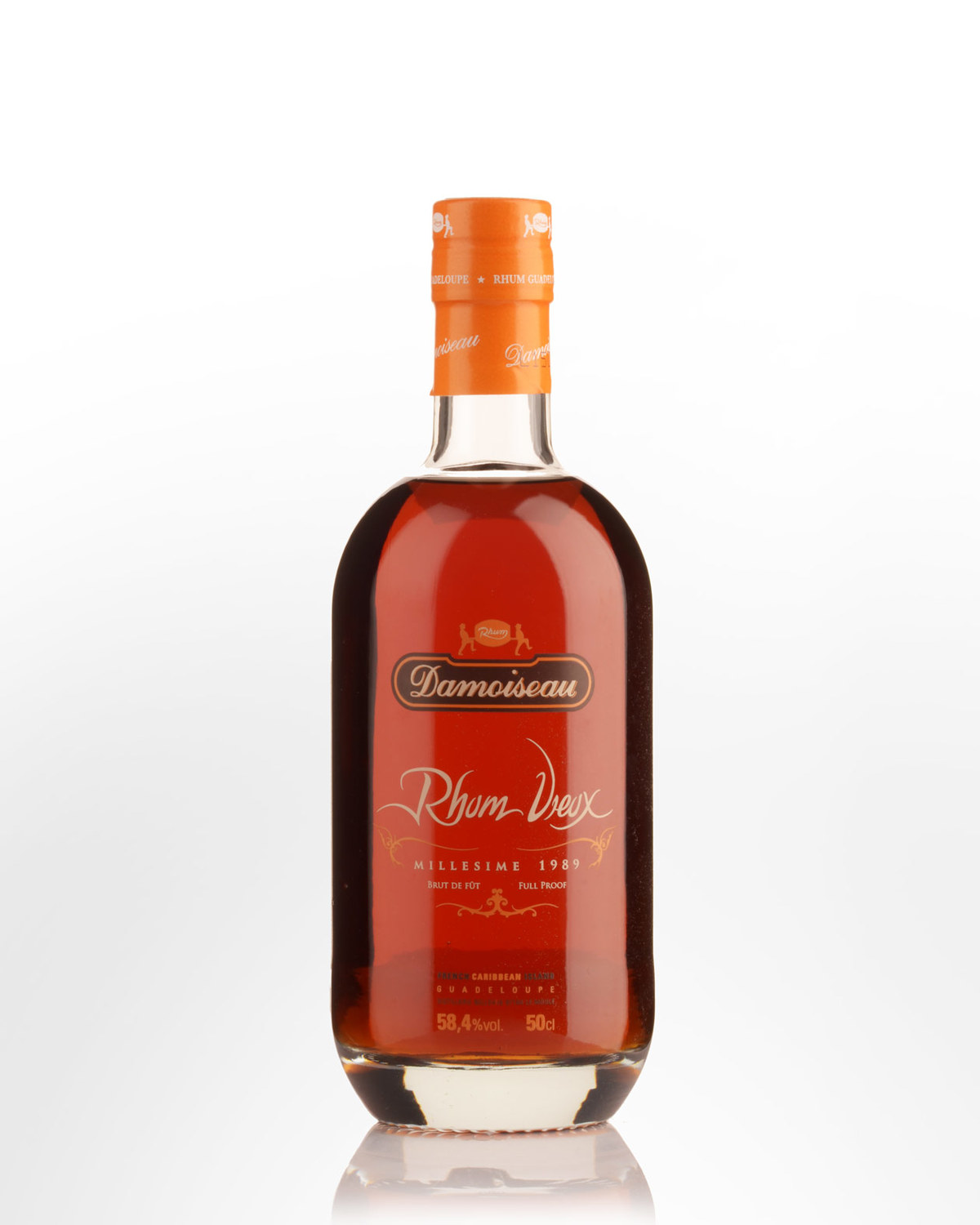 1989 Damoiseau Rhum Vieux 21 Year Old Cask Strength Agricole Rum (500ml)
GUADELOUPE
Rhum Agricole: Grown, not manufactured - the purest expression of rum on earth.
As one of the last "hidden gems" in the world of spirits, this is a product faraway from the marketing ploys and bill boards of multinational brands.
Not easily come by and even less widely known, although that's changing fast, it's represented by a handful of traditionalists who persist with free run sugarcane juice ("vin de canne", or 'sugarcane wine' as the French call it), rather than the way 99% of rum is made - from a waste product of sugar manufacturing we know as molasses. Agricole rums tend to be drier, more complex and diverse in flavour, rather than exuding overt sweetness, typified by subtle grassy / cane-like overtones and fresh, elegant profiles.
Ben Jones, North American regional director and spokesman for Martinique-based Rhum Clement, explains. "It's a very dry and earthy, vegetal flavor profile, very different from the sort of medium-sweet, heavier, stickier profile that you get with the molasses foundation," says Jones. "Fresh-pressed sugar cane juice is dry, not sweet. What makes molasses sweet is reducing it to super-concentrated sugar used for alcohol. Actual sugar, while it's sweet, is not as sweet as people would perceive. It's fruity and grassy, and the distillate of rhum agricole is really, truly the cleanest form of that distillate. The pun is horrible, but it's like grass to glass."
You could consider Agricoles as the Caribbean's equivalent to Bordeaux, not only because they taste more "European", but because Rum Agricole is the only rum to be governed by an AOC (Appellation d'Origine Controllee, the French official label of origin). Just as with French wine and food, this AOC dictates how the spirit can be made, including the mandate to harvest sugar cane only in the dry season, the prevention of burning of the cane fields and a requirement to press sugar cane into cane juice within three days of harvest.
Smaller scale production combined with these regulations makes for a winemaker's approach to rum. As they usually manage their own plantations, agricole distillers can harvest at the optimum time, rather than rely on the whim of private growers. They can also crush and begin fermentation immediately (sometimes with indigenous yeasts), a key factor in the category's style. Put simply, these rums taste fresher, not only for what they're made from, but because they are.
Because agricole's distinctive and diverse characteristics make even entry level expressions of considerable interest, cocktail geeks in the U.S. have been hooked on them for some time. Cask strength, vintage dated and ultra-aged bottlings are frequently nothing short of extraordinary, drawing comparisons with the very best Cognacs or Whiskies on the planet.
The total production of Rum Agricole combined make up about 1% of the Caribbean's total rum output, yet their influence is disproportionate. If you ignore the cynical trend towards luxury rums and super premium soleras, it's the agricoles that have injected added excitement into a category that was, six or seven years ago, wavering with a monotony of styles and mass marketed brands.
Clement and Rhum J.M. have become the most sought after names of Martinique. A little further north, the gold standard is Damoiseau - presently the only rum producer on the eastern side of Guadeloupe's Butterfly islands. Their Bellevue au Moule Estate and distillery was established at the end of the 19th century by Mr.Rimbaud from Martinique. Roger Damoiseau senior acquired the site in 1942 and since then it has remained within the Damoiseau family. Some of the cane processed here is still cut by hand from the surrounding fields, just as it has been for centuries. The rest is trucked in from all over the island.
Damoiseau employs a single, copper and stainless steel column still. Stainless steel is used in the lower sections of the column to help reduce the maintenance associated with a copper column, while the copper top reduces the presence of sulphur compounds formed during fermentation. These can contribute the 'off' flavours familiar to some whiskies, in particular, rubbery, struck match-like characteristics.
For those planning a holiday to the region, the Damoiseau distillery also remains a popular tourist destination. Current proprietors, Jean Luc and Evre Damoiseau endeavour to make a memorable experience for everyone who takes the time to visit.
All rums on offer have been matured for a minimum of three years in 180 litre x-bourbon casks. This is a rare opportunity to take advantage of some unique rum experiences while extending your support to the plight of cane workers and artisans as opposed to the standardised sway of mega-farms, industrial scale stills and ad men. It's a win-win scenario that makes for a refreshing change.


Tasting note:
Bright gold / brass appearance. A plush bouquet yields enticing scents of brown sugar, vanilla, clove and banana cake. The palate is immediately much leaner and drier than the nose suggests and shows no indication of the high ABV with amazing balance throughout. Mid palate builds slowly in concentration towards an intense burst of old liquorice strap, leather, dried grass and green peppercorn. Ends poised and clean as delicate spices linger into the lengthy dried banana, golden syrup fade. Superb.
58.4% Alc./Vol.