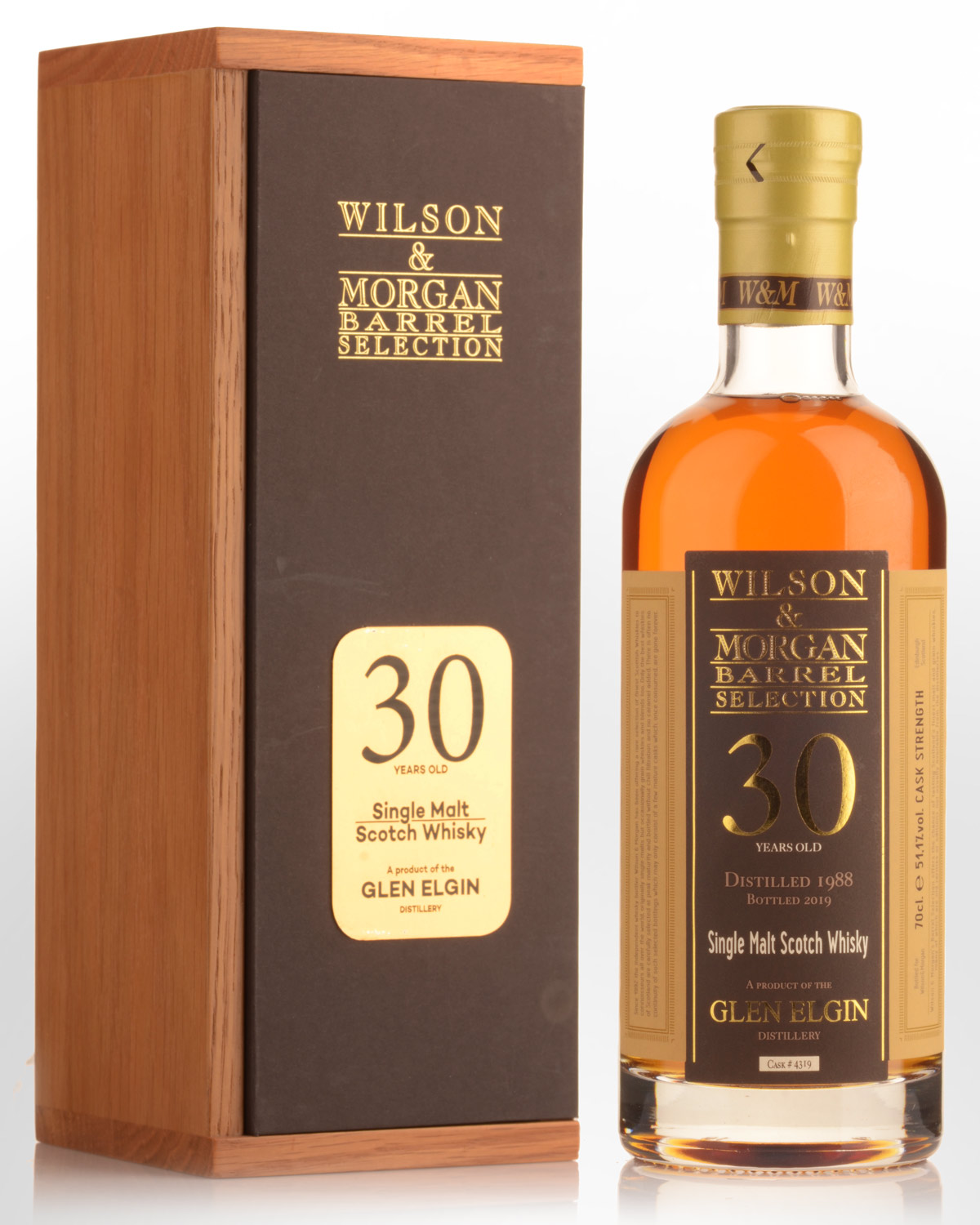 1988 Wilson & Morgan Barrel Selection Glen Elgin 30 Year Old Cask Strength Single Malt Scotch Whisky (700ml)
Speyside, Highlands,
SCOTLAND
A "one of a kind" from Wilson & Morgan, that doesn't seem to fit into any of their specified tiers. The unusual presentation also sets it apart from the rest of the W&M range. They call it a Special Release Barrel Selection, and it comes in an attractive display box and stubby mid-sized cylindrical bottle. Maturation took place in a refill sherry cask. Chip Dykstra at the rumhowlerblog was certainly impressed (review below). Also awarded a gold medal at the Milano Whisky Festival in 2019. One only available. 51.1% Alc./Vol.
Other reviews... Old oak and leather chairs, damp old wood with sap leaking, and rich marzipan are all suggested. There is an intense fruitiness as well, reminiscent of Belgian tutti-frutti (typically a combination of dry raisins, currants, apricots, prunes, dates, and figs). Brighter citrus begins to appear within the breezes above the glass as well. Walnut, cocoa and firm hints of dark black coffee sweetened with rich brown sugar compliment the overall aroma which has become richer and fuller as I let the glass breathe. This one definitely grows in the glass. The taste of the 30 Year old whisky does not disappoint. Oak sap and a firm sherry character have wrapped around each other with neither one dominating, but neither one submitting to the other either. Dry fruit (raisin, apricots, prunes, and dates) and bright citrus flavours combine with fudgy chocolate and dark black coffee. I taste rich baking spices tinged with allspice, cinnamon and ginger. Everything is in balance, and I just realized that I am sipping a 51.1 % abv. cask strength whisky with no sense that the alcohol is too much. As I let my glass sit, orange marmalade and dark brown sugar with vanilla takes form. Everything is well with this dram! The finish is full of Belgian tutti-frutti, dark chocolate, and spicy oak sap which coats the palate afterwards. The warm spiciness remains well after the swallow and my sample glass emptied much more quickly than I intended. I am not sure why I don't hear more about Wilson and Morgan. I have sampled several of their expression now and none has disappointed me. Glen Elgin 1988 – 30 Year Old Single Malt Whisky is a great whisky which seems to have captured just the right moment when the sherry cask flavours within the malt had merged perfectly with the oak. Very Highly Recommended! 94.5 points - therumhowlerblog.com