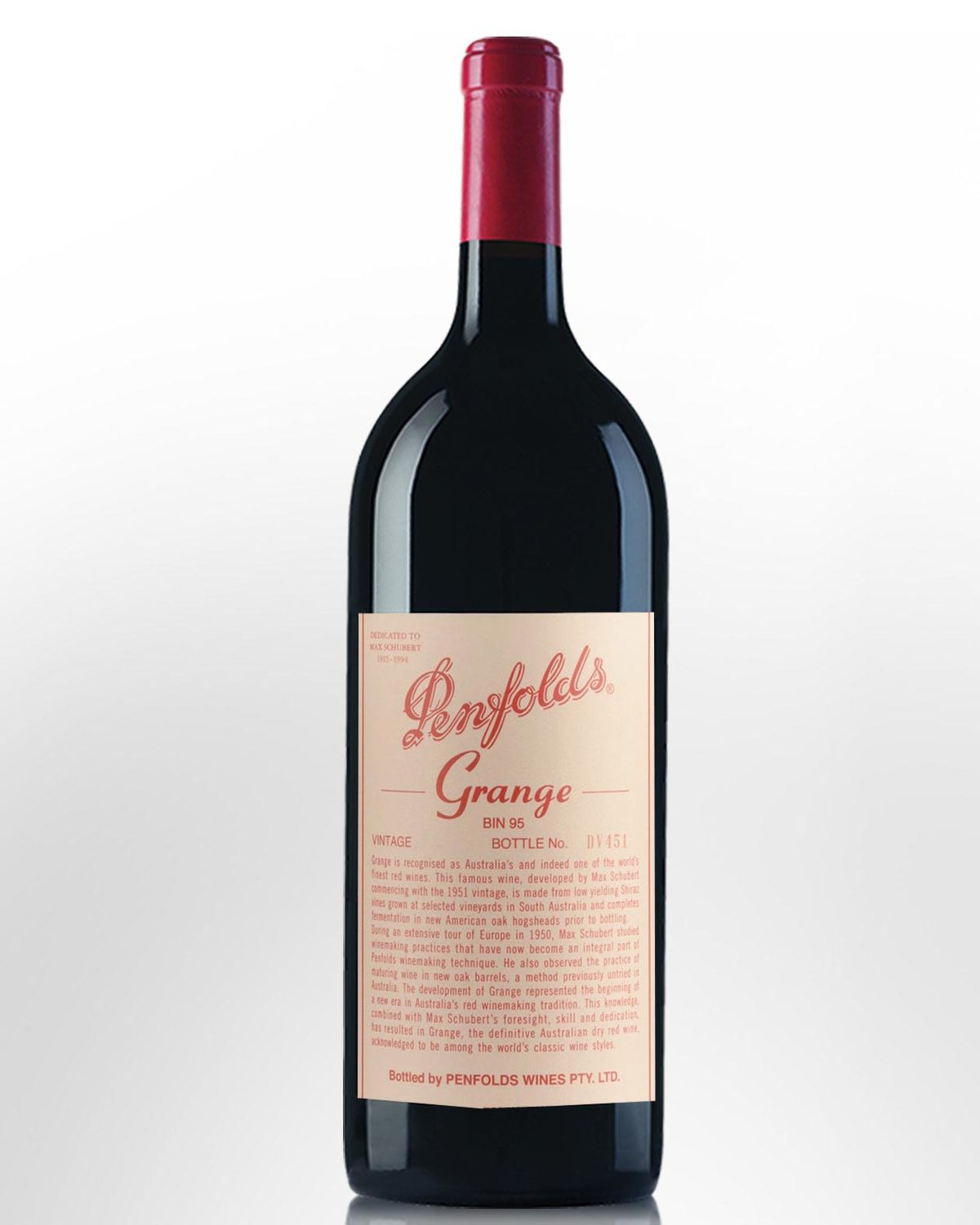 1983 Penfolds Grange Hermitage Magnum (1500ml)
South Australia,
AUSTRALIA
Notes Sourced from The Rewards of Patience - Fifth Edition (2004):

Outstanding vintage
Drinking Window: Now – 2030
Deep crimson. Ripe powerful prune/plum/black cherry/mocha/smoky aromas. A luscious, richlytextured palate with prune/plum/dark chocolate/liquorice flavours and dense ripe tannins. A superbly concentrated wine. A great Grange vintage.
94% Shiraz, 6% Cabernet Sauvignon. Kalimna Vineyard (Barossa Valley), Barossa Valley, Magill Estate (Adelaide) and Modbury Vineyard. A bizarre growing season marked by drought, the Ash Wednesday bushfires and March flooding. A very low-yielding vintage resulting in wine of immense concentration.
---
Notes sourced from Southcorp Wines
Region: Barossa Valley, Magill & Modbury (Adelaide Plains)
Grape varieties: 94% Shiraz & 6% Cabernet Sauvignon
Alcohol: 13.3% Total acids: 7.1 grams per litre. pH: 3.41
Growing season/vintage: This vintage was seriously affected by the 1982 drought, less by the devastating Ash Wednesday (Feb. 15) bushfires and March flooding. Summer rainfall was a little more than half the average, followed by record rains in March. Vintage weather was very hot before the rains came.
Comments: An extraordinary season of heat, drought, fires and then floods, which resulted in small yields of huge wines with very long keeping potential. The 1983 Grange was rated 92/100 points by Robert Parker in 1990. "Very big and concentrated", said Max Schubert in 1993. Rigorous fruit selection meant a much smaller than usual Grange make.
Tasting notes:size> Packed with flavour... there are potent aromas of mint and dark chocolate while the wine is fruit-driven through the early and mid-palate, with voluptuous though not jammy flavours. Strong tannins take over on the finish and the wine is destined for a very long cellaring future. (James Halliday, Weekend Australian, Dec. 1988)
Great big bastard. Makes the earth move. (Huon Hooke, Wine & Spirit Buying Guide, 1988)
Blockbuster Grange with massively powerful fruit and oak. Enormous strength. Will live for decades. (Rewards of Patience, 2nd ed., 1990)
Extraordinary concentration of fruit. It is still very closed but there's bags of tightly packed gamey/spicy flavours and a fascinating spicy/herby finish. (Robert Joseph, WINE [UK], June 1992.
Dense, concentrated, latent, with sweet, plummy fruit and obvious American oak in the mouth. One of the biggest-ever Granges, formidably robust and grippingly tannic, with no pretence to elegance. It should be locked away for the long term and will start to drink well at the turn of the century. 2000-2020. (Huon Hooke, 1993)
Dense, powerful chocolate/spice/plum/briar aromas with some American oak-derived coconut. A highly concentrated wine showing pronounced extract and tannins balanced with sweetness of fruit and obvious American oak. The wine is beginning to show some complexing "cigar box" characters but is still very youthful. This will be a great Grange. (Rewards of Patience, 3rd ed., 1994)
Stunning wine with harmony and equilibrium. Great future. (Ultimate Grange Experience, Nov, 1994)
"Red/purple. Intense, rich, brambly/blackberry fruit with touches of cedar and liquorice. Beautifully concentrated, with abundant blackberry/apricot fruit and plenty of meaty/ cedary characters, plush, pronounced tannins and underlying sweet oak. Super wine. Drink between now and 2020." (Southcorp Wines, The Rewards of Patience, Fourth Edition, March 2000)