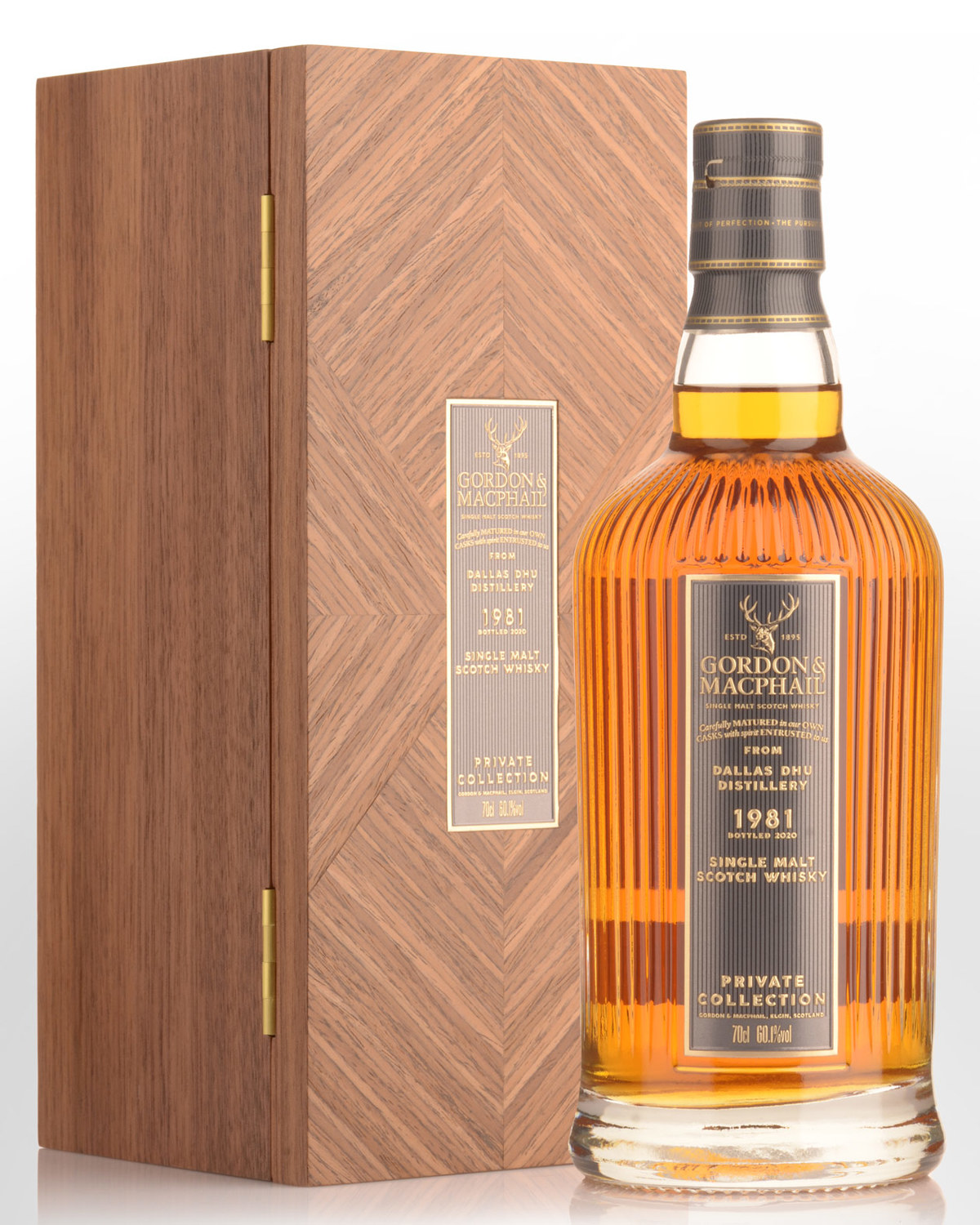 1981 Gordon & Macphail Private Collection Dallas Dhu 38 Year Old Cask Strength Single Malt Scotch Whisky (700ml)
Speyside, Highlands,
SCOTLAND
Very, very rare. In fact, only the third ever Dalls Dhu to land on our shelves. Laid down at the now-silent distillery on the 17th December 1981, drawn from refill American hogshead #1162 at a natural cask strength 60.1% ABV, and bottled by Gordon & MacPhail for their Private Collection, this is one of just 184 sought-after bottles that comes housed in a fine ribbed decanter with beautiful oak presentation case. Highly collectable. One only available.
Notes from the bottlers... Colour: Mahogony. Aroma: Honey and tropical fruit alongside grapefruit zest, violet and lime. Taste: Smooth and sweet flavours of vanilla with cracked black pepper, fresh chillies, roasted nuts and ripe apples. Finish: Medium and slightly drying finish with lingering herbal notes and oak
Originally named "Dallasmore", the Dallas Dhu distillery was built in 1898 by Alexander Edward of the Sanquhar estate outside Forres. It featured a pagoda roof designed by Scottish architect Charles C. Doig. When ownership of the distillery changed to Wright & Greig Ltd. in 1899, it was renamed to "Dallas Dhu". Production began on May 29, 1899, and the first cask was filled on June 3. Economic pressure and an unreliable water supply forced Dallas Dhu to close in 1983, and its distilling license was withdrawn in 1992. The last barrel was filled on March 16, 1983, although the buildings were re-opened to the public in 1988 under Scotland's Historic Buildings and Monument Directorate. Historic Scotland has operated the property since its establishment in 1992. Dallas Dhu has been bottled several times by former owners, however these are hard to procure. This is sought after collector territory for those wanting to secure a colourful piece of Scotch whisky history.