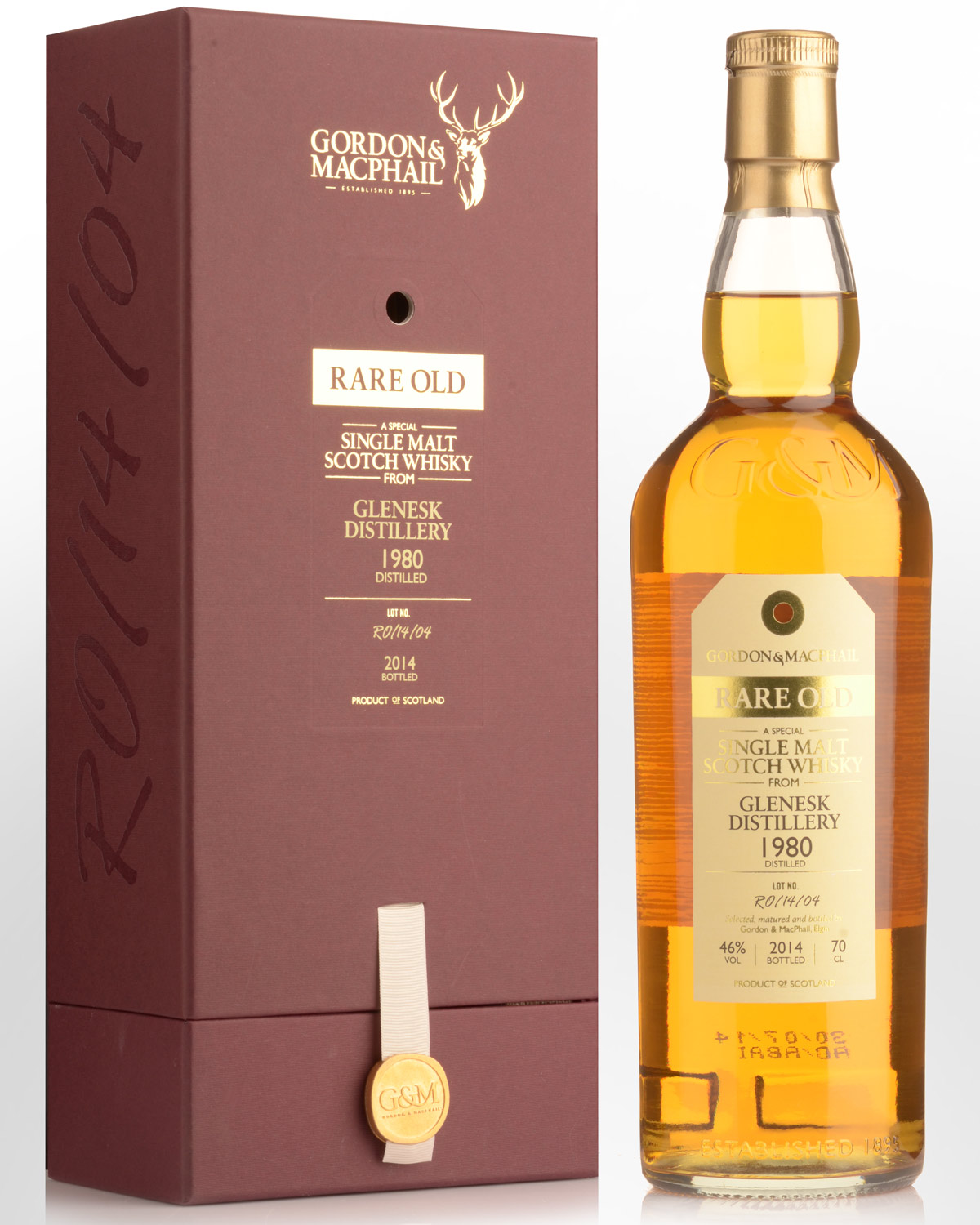 1980 Gordon & Macphail Rare Old Glenesk 33 Year Old Single Malt Scotch Whisky (700ml)
Going by many names in its 104 year history, the Glenesk distillery in Montrose on Scotland's east coast produced both a malt and grains. It ranks as one of the most esoteric of all Scotland's whiskies, once offered as part of Diageo's Rare series, with less than a handful of official bottlings and just a smattering of independents. It eludes the most ardent whisky hunters, and perhaps for that reason, has become sought after by a small but growing number of enthusiasts.
Established in 1897, the distillery's most recent title was bestowed in 1980, before which it was better known as 'Hillside' and before then, 'Highland Esk', 'North Esk' et al. After the final name change it was to operate for another five years before being mothballed in 1985 and then demolished for housing in 1996. Only the maltings remained, which operate to this day.
Serge Valentin of whiskyfun.com, who has probably tasted the majority of the historical bottlings comments, "[Stylistically] Glenesk could often be austere and a bit difficult, but it's gotten very rare… Many have been very good, but very few have been exceptional in our experience." Evidently, this bottling from Gordon & MacPhail falls into the first group, receiving high praise from several writers. A genuine collector's opportunity, we have less than a handful on offer. 46% Alc./Vol. Non chill filtered.
Other reviews... What a charmer: better dead than when alive, some might argue. But this has weathered the passing three and a half decades with ease and really does have something of an ice cream feel to it from the beginning to the end.. well I suppose the distillery was located close to the seaside... One of the most understated but beautiful lost distillery bottlings of the year. 95 points - Jim Murray's Whisky Bible 2022
...Colour: light gold. Nose: very grassy indeed, quite austere indeed, with only a bit of honey on buttered toast and some kind of flints and white flowers. Cut grass. A little barley water… In short a quite simple and straightforward nose. But it's quite rare… Mouth: some good malty sweetness, a little plain perhaps, with touches of citrons and lemons, also fresh brown bread, hints of lemon curd… Still austere, and slightly tough. Sometimes you have to rack your brain and even that doesn't work… Perhaps leaves? Branches? Bark? Moss? A bit difficult in all honesty… Finish: medium, grassy, with a little olive oil, candy sugar, more assorted citrus notes, and… cornflakes, perhaps? Some grass for sure. Barley sugar, banana skins… Comments: nice whisky but rather a challenge. Not the most characterful Highlander ever… But yeah, it's good. And rare, by the way, did we tell you it was rare? 82 points - whiskyfun.com