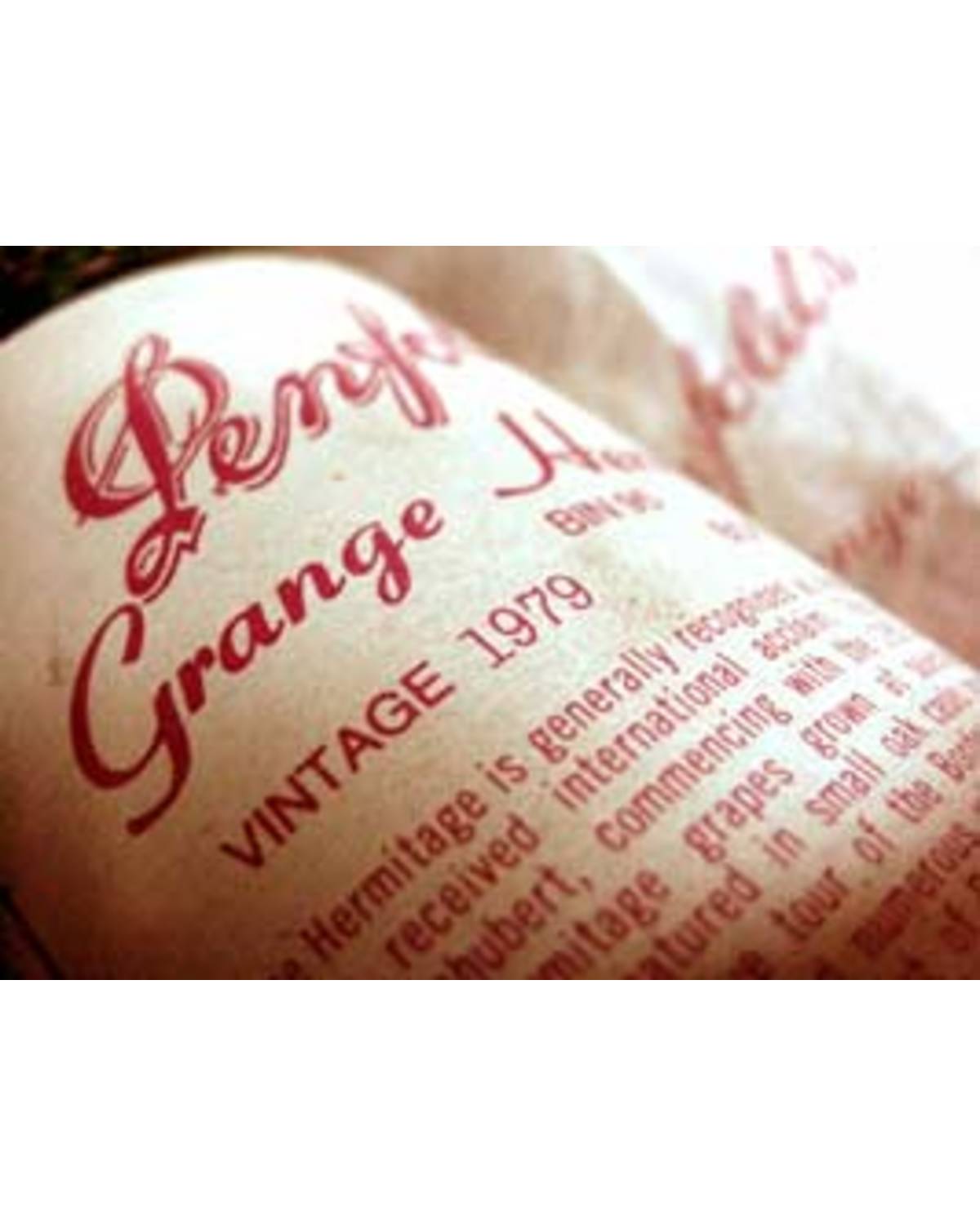 1979 Penfolds Grange Hermitage Magnum (1500ml)
South Australia,
AUSTRALIA
Notes Sourced from The Rewards of Patience - Fifth Edition (2004):

Drinking Window: Now – 2018
Deep brick red. A complex, aromatic wine with dark chocolate aromas and lifted rum and raisin fruit characters. The palate is big and solid with plenty of fruit sweetness, earthy/chocolate complexity and ample (but drying) tannins.
87% Shiraz, 13% Cabernet Sauvignon. Kalimna Vineyard (Barossa Valley), Barossa Valley, Clare Valley, Magill Estate (Adelaide) and McLaren Vale. An unusually wet (but hot) growing season. Magnums first released.
---
Notes sourced from Southcorp Wines.
Grape Varieties: A blend of 87% Shiraz & 13% Cabernet Sauvignon the fruit was sourced from Magill (Adelaide), McLaren Vale, Clare Valley & Kalimna (Barossa Valley).
Total Acids: 5.6 grams per litre. pH: 3.72 Alcohol: 13%
Vintage Conditions: An unusual season with a hotter than average summer followed by a mild but wet vintage.
Tasting Notes:size> "Not quite up to the mark", said Max Schubert in 1993. John Duval says the odd, hot-but-wet season resulted in a wine which lacks typical Grange structure and has developed relatively quickly. Rated 92/100 points by Robert Parker in 1990. Last vintage bottled using off-white foil capsules. First vintage to be bottled in magnums (1500ml) as well as standard 750ml bottles. Usually, 600 magnums are bottled each year.
Big, sweet, fruit/oak. Complex flavour. Lighter year. Cellar. (Rewards of Patience, 1st ed., 1985)
Developed, complex "leatheriness". Very good drinking as it softens over the next five to eight years. (Rewards of Patience, 2nd ed., 1990)
Beginning to show some maturity, this wine has turned into a heady cocktail of chocolate, coffee, honey and cherry. (Robert Joseph, WINE [UK], June 1992)
Deep, youthful colour. Strong cherry-stone, plummy nose, fairly youthful with a trace of tar and not showing much oak. A less punchy style after the blockbusters of 1975-77. Mild and perhaps even slightly short. Drink now till perhaps 2000. (Huon Hooke, 1993)
Intense dark cherry and plum-like aromas with some developed, meaty characters. Cherry and plum-like flavours, plus hints of tar, continue on to the palate, which is elegantly fruity. Although showing good sweetness of fruit, the wine is, arguably, lacking in length. (Rewards of Patience, 3rd ed., 1994)
Earthy, with integrated oak. Liquorice and dark cherry fruit but the tannin is very strong relative to the fruit. (Ultimate Grange Experience, Nov. 1994)
"Medium red/purple. Complex, developing aromas with plenty of soft, slightly lifted, tobacco/berry/gamey fruit. Palate is highly concentrated with rich, cedar/blackberry fruit, massive, firm, dry tannins and long flavoury finish. Tannins are too much at the fore at the moment, but could soften out over time. Drink between now and 2007." (Southcorp Wines, The Rewards of Patience, Fourth Edition, March 2000)