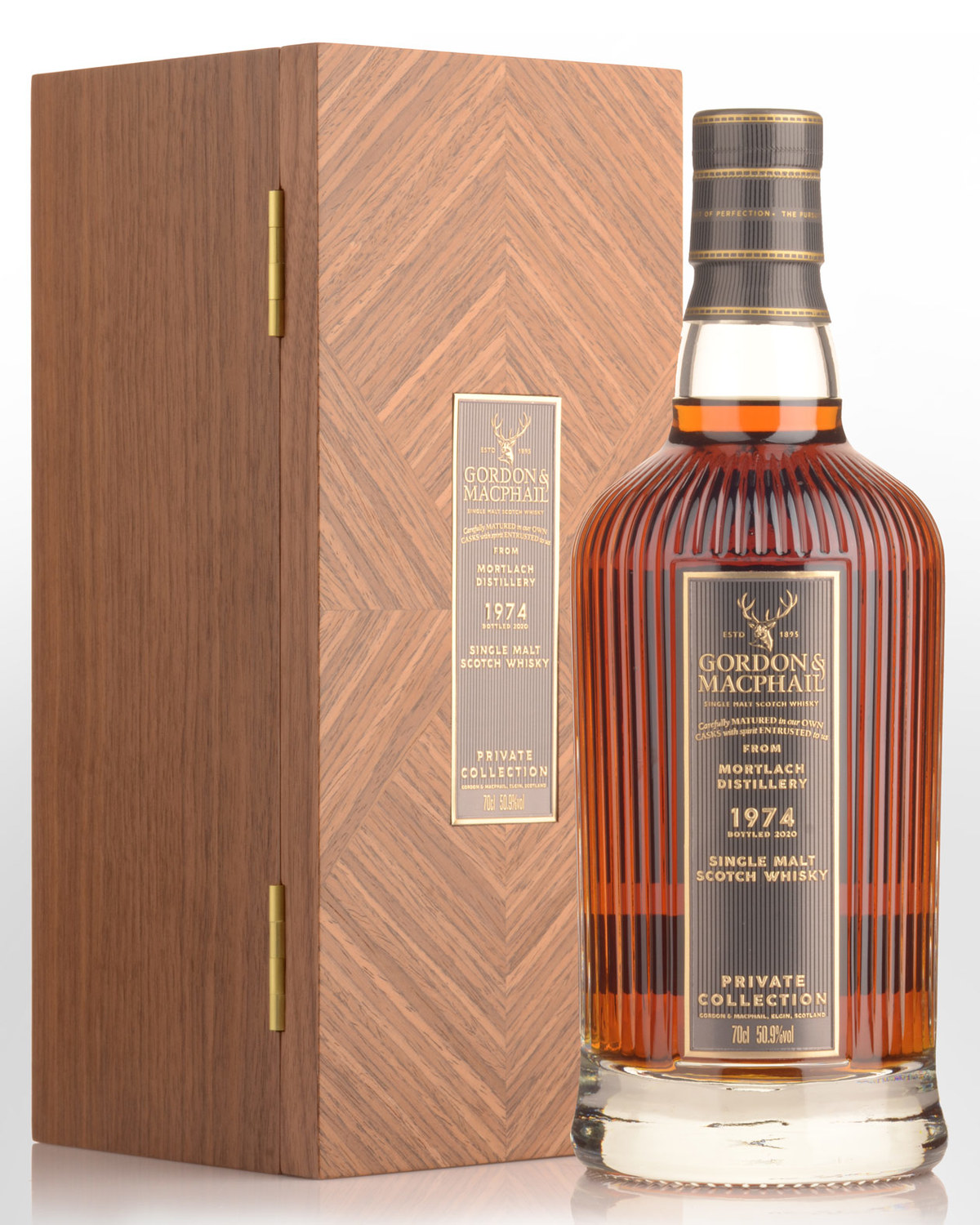 1974 Gordon & Macphail Private Collection Mortlach 46 Year Old Cask Strength Single Malt Scotch Whisky (700ml)
Speyside, Highlands,
SCOTLAND
G&M are famous for bottling some extraordinarily old and rare Mortlachs including a seventy year old around 2010. Back then, it was selling for around 20K. Which puts this little gem into perspective... Matured in a refill Sherry butt from an outturn of 199 bottles, we have one only available.
Notes from the bottler... Nose: Sherry aromas are followed by brown sugar, rum and raisin and warm spices. Taste: Sweet and smooth flavours of stewed spiced damsons, with fig and apricot conserve. Seville orange peel and charred oak develop. Finish: A long finish with sweet and spicy notes and lingering roasted hazelnuts.
Amongst the nine distilleries around Dufftown, Mortlach meaning 'bowl-shaped valley", is the oldest. The second is Glenfiddich, founded by William Grant who was production manager at Mortlach.The distillery was created by James Findlater and two of his friends, Donald McIntosh and Alexander Gordon on a ground hired from the Earl of Mactuff. The creation date is not known for certain, but the license was officially delivered in 1823 making it the first legal distillery in Dufftown. Mortlach was later taken over by John Gordon who marketed its whisky under the name "The real John Gordon". More recently, the distillery has been sold to Johnnie Walker & co. Walker joined DCL which became SMD before being integrated with UDV. A new distillery was built in 1964, but the old stills were still used. Presently, Mortlach is owned by Diageo. It remains a key component for the Johnnie Walker blends. Mortlach's main claim to fame is that it was the first of seven distilleries to be built in and around Dufftown. The distillery operates a unique distillation process which distills the spirit 2.5 times. This, combined with the worm tubs used to condense the spirit, gives the whisky the complexity for which it is renowned. This also makes the whisky suitable for longer ageing. Unlike most distilleries in Scotland, Mortlach was given permission to remain in production during most of World War II, with Gordon & MacPhail still maintaining stocks from rare war years. This astonishingly old Mortlach is by all reports is in top form. One for the very, very lucky few.