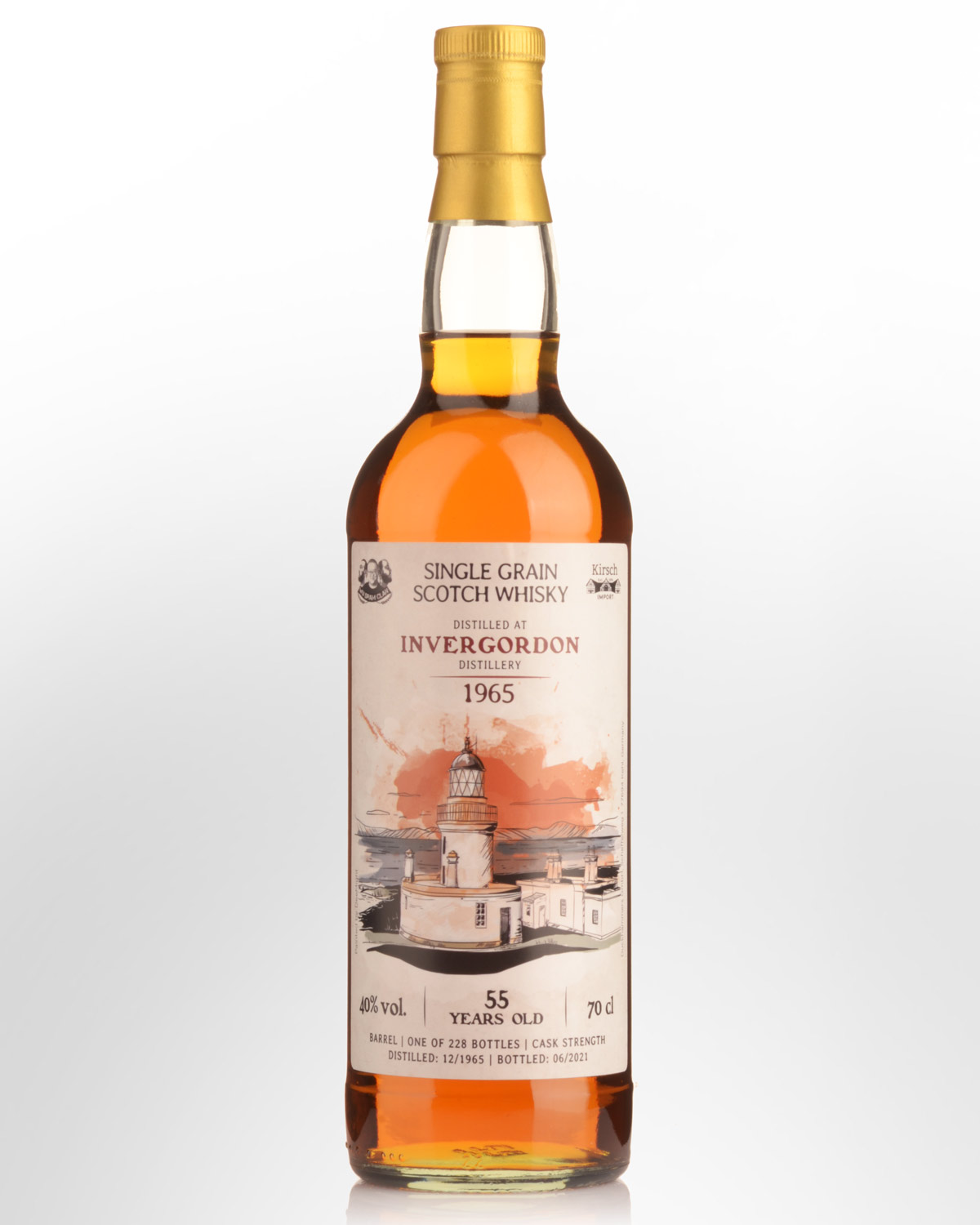 1965 Wu Dram Clan Invergordon 55 Year Old Cask Strength Single Grain Scotch Whisky (700ml)
An exceptionally old Invergordon bottled by Wu Dram Clan - three whisky fanatics who happened to meet on Islay and formed a lifelong friendship. The group consists of Takesado from Japan, Boris from Munich, and Sebastian from the Black Forest, Germany. Each of the founding members brings a unique skill set to the table and all adhere to the philosophy that what matters entirely is the content of the bottle. Single grain enthusiasts will already know Invergordon as one of the big names in the category. Established in 1960 and owned by Whyte & Mackay, it goes into a number of blends throughout Scotland. Aged for five and a half decades in an ex-Bourbon hogshead, this super-old single cask expression was distilled December 1965 and bottled June 2021 yielding 228 bottles at a natural strength of 40% abv. Grain whisky at this age can be an amazing experience - a fact that more and more whisky lovers are beginning to cotton on to. We have a tiny number of the original consignment allocated for Australia.
Other reviews... This IS cask strength and most probably the oldest grain whisky ever bottled (ready to be proven wrong). These people are crazy. Colour: full gold. Nose: it needs to be said that the 1960s Invergordons do rule supreme over my 'grainy list' (which doesn't quite exist in real life but there). This is rather a kind of complex soup, with bits of artichoke, asparagus, leek or cauliflower, all that seasoned with whisky and triple-sec as well as a little miso and umami sauce. A little crushed overripe banana too, perhaps manioc, celeriac, parsnips… It's getting fractal, in fact, just wait and many tinier aromas will start to parade under your nostrils. Mouth: salty and slightly varnishy at first, with some bouillons, then rather on seasoned fruit juices. I was about to mention sweet guacamole. Perhaps not. Banana chutney, mango chutney, more bouillon… The body's obviously a notch thin(nish) but in no way does it become frustrating. Drops of banana wine, mullein syrup, woodruff syrup… Finish: short, naturally, but once again that isn't frustrating at all. Sweet teas, vanilla-ed rooibos, a tiny touch of liquorice wood, perhaps a few mirabelles… Once again a faint varnishy return in the aftertaste, which is typically 'grain whisky' in my book. Comments: I'll say it, I liked the Cameronbridge rather better, but I find it crazy that this imperilled masterpiece was still alive, and rather beautifully so. An ode to time. 89 points - whiskyfun.com
Notes from the bottlers... Nose: Very bright and gentle. The generic coconut notes seem to have evaporated after all these years, here I find more ripe bananas, tinned pineapples and guavas, with marzipan and fresh citrus. Minty notes. Natural vanilla. Hints of cellulose varnish, nicely integrated. Hints of fragrant sandalwood and caramelized nuts. There's a great rummy side to it as well. Palate: Lacking the thick, creamy side that you often get in grains, but not weak. Fresh citrus, dried ginger, still some pineapple notes. Pleasant sour notes which make it brighter. Hints of 'pencil liqueur' (let's hope it doesn't exist), which means you get an oaky touch but in a sweet and rounded way. Almonds and a hint of white pepper in the end. Finish: Surprisingly long, with bananas, nutmeg and a pinch of pepper. This is a surprisingly fresh senior, kind of a rum and grain mix-up. The underlying sweetness keeps the wood at bay and brings along a Caribbean character.