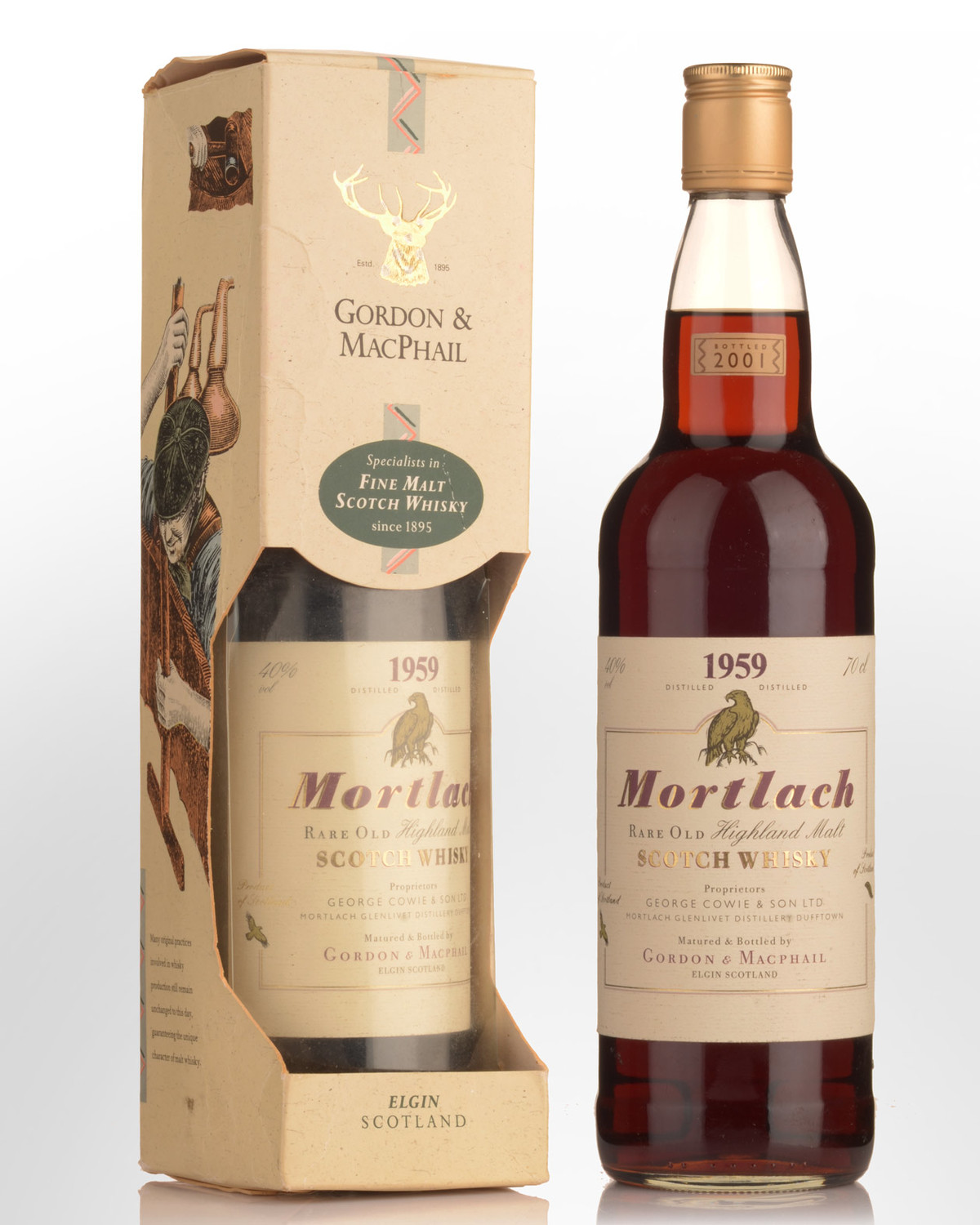 1959 Gordon & Macphail Rare Old Mortlach 42 Year Old Single Malt Scotch Whisky (700ml)
Speyside, Highlands,
SCOTLAND
These G&Ms from decades back have been slow but steady risers on the auction scene. The wonderfully deep colour on this venerable Mortlach suggests a long spell in sherry casks. Bottled in 2001, apart from the significant age statement and quality (review below), this will be desired by malt collectors due to its genuine rarity. Note: the box has some creasing and bruising as pictured. Bottle in excellent condition with perfect fill level and very minor markings to the front label.
Other reviews... Colour: dark amber – mahogany. Nose: oh, this one smells exactly like a newly polished old cupboard. Lots of cellulose varnish, beeswax and 'new' leather at first nosing… Fruits? Here they are, with lots of blackcurrant jelly, grenadine, cranberry juice… And then we have these smoky, flinty and slightly meaty notes like in the 'old new' one. Goes on with quite some roasted nuts, black nougat… And finally the expected resinous and minty notes (just hints). Probably the closest to old cognac whisky can get. Sort of antiquated but really excellent despite the low strength. Mouth: extremely coherent with the nose except that the varnishy notes are slightly overwhelming at the attack, the whole being also a little drying. Really for cupboard makers, this one ;-). What's interesting is that this kind of over-woodinesss does not taste like a flaw here, quite the contrary. The sherry is present but discreet, it's really the wood that almost plays solo. Now, we do have hints of roasted raisins, coffee beans, bitter chocolate and also cough drops… The finish is surprisingly long, drying, quite nicely tannic and slightly sour… Closer to an old armagnac than to a cognac on the palate, in fact. Even something of an old calvados (the dryness). Well, maybe it's like an antique car; it's less 'perfect' than a brand new one but it's got its own charms. A malt for nostalgic people? For old MP's? But what a great nose! 88 points - whiskyfun.com