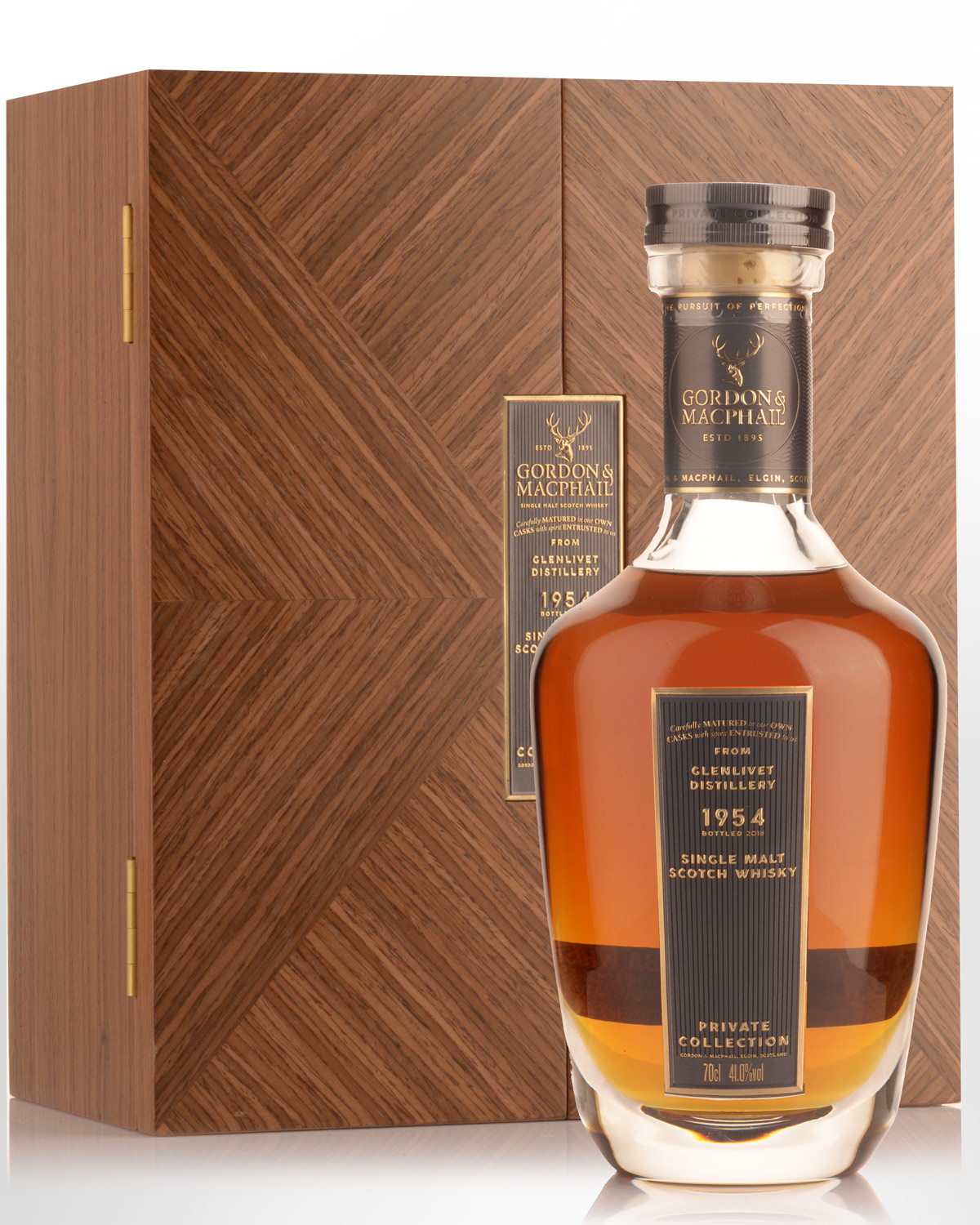 1954 Gordon & Macphail Private Collection Glenlivet 64 Year Old Cask Strength Single Malt Scotch Whisky (700ml)
Speyside, Highlands,
SCOTLAND
There have been several 1954s from Glenlivet released by G&M over the decades. This one was new for 2018, matured in Cask 1412, a refill Sherry butt. The 64 year old malt is actually cask strength at 41%, so no doubt bottled at just the right time.
Other reviews... Indeed this very rare old one is brand new and, just like the fantastic Caol Ila we had yesterday, comes in a rather wonderful decanter that's really not as kitsch as other extravaganzas that may be encountered elsewhere in Scotland (never forget your sunglasses). I'd add that we have good hopes here, despite the low strength, as I fondly remember a 1954/2010 from the previous inception of G&M's Private Collection (WF 91). Colour: only pale gold, which is quite astonishing. Nose: bingo, honeys and menthol-driven herbs and teas. A perfect combo when balance is right! Smaller elements here would gather pine resins, pollens and beeswax, sesame oil, dried figs, a wee touch of amaretto, and an old empty cigar box. Lovely, but at 41% vol., it's the palate that'll play the justice of the peace (so to speak). Of course, no water to be added here. Mouth: bingo again, no excessive old black tea (from an old teapot), no greenish tannins, and no bone-dry black chocolate, rather an arrival on marmalade and roasted coffee beans, then cassata, kougelhopf ice-cream, glazed chestnuts and good old rhum agricole. Some pecan pie too, and never a single weakness despite the low strength. Finish: the resins and the marmalade are back, with a little liquorice and black chocolate. A fresh, slightly mentholy aftertaste. Comments: let's say it, with old whiskies when you find this much menthol and resins in any nose, that's usually bad news w.r.t. the palate that'll often have become too drying. Not the case at all here, this old baby still has the fire.
90 points - whiskyfun.com