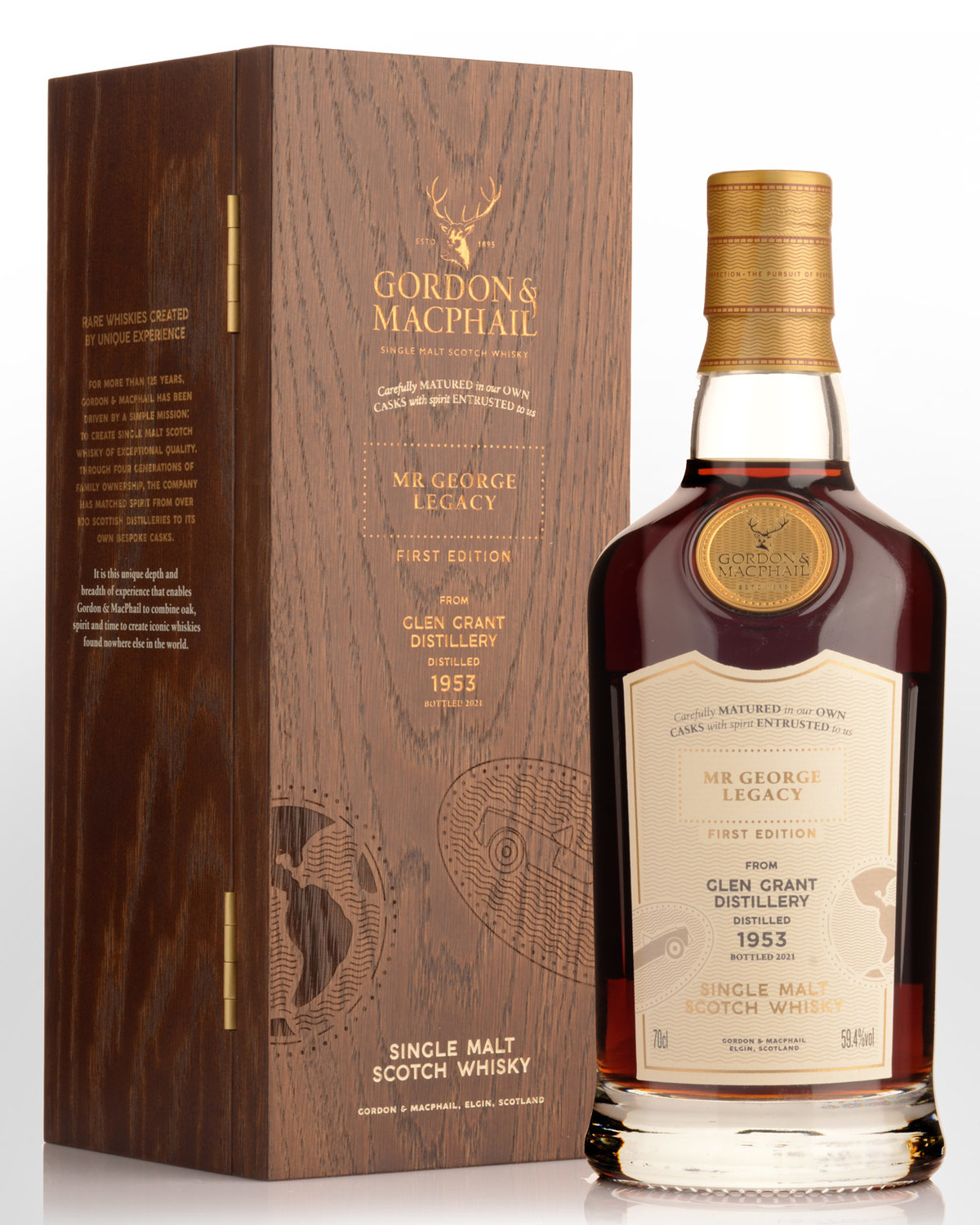 1953 Gordon & Macphail Mr George Legacy First Edition Glen Grant 67 Year Old Cask Strength Single Malt Scotch Whisky (700ml)
Speyside, Highlands,
SCOTLAND
One of the oldest whiskies ever to land in Australia is this ultra-rare bottling of Sherry cask matured Glen Grant. It pays tribute to George Urquhart, often referred to as simply "Mr George," part of the second generation of the family that has managed Gordon & MacPhail for more than a century. Whisky writer, Charles MacLean, dubbed George Urquhart "the father of single malt.", while Michael Jackson echoed that praise for his work in popularising the category.
This represents the first release in what will become a single yearly offering of new, super-aged, single malt Scotch whiskies under the "Legacy Series" (not to be confused with G&Ms first 'Mr George Centenary Edition' which was a once-off). This remarkable whisky was distilled on Christmas Eve 1953, and spent its whole life in Cask No 4209, a first fill Sherry butt. It was bottled on Tuesday, 5 January 2021, at a cask strength of 59.4% ABV.
The alcoholic strength is remarkable for a 67 Year old whisky, and according to Stephen Rankin, George's grandson and the G&M's Director of Prestige, it's one of the reasons why the whisky is so powerfully aromatic. The high strength is attributed to optimal conditions in the maturation warehouse and the fact that the whisky was matured in a cask that had previously been used to ship Sherry from Williams & Humbert in Jerez. During the 1950s, G & M was also a bottler of Sherry. The casks in which the Sherry was shipped were made from thicker than normal staves in order to better protect the Sherry butt from damage during shipping. The thicker staves and more robust construction meant that these casks exhibited less evaporation of alcohol during maturation.
Other reviews... Colour: Intensely deep ruby-red copper. Nose: Maraschino cherries and cough syrup, with old leather-bound books initially. Seriously "decadent", mature and complex. Sherry-soaked dates, furniture polish & hazelnuts. Water adds a little more nuttiness. Palate: Zesty at first, with citrus spice, and cigar leaves soaked in orange. Grassy and with blackcurrant hints, the nearly 60% ABV does bring some heat, but it's a very composed and complex palate overall. There's some ginger and a plum sweetness, with mint notes towards the end. Water brings more of a meaty, earthen note. Finish: Long notes of leather cigar pouch with residual earthy smoke and paprika. Rating (on my very non-scientific scale): 94/100. There's a huge amount going on here, and it's all delicious. A stunning dram - even more impressive when you consider that after 67 years in a 1st fill butt, there's no "off" notes - no overly-oaky tannins, no sulphur. A stunning cask and a testament to both Mr George and the wider G&M team. - timeforwhisky.com