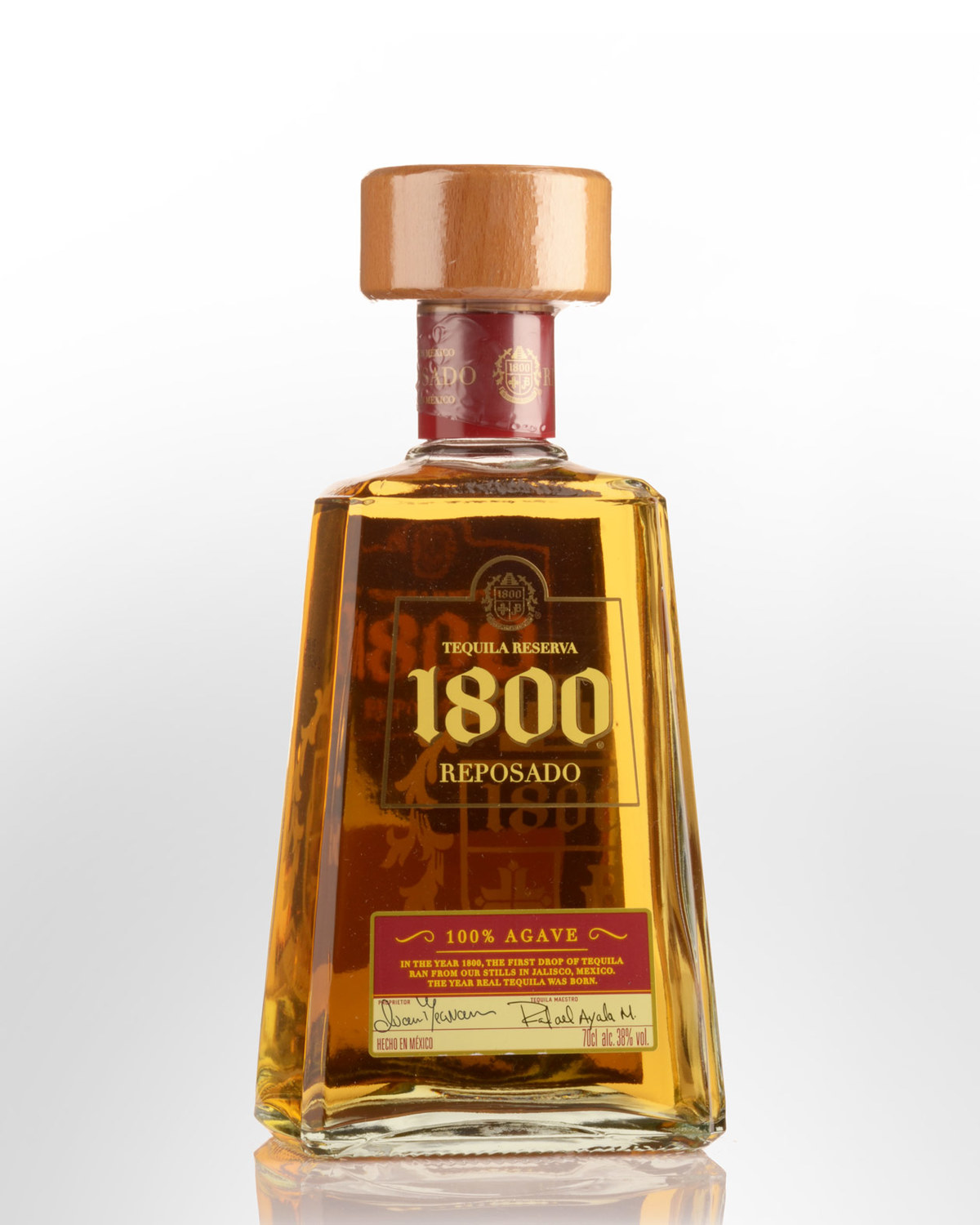 1800 Reposado 100% Agave Tequila (700ml)
1800 is a 100% Agave Tequila. To understand how this distinguishes it from other Tequila, it is necessary to know something of the process in which tequila is produced.Although Mexico is famed as the land of the cactus, Tequila is in fact distilled from the fermented juice of the Agave Plant, (not a cactus) otherwise known as the 'Century plant.' The Agave plant resembles an unripe, oversized pineapple or spiked cactus which shoots a giant blossom that can take up to twelve years to produce. At maturity, it stands about 5 feet high, is bluish green in colour and has a heart or 'pina' . It is these hearts which are actually used in the distillation process, the sweet juice extracted by compression, steaming and washing prior to fermentation & distillation.
The fermentation stage determines whether the final product will be 100 percent agave or mixed ("mixto"). The highest-quality Tequila is made using only fermented agave juice mixed with some water. Mixto however, is made by fermenting and then distilling a mix of agave juice and other sugars, usually cane sugar with water. Mixtos made and bottled in Mexico can contain up to 40% alcohol derived from other sugars. Mixtos that have been shipped in bulk for bottling overseas may have the agave content further reduced to 51% by the foreign bottler. Mexican law states that all 100% agave or aged Tequila must be bottled in Mexico. 100 percent agave Tequilas are clearly labelled as such. Anything else is classified as a Mixto Tequila, however the term is seldom used on bottle labels.
1800 is today the number one selling super premium tequila in America. Rested in French oak casks to create a distinctive smoothness, it boasts an exceptional mellowness, making it the ultimate shot and the essence of the ultimate margarita.
Tasting note: Gold colour with a copper hue. Moderately full-bodied. The nose displays a wonderful combination of herbaceous agave, apples, figs and mellow oak. Bold, round mouth feel. The palate is smooth, slightly sweet with powerful spirit - though in balance - followed by a pungent backdrop of earth, spice and oak. Very warm spirit power wave finishing rich and spicy. A tequila to be enjoyed in the traditional fashion: shot glass, salt and lime. 38% alc./vol.
Other reviews... The initial aroma is of black pepper and steamed broccoli. Following aeration, a bouquet of succulent scents of Brazil nuts, egg cream and light oak resin appear. An oily flavor of bacon is apparent at palate entry; at midpalate the pepper returns with added tastes of spinach, sage and butter. Finishes elegantly yet zestily as the pepper comes to the fore. Best Buy. Rating: 90-95 - tasting note sourced from www.wineenthusiast.comsize>