The Types of Sherry Wines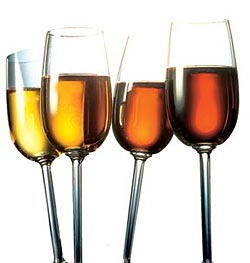 Sherry offers a wide range of colours, aromas, sensations and possibilities. Its unique method of production and ageing endows a common identity to many different types of wines, all enjoying the generic denomination of Sherry. The biological, oxidative or mixed nature of the ageing process endows the wine with different tonalities from a pale straw-like yellow to an intensely dark mahogany. Moreover, the blending of naturally sweet wines means that originally dry wines such as Finos, Amontillados and Olorosos acquire varying degrees of sweetness. This multiplicity of factors has resulted in a rich palette of different styles of Sherry Wines as follows:
Dry "Generoso" Wines
These are quality wines made during total or partial ageing under the veil of flor - the biological process undergone through the spontaneous appearance of a veil of yeasts on the surface of the wine typical to the Jerez area, which contributes a series of specific analytical and organoleptic properties to the wines. The alcohol content of these wines is no lower than 15º.

Manzanilla - Sanlucar de Barrameda
The special microclimatic conditions in the bodegas located in the coastal town of Sanlucar de Barrameda produce a very distinctive kind of "flor". This very special kind of biological ageing confers unique characteristics to the wines. Indeed they are so special and are produced in such a well-defined area that they have their own Denomination of Origin, that of "Manzanilla - Sanlucar de Barrameda".
Manzanilla'a are straw-coloured wines with a dry, sharp bouquet which is light and often salty on the palate. It is exclusively aged under "flor" in Sanlucar de Barrameda. Its alcohol content varies from 15º to 19º. Although the definitive Manzanilla is the so-called Manzanilla-Fina, an extremely pale, light , dry wine, depending on the length and circumstances surrounding its ageing process, there are other types of Manzanilla. Among these, special mention must be made of Manzanilla pasada which is less pale and has more body due to a slight oxidation of the wine during its very long ageing process.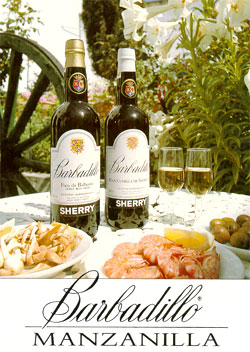 Fino
Straw-coloured or golden, finos have a spicy, delicate aroma reminiscent of almonds, and are dry and light in the mouth. Their special properties are the result of the exclusive ageing process under the veil of flor. The very dry finish of Fino is due to the consumption of glycerol by the flor. They have an acquired alcohol content of 15º -18o. Fino are best served cold.
Amontillado
The ageing process used in these wines includes an initial phase under the veil of flor - similar in procedure and duration to that undergone by finos - followed by a phase of oxidative ageing. The result is an amber-coloured wine with aromas of hazelnut, mildly tangy, soft and full in the mouth, with an alcohol content of between 16º and 22º.
Oloroso
An initially dry wine, from amber to mahogany in colour, with a strong aroma reminiscent of walnuts, full-bodied, with an alcohol content of between 17º and 22º. Ageing begins under the veil of flor, then continues with a phase of oxidative ageing. Ideal as an aperitif, as well as with game and red meats.
Palo Cortado
A bright mahogany-coloured wine, with a bouquet suggestive of hazelnuts and a dry palate. Palo Cortado is a special style that results from an early transition from development under flor to oxidative development. This used to occur when the flor failed to develop at an early stage; now it is more a matter of selection on the basis of the organoleptic qualities of the wine. After a few months development under flor, it is fortified to 18-20% cent alcohol, and develops into a halfway house between Amontillado and Oloroso. The decision is made at the second classification. A Palo Cortado is recognized by an aroma similar to Amontillado, but the body associated with Oloroso. One theory is that these wines occur when an unusually high content of malic acid leads to a malolactic fermentation; this could explain the lactic quality that is associated with the style. Its alcohol content varies between 17º and 22º.
Sweet Natural Wines
Pedro Ximenez and Moscatel are other wines that are produced in Jerez by a Solera system similar to Sherry, each using grapes exclusively from the varietal. They give very ripe grapes, with high sugar content of up to 400 g/l, which is increased further by desiccation through drying in the sun (typically on sand for 7-10 days). Some oxidation is associated with the process and is seen in the style of the wine. There is some variation in style, because the wines can be fermented to completion (with the sweetness resulting from the sugar that remains) or can have alcohol added before or during fermentation in a mutage-like process to increase the level of residual sugar. Traditionally, after pressing, the must was put into 500 litre casks which already contain 60 litres of wine spirits. (Before 1987, some P-X wines would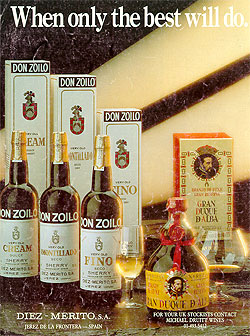 have low alcohol levels, around 9%, but now because of the need to conform with E.U. regulations, the style is required to have >15% alcohol). The wines thus obtained are very dark in colour, sweet and immensely concentrated in reducing materials.
Pedro Ximenez
This style of Sherry offers one of the great sweet wines of the world. A dark, mahogany-coloured wine with a deep bouquet of raisins and mollasses, it is a smooth, highly viscous and sweet style. Pedro Ximenez Sherry is a perfect match with chocolate, and is also consumed over ice in the warmer weather.
Moscatel
A dark mahogany-coloured wine, produced exclusively from sun-dried grapes of the same name (English: Muscat). It is a smooth, sweet wine with an aroma characteristic of this grape variety
Blended styles of Sherry
Originally dry (Generoso) wines are occasionally blended with sweet wines to produce other, slightly sweet Sherry wines, such as:
Pale Cream: A straw-coloured wine with a sharp, delicate bouquet. It has a delicate, slightly sweet flavour. Its alcohol content varies between 15.5% and 22º.
Medium: An amber- to mahogany-coloured wine with a delicate bouquet and a slightly sweet palate. Its alcohol content varies between 15º and 22º. The richest, darkest versions of Medium are often called "Golden".
Cream: A sweet, mahogany-coloured wine, made from Oloroso. It has an intense aroma, velvety palate and full body. Its alcohol content varies between 15.5º and 22º.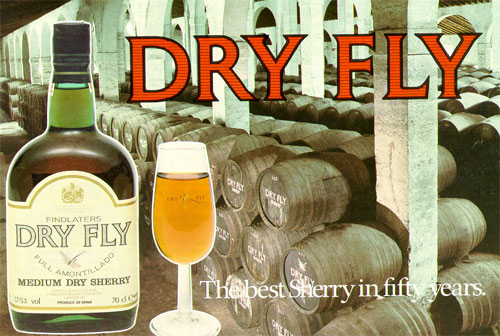 Sherry wines with a qualified age: The best and oldest Sherry Wines.

Each and every Jerez bodega is the keeper of enological treasures. The solemn, soaring cathedral-bodegas and the more intimate "sacristy" bodegas are the silent witness to the slow process of criaderas and soleras where sherry wine is aged. This unhurried rhythm of ageing imbues the bodegas with a special atmosphere, where past and present become one. Only the bodegas' wine tasters dare disturb the calm, as they sink their samplers into the butts in order to decide whether the wines are ready to be transferred to the next criadera or nursery.
The tasters frequently select batches of wine which, due to their special qualities, take their place in the criaderas reserved for the most special wines, wines that are part of a nursery system whose origins date back to the very birth of the bodega, usually in the 19th Century and in some cases the 18th. These centuries-old wines are of such an exceptional quality that they are almost never commercialised. Traditionally, such wine was enjoyed by a very privileged few - members of the bodega-owners' families and trusted employees - who had access to these sacristy bodegas. It was also used to welcome and toast authorities or personages visiting Jerez.
There are however a growing number of bodegas marketing these exceptional wines - albeit and by necessity on a very small scale. Sacas, or extractions of these wines only occur occasionally, delighting wine lovers world wide. In order to endow the wines with an official certification accrediting their extraordinary age and quality, the Regulatory Council of the Jerez-Xerez-Sherry Denomination of Origin has created two special categories of Sherry Wines with a Qualified Age:
Vinos de mas de 20 anos, or V.O.S., granted to wines older than 20 years old,
and Vinos de mas de 30 anos, or V.O.R.S., granted to wines older than 30 years old.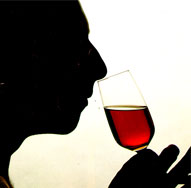 The Tasting Committee and Analytical Parameters

In order to be granted this certification of age and quality, the bodegas' wines (previously immobilised and sealed by the Regulatory Council's inspectors) are subject to the decision of an independent Tasting Committee. This Committee is constituted by experts whose knowledge and reputation are widely recognised, having no links whatsoever with the bodegas located in the Jerez Region. Together with personnel from the Regulatory Council itself, the Committee comprises academics, technicians and experts who are considered to be authorities in the tasting of Sherry wines.
The Tasting Committee analyses and tastes wines from each saca, or extraction, with a double aim. It is not only to certify its average age but also to verify its quality. The Committee has the complete support of the Estacion de Viticultura y Enologi­a de Jerez, one of the best equipped wine laboratories in Spain which, among other tasks, analyses those parameters specifically related to the age of the samples presented such as Carbon 14, the wines' ester content and their ash or dry extract. However, no analytical result is sufficient in itself to obtain the Council's certification if the wine in question has not received the qualitative approval of the demanding team of expert tasters.

The Quota System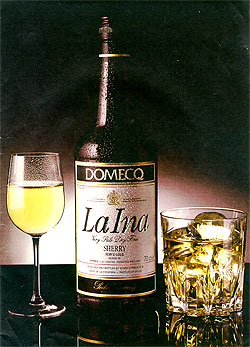 One of the more confusing Jerez Denomination of Origin's quality guarantee procedures is the quota system. Each bodega is authorised to commercialise a set quota or percentage of its wines. In the case of Sherry Wines with a Qualified Age the "consumption" of the quotas of these batches is logically proportional to the age guaranteed by the Council. In other words, for every litre of wine certified as being "older than 20 years old" that a bodega commercialises, it must have at least 20 litres of wine in its corresponding ageing system. Similarly, if a wine is certified as being "older than 30 years old", the bodega must have at least 30 litres of wine under ageing.
New Terminology and Special Labels

The regulation concerning Wines with a Qualified Age also provides for a specific terminology. Therefore, wines older than twenty years old use the initials V.O.S. an acronym denoting the Latin term Vinum Optimum Signatum (Wine Designated as Optimum) which also coincides with the English Very Old Sherry, a term often used when labelling this type of wine.Wines older than thirty years old use the initials V.O.R.S., meaning Vinum Optimum Rare Signatum (Wine Designated as Optimum and Exceptional) which also coincides with the English Very Old Rare Sherry. Symbolically, the Regulatory Council has decided to return to the language which, before the birth of Christ, was the first to describe Sherry Wines and sing their praises. Both the V.O.S. and V.O.R.S initials and the Latin legends themselves appear on the special seals used by the Regulatory Council to distinguish the qualified wines which must be included in their labelling.