Fundraiser Plan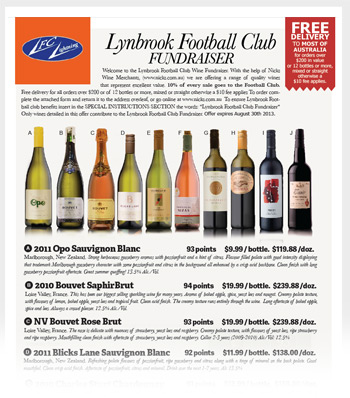 How Does it Work?

Nicks Wine Merchants has been running fundraisers for a wide range of community groups, organisations, charities and schools over many years. The system we use is a WIN-WIN-WIN situation. i.e.- the purchaser gets some excellent wines with a money back guarantee, Nicks Wine Merchants gets a sale, but most importantly 10% of every sale is donated to your organisation.

The beauty of the system that we operate is that you need not apply for a liquor license, or even handle the goods if you don't want to. All you need do is actively hand out the wine list and order form and state on the order form where the order forms are to be returned to, either yourself or directly to Nicks Wine Merchants. You do not process the orders or handle stock or worry about deliveries.
Nicks deliver the wines to each person's individual address, or in a consolidated shipment to one address where the orders can be collected from, or a combination of the two. We handle the credit card processing and delivery. We only ship what has been paid for. The only work you do, and which is critical to the success of the fundraiser, is to promote your cause.
There are no left overs, no stock sitting around going stale (as might happen with a cake stall or lamington drive).

Shortly after the closing date of the fundraiser, we total the value of the orders and send you a cheque for 10% of the value of the sales. What we have found over the years is that to ensure success of the fundraiser, try and distribute as many pamphlets/ order forms as possible. Get all the parents to sell a dozen to their friends, neighbors, work mates, relatives etc.

What Nicks Wine Merchants need from yourselves, should you wish to proceed are three simple items:

a) a logo for your fundraiser (if applicable).
b) an indication of the number of pamphlets to be printed.
c) the closing date of your offer.
That's it! Click here for a PDF example of the Fundrasier Form.