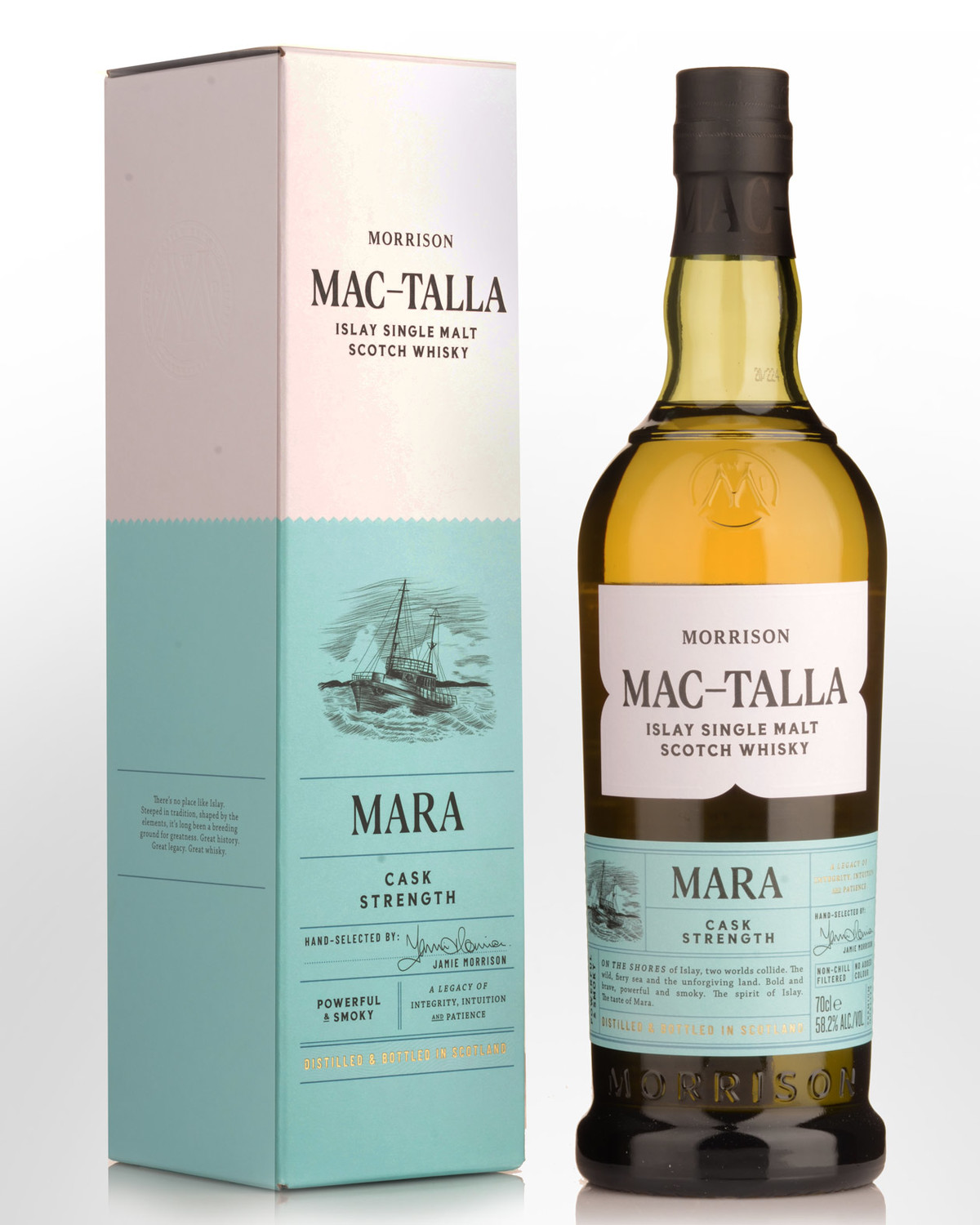 Morrison Distillers Mac-Talla Mara Cask Strength Single Malt Scotch Whisky (700ml) - Damaged Gift Box
The Mac-Talla whiskies are a new NAS range from the indie bottler, 'Morrisons', otherwise known for their Càrn Mòr and Old Perth labels. The point of difference here is that they're entirely made up of Islay malts. The exact composition remains undisclosed. However, since the Morrison family has always had tight connections with the island and owned Bowmore for some time, rumours suggest the contents may well be sourced from that famous distillery on the shore of Loch Indaal. Handsomely presented in heavy-weight custom made bottles, the title Mac-Talla comes from the Scots Gaelic for 'echo'.
Tasting note: Reticent, developing with citrus, brine, oatmeal and earthy peat. A sweet, malty entry preludes an intense citrus drive; oily phenols build with a blast of white pepper. Ends ashy, hinting at menthol cigarettes and beach bonfire. The style here is coastal, dry, bracing. Very well composed. Thumbs up if peat and punch are your thing. Non chill filtered. 58.2% Alc./Vol.
Other reviews... No age and no vintage this time, but they cranked up the volume. Colour: white wine. Nose: naked, raw, kilny. Visiting a malting plant while they're doing heavy peat. That's all this far. I mean, it's unusual to stumble upon a wee whisky that noses exactly like a handful of peated malted barley. With water: new tyres and plasticine for a wee while, then williams pears. Mouth (neat): this is crystal. Lemon, brine and raw peat. With water: pears chiming in yet again. So lemon, pear, brine and raw peat. Finish: ashes, sardines, lemon curd, passion fruits (bingo) and oysters. Mezcal in the aftertaste. Comments: immaculate and brilliant, very impressive. What's more, given that this ought to be very young, all batches should be pretty similar. A no-brainer, I'm almost floored. Almost. 88 points - whiskyfun.com
Notes from the bottlers... A lot of peat on the nose, freshly burned campfire, with light citrus notes, the sweetness of quince and a bit of pepper. A lot of smoke and peat on the palate, then a nice malty sweetness and some fresh oak notes. Alcohol hardly noticeable. Medium finish, peat, malt candy and oak.