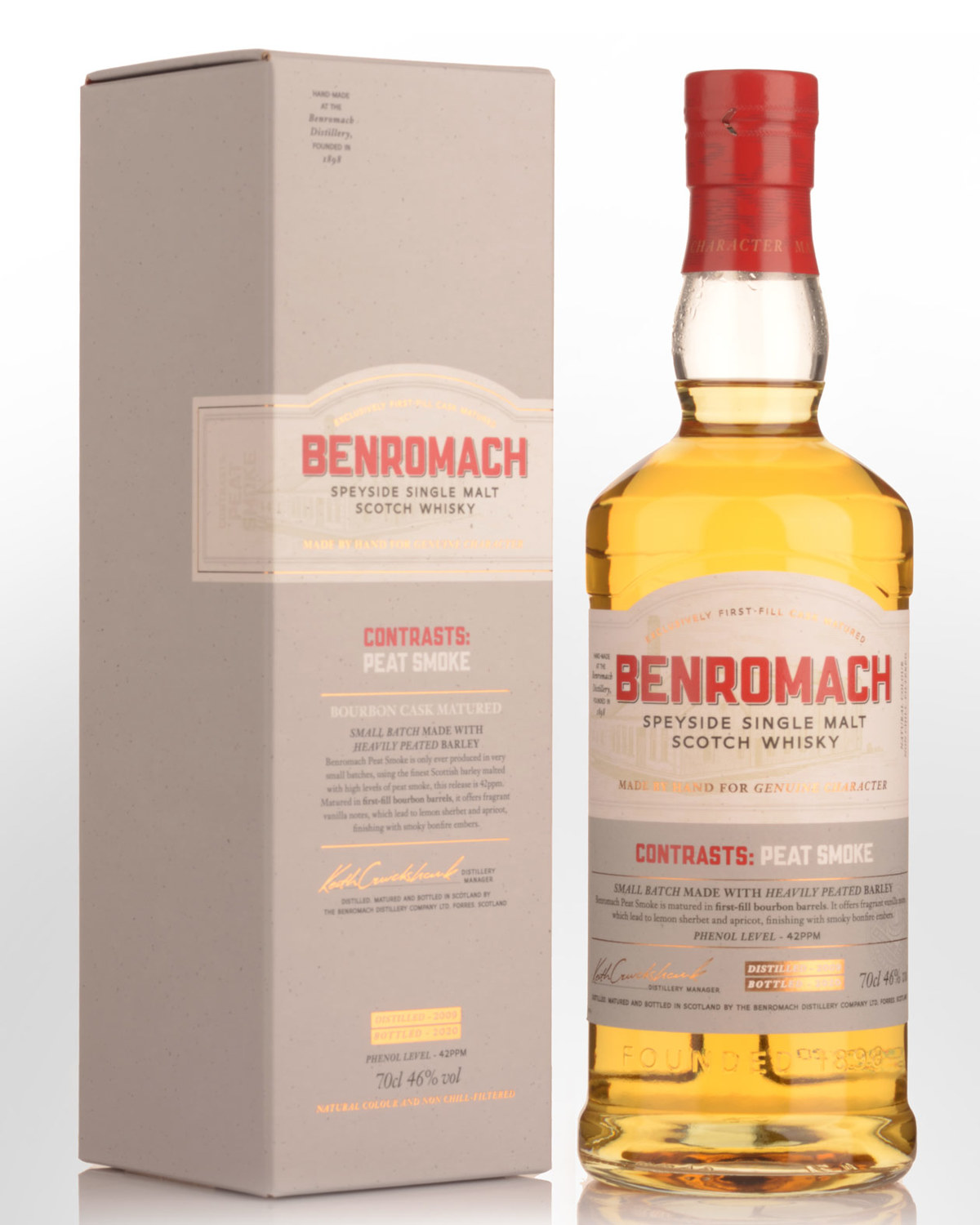 Benromach Peat Smoke Single Malt Scotch Whisky (700ml)
Speyside, Highlands,
SCOTLAND
An eminently enjoyable smokey Speysider that sets a style of its own.
For a long time a lack of alternative fuel forced 'Highlanders' to burn peat. Coal was simply too expensive for most and there were few trees. The situation began to change around the turn of the 1960's, with the help of technological progress in large industrial scale maltings. It then became possible to produce vast quantities of malted barley without peat. Speyside and Lowland distilleries were amongst the first to change to coke (a high carbon form of coal) as a combustible, as new railway networks to transport the fuel encouraged the transition. Remote regions like Islay persisted with peat. Today, there's no question that peat-smoke derived flavours in whiskies are increasingly desirable. Consequently, peat is now used not only on Islay by the likes of Ardbeg, but also on Orkney, in Campbeltown, as well as in Speyside. Peat is usually extracted close to the distillers or maltsters. Distilleries prefer the top part of the bog, because the upper crust of peat found there tends to be 'richer', more rooty and generate more smoke and impart more flavour. Matured in First fill Bourbon barrels, the phenol levels in this bottling reach 62 PPM (parts per million) - not dissimilar to many of Islay's malts (it's a similar intensity of peating as Laphroaig, for example).
Tasting note: Bright pale gold appearance. A dry, earthy nose- at first light barley, then wafts of herb infused peat; settles back after 2-3 minutes exposure as briny cereals enter with trace peppermint. Youthful and pleasantly spicy. Mid palate expands as sweet barley, stewed orchard fruits and peat-laced vanilla cream flood the mouth. Finish is juicy, lipsmacking with peel freshness and lanolin late in the fade. Really satisfying, confident malt. This isn't pretending to be Islay, rather it sets a style of its own. Nicely done. 46% Alc./Vol.
Other reviews...
[2006 edition]
a soothing softness to the peat reveals attractive degrees of mint and vanilla; gristy sugars are up front and carry a surprising dense smokiness, which soon dissipates; beautifully even middle, with that weak mint humbug touch drifting in; long, a little tart, as a few tannins nip.
90.5 points
- Jim Murrays Whisky Bible 2017