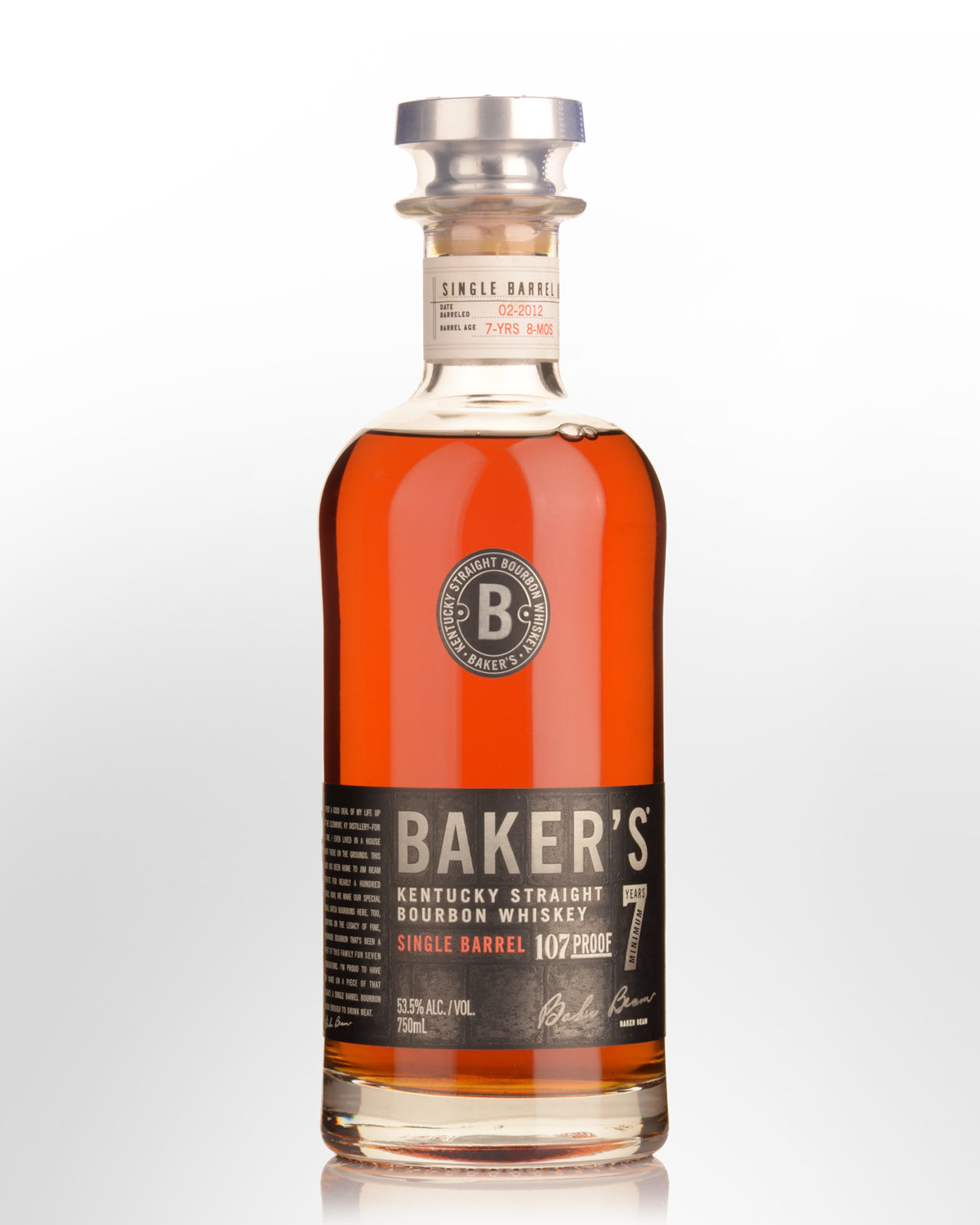 Bakers Bourbon Whiskey (750ml)
Baker's is second of four super premium Bourbons released by Jim Beam in the "Small Batch Bourbon Collection." Made from a 77% Corn, 13% Rye and 10% Malted Barley recipe preferred by Baker Beam, grand nephew of Jim Beam, this whiskey also utilises a special strain of jug yeast contributing a silky texture that remains consistent from batch to batch. In short, Bakers offers a flavour profile that's uniquely Beam. According to the boys at breakingbourbon.com, the new-look bottling maintains that precedent, delivering "...a pleasing above-average sip that is hard to find fault in."
Other reviews... Rich, multi-layered nose: vanilla, cornmeal, berries (black raspberries, wineberries), and broad-shouldered oak. Powerful, but not overproof hot in the mouth; controlled. The berries sing a high counter-melody over the corn-oak beat as the whole experience rocks along. It's powerful, sweet, authoritative, and finishes with a reprise of it all: berries, corn, vanilla, and stronger oak. Mature, complete bourbon with a 7 year age statement, and a real sleeper in the Small Batch Collection.
92 points - whiskyadvocate.com, reviewed by: Lew Bryson (Fall 2014)
Rich amber color. Sweet, buttery caramel, stone fruit, and nut aromas. A rich entry leads to a spicy, off-dry full-bodied palate with vibrant toffee, brown spice, and white pepper flavors. Finishes with a lingering wave of sweet vanilla and wood spice. Very even and straightforward. Try with a touch of water. 89 points - tastings.com
Further notes... nose: excellent rye bite to firm and sweet nose. fruity with mature plums and over ripe banana star; palate: rye kicks off early and allows bitter and prickly, softly spiced, middle to ensure a characterful, multi-layered bourbon; finish: massively complex follow through with quite enormous and beautiful chocolate notes; comment: a chocoholic's bourbon with a bigger rye firmness. Tasty stuff.
Rating: 8.5 - Jim Murray, whiskymag.com
Classic Cocktail: The Mint Julep

Most likely originated in 1803, when John Davis, a traveler from Britain and a Virginia plantation tutor, defined a julep as 'a dram of spiritous liquor that has mint in it, taken by Virginians of a morning'. From there, it evolved into a putting mint and sugar into a tumbler, and then adding equal parts of peach and regular brandy. To this was added plenty of crushed ice. Traditionally, mint juleps were often served in silver or pewter cups, and held only by the bottom and top edges of the cup. This allows frost to form on the outside of the cup, which some would find a sign of gentility. Others merely find it pleasant to look at. It is well-known as the traditional beverage of the Kentucky Derby, a position it has held since 1938; during the event, more than 80,000 juleps are served at Churchill Downs.
Bob Dylan described in his Theme Time Radio Hour episode #3 how to make, by his preferences, a perfect mint julep: 'First up, you take four mint sprigs, two and a half ounces of bourbon. I'd put three. A table spoon of powder sugar, and a table spoon of water. You put the mint leaves, powder sugar and water in a Collins glass. You fill the glass with shaved, or crushed ice, and then add bourbon. Top that off with more ice. And...I'd like to garnish that with a mint sprig. Serve it wih a straw. Two or three of those, and anything sounds good.'