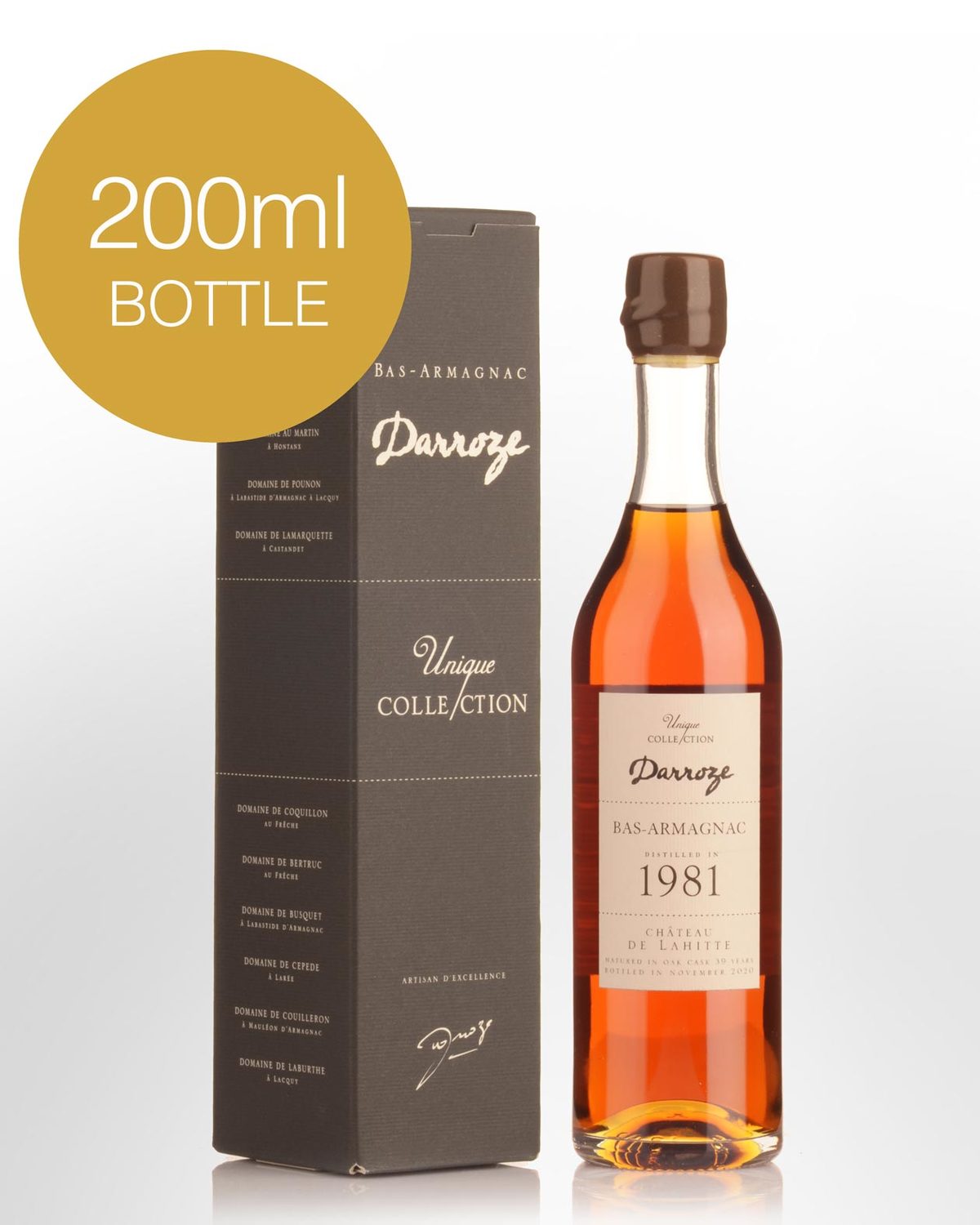 1981 Darroze Domaine De Lahitte 39 Year Old Cask Strength Bas Armagnac (200ml)
Francois and Marc Darroze are the watchful and patient custodians of 250 different Armagnacs, including more than 50 vintages (spanning a century), sourced from the western portion of the Bas-Armagnac region, historically referred to as Grand Bas-Armagnac. Little surprise then that uber critic Robert Parker named Marc's father, Francois, "the Pope of Armagnac".
Around 30 estates contribute to their "Unique Collection" with each barrel finishing its ageing in the Roquefort and Labastide d'Armagnac cellars.These are rustic spirits, entering the alembic via small vineyards, distilled by reputable mobile distillers, each demanding several decades of careful ageing in oak barrels in order to express a sense of place and vintage. The typical Armagnac grower raises a range of animals fed by many different crops, plus a small vineyard, part of which is distilled every year and aged in one or more barrels which constitute the savings of the farm. A sick bull, a dying horse or a retiring tractor are repaired or replaced by the sale of a barrel. Multiply the number of farms and vintages and you have the dizzying variety of the Darroze collection: Different because each farm is almost as unique as each barrel. Add to this zero reduction (only through ageing), no caramel colouring as well as labeling transparency and you have Armagnacs that are all about the time in oak (once in glass, nothing improves or changes. An 1890 Armagnac bottled in 1900 is no better than a 2007 bottled in 2017, but collectors don't want you to know that!)
This expression from Domaine de Lahitte was bottled in November 2020 at a natural strength of 46% Alc./Vol.